2023 Shipbuilding Report: US Passenger Vessels
With travel and tourism nearing pre-2020 levels, and transit systems benefiting from a return to work, passenger vessels have seen renewed activity. In its year-end review, John Groundwater, Executive Director of the Passenger Vessel Association (PVA), which advocates for the sector in Washington, D.C. wrote: "As we are nearing the end of the calendar year, we are delighted to report that our industry, and our members, are reporting far and wide that they have experienced very positive business conditions during 2022." The broader industry-wide trend toward cleaner fuels has impacted design of new vessels, as has the increased movement towards digitalization and more automated operations.
Along the East Coast, Casco Bay Line (serving islands in coastal Maine, out of Portland) selected the Senesco yard (North Kingstown, Rhode Island) for construction of a double ended hybrid electric ferry to replace an existing diesel boat. According to naval architects Elliott Bay Design Group (EBDG), the boat- with delivery anticipated in late 2024, "features ABB Marine & Ports' hybrid propulsion system supporting diesel-electric and zero-emissions battery-powered modes, as well as a combination of both." The specifications also call for a FerryCHARGER shore charging system, from A Stemmann Technik, to be provided by ABB that will enable rapid charging during turnarounds in Portland. The new boat, which will operate between Portland and nearby Peaks Island, will be able to transport up to 599 passengers, and 15 vehicles.
In New York harbor, the Staten Island Ferry (operated by the city's Department of Transportation) saw the commissioning of its third newbuild, Dorothy Day, in late 2022, joining SSG Michael H. Ollis, and Sandy Ground, which joined the fleet earlier in the year. The vessels, each with 4,500 passenger capacity, were constructed at Eastern Shipbuilding's yards in Allanton and Port St. Joe, in the Florida Panhandle. According to a New York City release, "The new ferries are larger, more modern, and safer in extreme weather than earlier fleets. They feature popular design elements of past Staten Island Ferries, including phone-charging outlets and more comfortable seating, as well as an oval upper-deck promenade that serves, for the first time, as an outdoor 'walking track' for riders." Their design, also dual ended, is from EBDG; propulsion is provided by ABS Electro-Motive Diesel (EMD) Tier 4 engines powering Voith Schneider propellers, at each end of the vessel. In January, 2023, steel was cut at the Allanton yard for a new 302-foot passenger/vehicle ferry for Bridgeport & Port Jefferson Steamboat Company, designed by Gilbert Associates and fashioned along the lines of the existing vessels P.T. Barnum and Grand Republic.

Eastern Shipbuilding Group has cut first steel for a new auto and passenger ferry for the Bridgeport & Port Jefferson Steamboat Company. (Image: Eastern Shipbuilding Group)
New York Waterway, which runs passenger craft around the harbor, has also taken delivery of four boats, each with 509 passenger capacity (with one more under construction following the 2022 delivery of Arthur Imperatore, named for the company's founder), from Yank Marine, which has yards in southern New Jersey. The aluminum catamaran style ferries are powered by twin Cummins 2300 hp engines and ZF transmissions. Nearby operator Seastreak, linking midtown and downtown New York with the Jersey Shore (and New England destinations during the summer months), began operating its high speed 750 passenger newbuild Seastreak Courageous (an Incat Crowther aluminum catamaran design, built by Midship in Harvey, La. at a cost around $18 million) in early 2022. Also slated to come online is NYC is a new zero-emissions electric high-speed ferry scheduled for launch in 2024, featuring BAE Systems driveline, Echandia power management, Toshiba batteries and HamiltonJet waterjets. The Carbon-fiber, foil-assisted Teknicraft design vessel is the result of a partnership between local operator New York Cruise Lines and Stockholm-based Green City Ferries AB (GCF) and will be operated by New York Cruise Lines subsidiary New York Water Taxi on the Hudson River between Brooklyn and Manhattan. A builder has yet to be announced.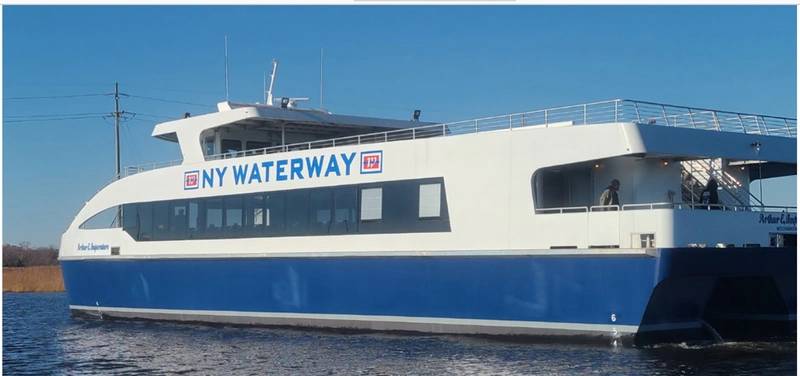 Arthur Imperatore was delivered to NY Waterway from Yank Marine in 2022. (Photo: NY Waterway)
Renewed government funding for infrastructure, which includes the realm of terminals and access projects, will greatly benefit the ferry sector. The U.S. Department of Transportation's Federal Highway Authority (FHA) announced more than $172 million in funding- for 115 projects, in Fiscal 2022, under its multi-year Ferry Boat Program. The largest awards went to Washington State Ferries ($38.3 million), and Alaska Marine Highway System ($35.6 million), the Texas Department of Transportation ($12.4 million) and New York City's DOT-garnering $10.5 million. In other large awards, New Jersey's Statue Cruises saw a $5.8 million award, while New York Waterway gained a $2.9 million award. The Texas DOT will be taking delivery in 2023 of the The Shearer Group-designed Esperanza "Hope" Andrade, a double ended vessel with a capacity of 495 passengers, and 70 vehicles. The boat, being built at the Gulf Island Fabricators facility in Louisiana, with batteries (a Siemens MWhr energy storage system) to supplement its diesel electric powerplant, will operate between Galveston and Bolivar Island, Texas.
Other 2022 recipients of FHA largesse included Woods Hole Martha's Vineyard and Nantucket Steamship Authority ($3.5 million), the Virginia Department of Transportation ($3.3 million), North Carolina Department of Transportation's Ferry Division ($3.1 million), the Grand Portage-Isle Royale Transportation Line, Inc. ($3.1 million), which serves Minnesota's Lake Superior region, and the Louisiana Department of Transportation ($3 million). The Gulf Island yard, in Houma, La. is also completing a pair of 300 passenger, 40-vehicle ferries, Salvo and Avon for the North Carolina DOT, based on an EBDG design, which will operate between Hatteras and Ocracoke. They are powered by Caterpillar engines tied to Schottel Z-drives. Also in the Carolinas, the U.S. Watercraft Yard, on the North Carolina coast, delivered the 129-passenger catamaran style Ocracoke Express, to the state's DOT, during 2022.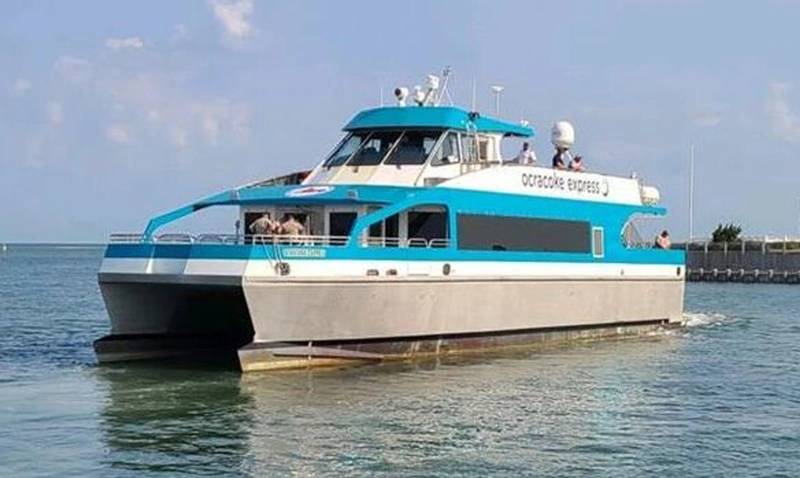 Ocracoke Express (Photo: North Carolina DOT)
Louisiana is set to launch a new ferry service with the help of nearly $41 million in low-interest loans from the DOT. Two new EBDG-designed 190-foot ferries will be built by Houma, La. based Thoma-Sea Marine Constructors for estimated completion in mid-2025, replacing the Cameron II, which was built in 1964. The two new vessels will use battery-powered electric thrusters. The batteries will be charged by diesel generators on board but can be upgraded to fully electric in the future.
Looking ahead at other vessels currently under construction, Maine State Ferries has a 104-foot passenger/vehicle ferry that will serve a route between Rockland and Matinicus Island., designed by Gilbert Associates, under construction at the Steiner Shipyard in Alabama. The same route will also be served by a larger passenger/vehicle boat to be built at Senesco, which will include hybrid electric power with kit from BAE Systems (to supplement propulsion with Caterpillar diesel engines). A sister (250 passengers and 23 motor vehicles, without the hybrid capability) Capt. Richard G. Spear, was delivered from the Maine-shipyard Washburn & Doughty in early 2022. It serves a route between Rockland and another island, Vinalhaven.
Beyond ferries and similar craft, the overnight sector, with river and coastal cruise vessels, has benefited greatly as travelers are stay on North American shores. American Cruise Lines continues to expand; its latest newbuild American Symphony began Mississippi River excursions in late 2022. A sister vessel (American Serenade, which will be the fifth in a series of 175 passenger ships built at Chesapeake Shipbuilding, in Maryland) is set to begin cruises on the Lower Mississippi in Spring, 2023. In late 2022, the company began construction on American Liberty, the third new Coastal Cat in the company's "Project Blue" series, at the same yard. With delivery set for 2024, its delivery will follow two ships in the series, American Eagle and American Glory- both scheduled for inaugural voyages along the U.S. East Coast in 2023. The catamaran vessels, designed for 110 passengers (with the company targeting to build a dozen) are described as "a fleet of go-anywhere ships for the U.S. market", with versatility that will enable them to "run almost anywhere." Viking Cruise Lines' 386 passenger Viking Mississippi, delivered in 2022 from Edison Chouest's LaShip shipyard in Houma, La., is now active on its namesake river, "[breaking] away from the tradition of Mississippi paddlewheelers by featuring the line's trademark Scandinavian design elements," in Viking's words.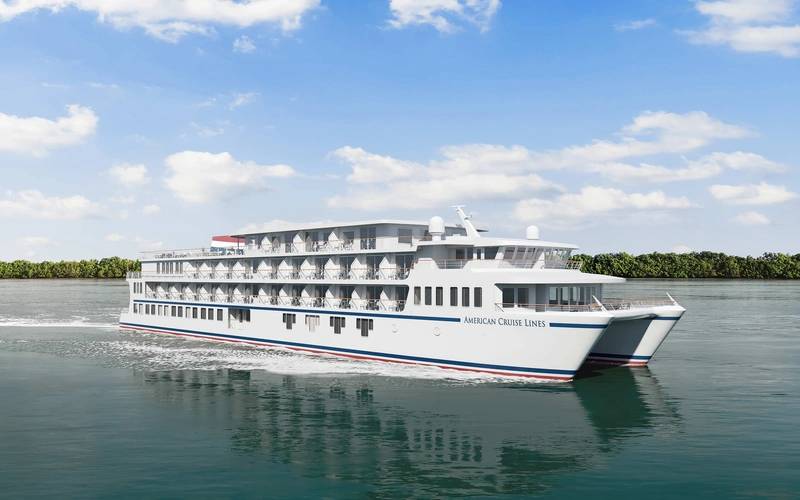 American Cruise Lines is in the midst of a significant fleet expansion. (Image: American Cruise Lines)
The burgeoning offshore wind activities, initially in the New England and mid-Atlantic states, is creating demand for crew transfer vessels (CTVs), a cousin, of sorts, to passenger craft. Gladding Hearn Shipbuilding, in Somerset, Mass, a yard with a lengthy history of building ferries, was contracted to build an aluminum CTV, based on an Incat Crowther catamaran design, for Patriot Offshore Maritime Services LLC – a new entrant to the wind sector. Vineyard Wind, which the boat will serve, has also signed a contract with a different operator- American Offshore Services, for another CTV that will be built by Blount Boats, with a yard in Warren, R.I.- no stranger to the passenger sector. A CTV operator with ties to passenger ferry companies serving Rhode Island and Massachusetts, Atlantic Wind Transfer, has contracted to build a series of aluminum catamarans (using a design from Chartwell utilized in European operations) at St. John Shipyard, in Palatka, Fla. – now under ownership of entities linked to Greece's Logothetis family. The boats will deploy Tier 4 compliant engines, from MAN. Three more Incat Crowther-designed CTVs are being built for WINDEA CTV—a joint venture between MidOcean Win, Hornblower Group and Ems Maritime Offshore—including two at St Johns Ship Building and another at Gulf Craft in Louisiana.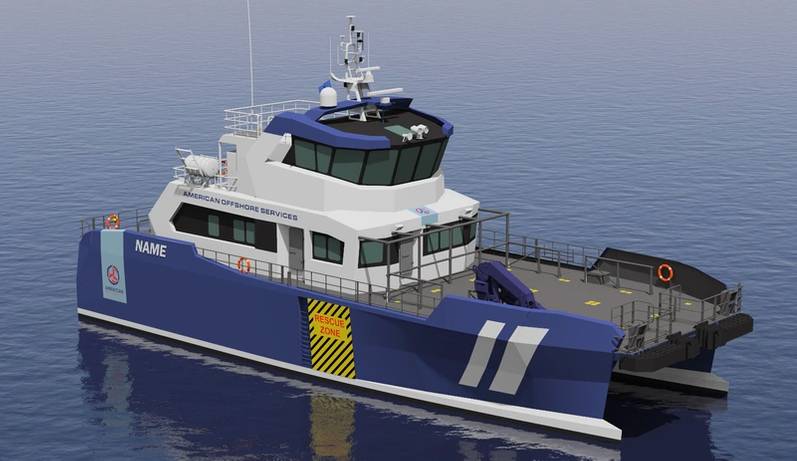 CTVs, like this one being built for Blount Boats for American Offshore Services, are a cousin, of sorts, to passenger craft. (Image: AOS)
The path toward the future, where the passenger sector will be looking closely at fueling options, is far from straightforward. Consider Cape May Lewes Ferry, operating passenger/car ferries across Delaware Bay. One of its boats, New Jersey, saw its 1970s era Fairbanks Morse engines replaced with Tier 3 compliant power from EMD, in 2020, with work performed at Caddell Dry Dock in Staten Island, N.Y. Ultimately, the three-vessel fleet will need to be replaced. The ferry operator has engaged EBDG to develop a master plan that will look at issues including vessel economics, alternative fuels availability, and physical requirements at terminals, funded partially with a $600,000 grant awarded in 2022 under the U.S. Maritime Administration's America's Marine Highway program.
Across the country, Washington State Ferries (WSF), with a fleet of 21 auto/passenger ferries, has also been studying the transition to an electric future. A request for proposals for five new hybrid electric Olympic Class (HEOC) ferries to be built in Washington state (though this requirement could be amended depending on pricing in initial RFP responses), with an average cost of $220 million each, is now in the works after an initial deal with builder Vigor fell through over price and contract terms. The newbuilds (possibly with azimuth thrusters rather than fixed shaft line, but still under discussion) will be complemented by conversions of existing vessels to hybrid-electric mode (with funding in hand, so far, for four vessels). Also under consideration is the electrification at more than a dozen terminals, starting with those in Central Puget Sound. WSF said in October 2022 that its intent was to specify ferryCHARGER systems from Stemmann-Technik, but said this could be subject to review.
Down the coast, the San Francisco Bay Area Water Emergency Transportation Authority (WETA) was recently awarded a $14.9 million grant from the California State Transportation Agency (CalSTA) to develop a high-frequency network of battery-electric ferries. WETA is currently completing a two-pronged study investigating both clean marine propulsion technology and shoreside infrastructure needs. Dorado, delivered from Mavrik Marine in 2022, and its three sister vessels under construction are expected to be WETA's final new ferries equipped with diesel propulsion, as the agency expects to order only zero-emission passenger ferries going forward. WETA has said that it may also convert some current ferries to zero-emission propulsion systems over the next decade.
Notably, alternative fuels typically will come with increased costs. An early update on the Cape May Lewes Master Plan notes that shoreside infrastructure for battery charging (should a hybrid power option be pursued), at both ends, would cost around $20 million. The Washington State DOT, in its Strategic Plan, is pegging overall funding needs for its transition, at around $4 billion (with $1.33 billion already funded). In summary, it's going to be a tortuous voyage, and also a very expensive one.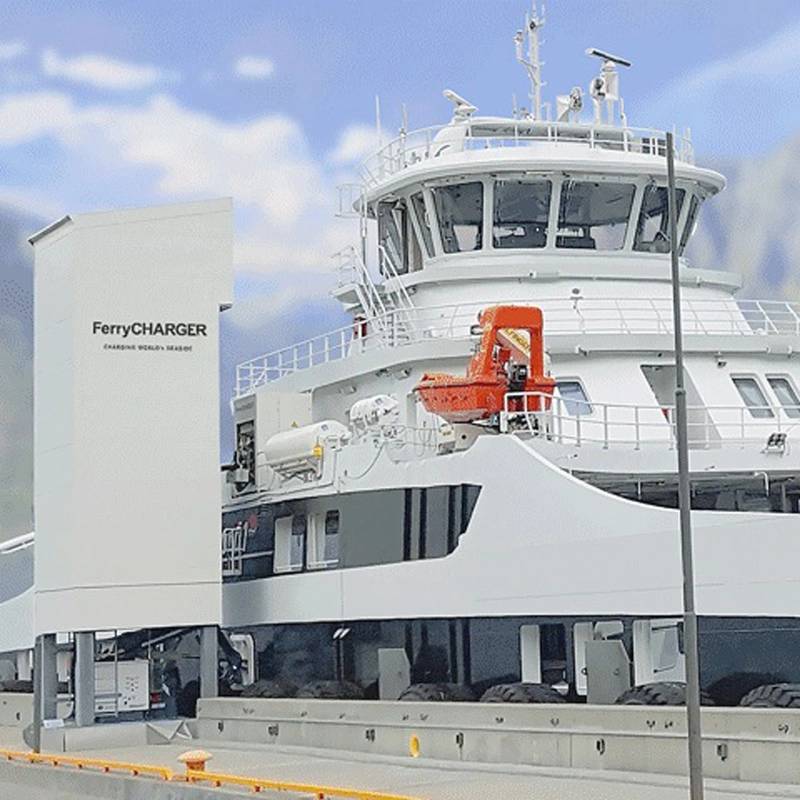 FerryCHARGER charging system (Image: Wabtec)

Published at Thu, 16 Feb 2023 21:09:51 +0000