Where to stay in Bangkok: Hotel Indigo Wireless Rd
A hotel that has connections to the past, the Hotel Indigo Bangkok Wireless Road is like a step back in time mixed in with modern influence. They are very proud of the history of the road, with old-school radios and technology everywhere (you will have to ask the staff about the story) you admire the class and architecture of the building as you stroll through the entrance.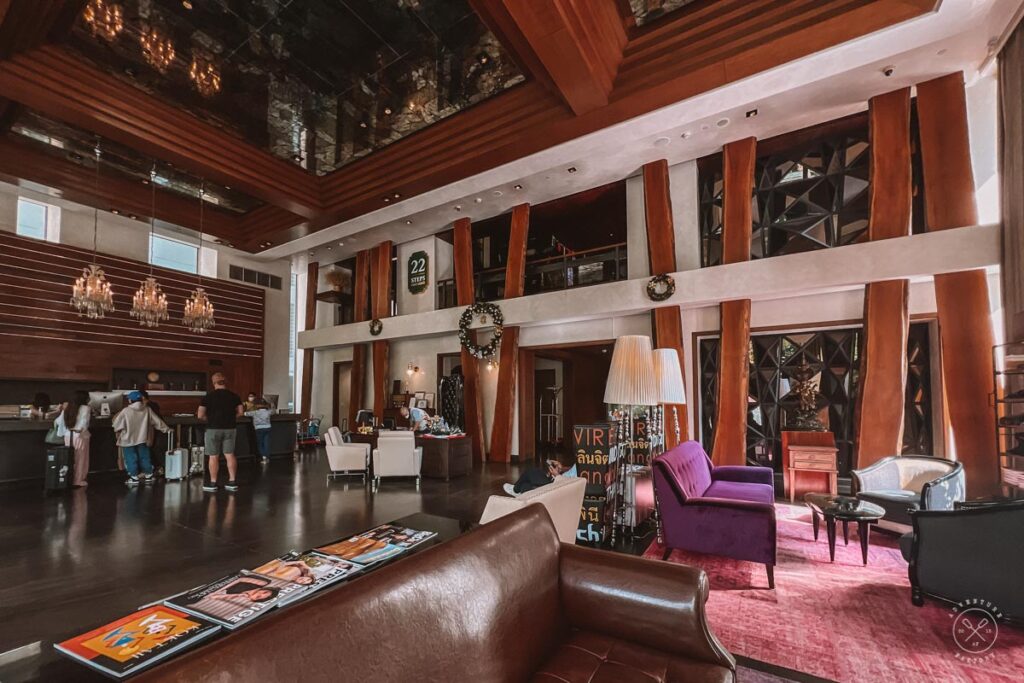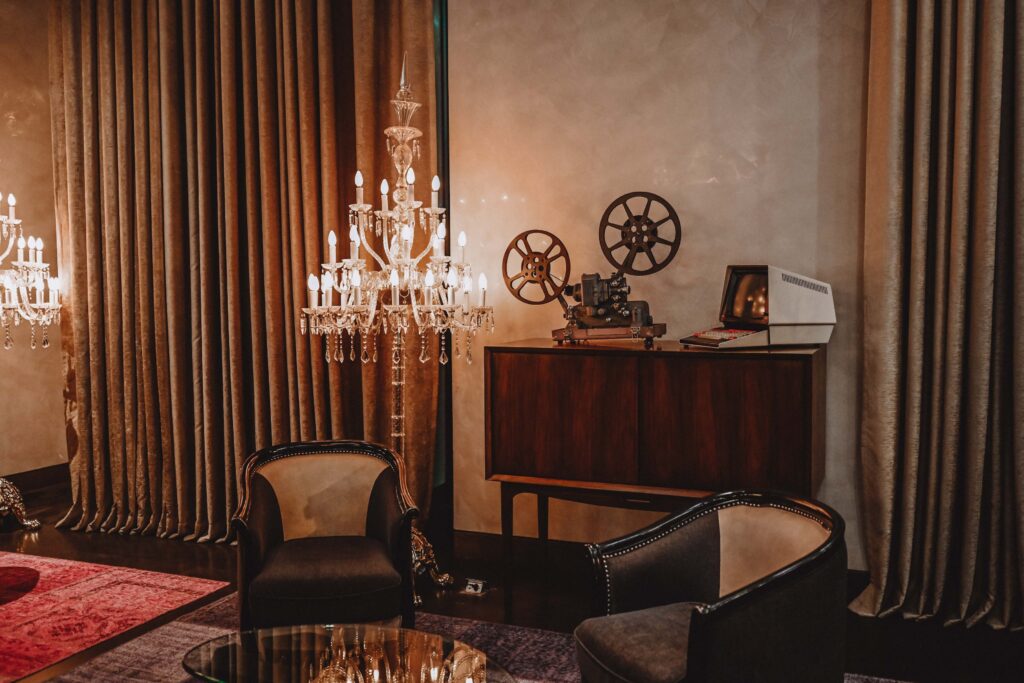 Location of Hotel Indigo Bangkok Wireless Road
Situated in a super convenient location, Indigo is right near the Metro system, main roads, embassies (20 on the same street), coffee shops, local hawker food, and bakeries, all a short walk from the hotel. The Indigo is approximately 30-40 mins from BKK, the main international airport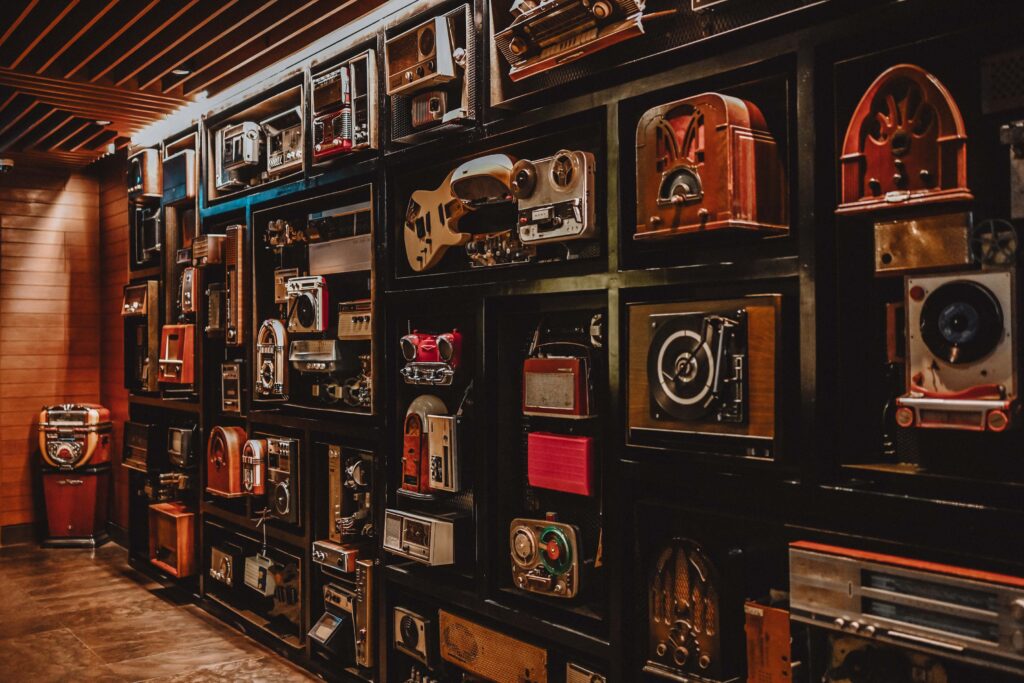 Rooms at Hotel Indigo Bangkok Wireless Road
Hotel Indigo has 192 stylish rooms & suites featuring stunning views of downtown Bangkok. The room we stayed in is a King Premium City View Balcony Room. As the name suggests, it faces the city, with neighbourhood views through floor-to-ceiling windows all around, and can best be described as a "mini" Manhattan and is full of life and energy. The room has a balcony, seating, and is great for a morning coffee and some people-watching. One of the highlights of the room is the bathtub facing the city, which is great to relax, chill and people-watch while bathing. One of the unique features of the hotel is that every floor of the hotel pays homage to the community with art pieces and artworks scattered all over the walls which makes every floor visit unique.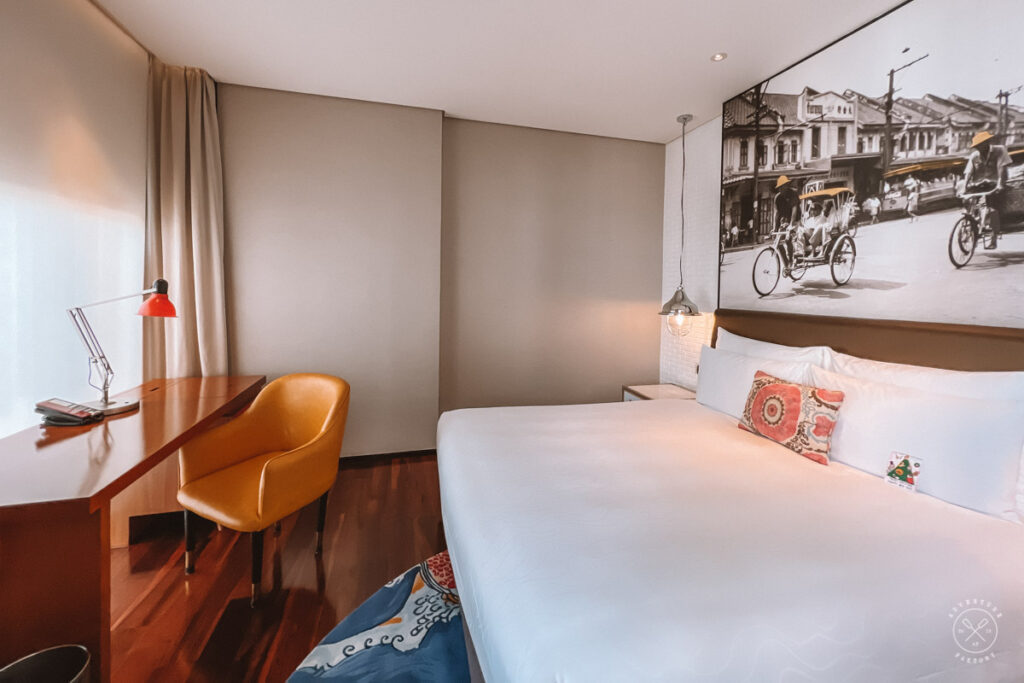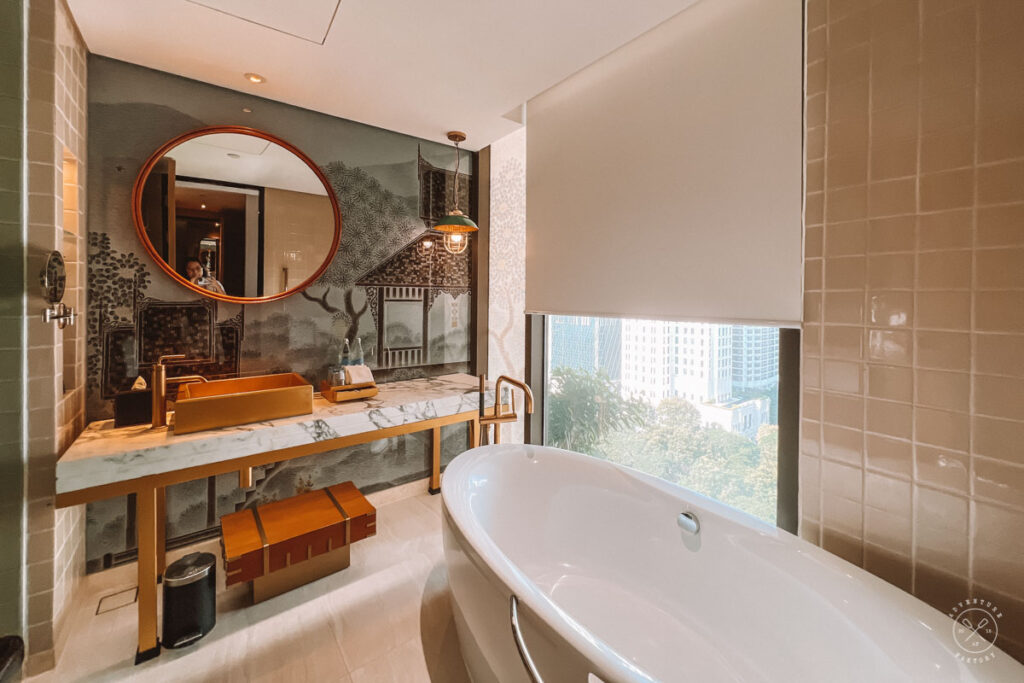 Food and drink at Hotel Indigo Bangkok Wireless Road
CHAR restaurant is the signature dining experience here at Hotel Indigo, located on the 25th floor. This has a fantastic view of the city and is an intimate dining setting.
The current promotion is the Festive 3-course dinner Set menu, only between now and December 30th.  At 1900++ THB is a great way to celebrate in the holiday spirit. The starter is a Pumpkin Velouté which is a creamy Pumpkin Soup, Crab Wonton with Chili Oil. There are three main dishes and you can choose from the following:
Grilled Duck Breast – Cauliflower Purée, Edamame & Baby Carrots, Hibiscus & Cranberry Reduction
Pan-roasted Snow Fish – Tomato Stew with Capers, Black Olives, Potatoes & Saffron
Wagyu Tenderloin Steak (200g) – Creamy Polenta, Mushroom Fricassee, Asparagus & Bok Choy, Malbec Demi-glace
The dessert to finish the evening in style is the Fluffy Warm Basque Cheesecake – Dulce de Leche, Oat Crumble, Raspberry Sorbet. The dessert was tasty but we are way too full to enjoy all of it 🙂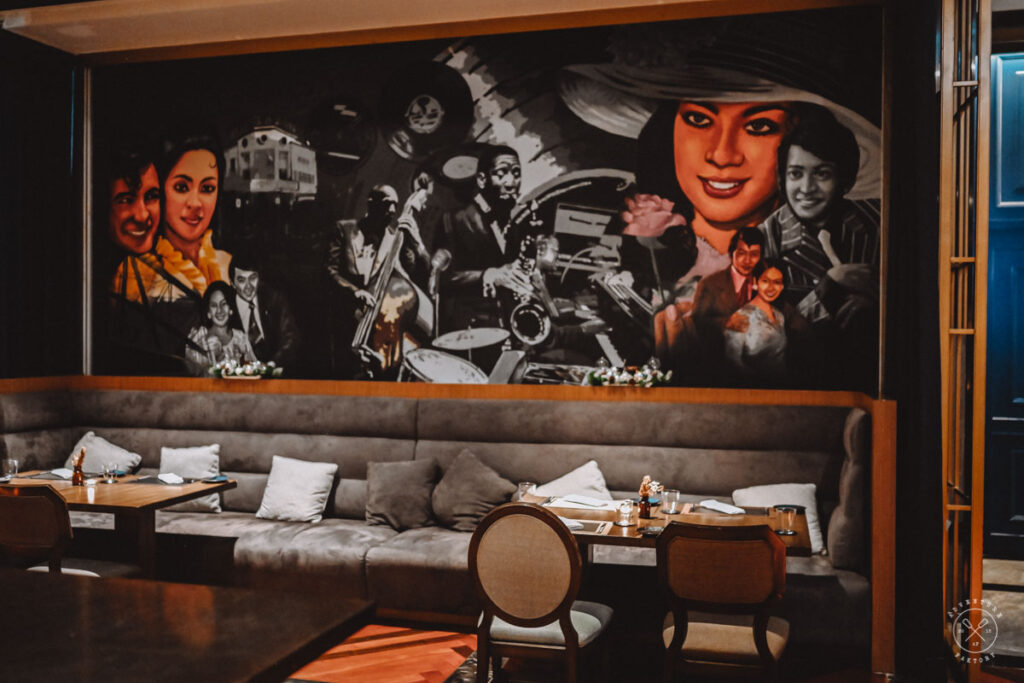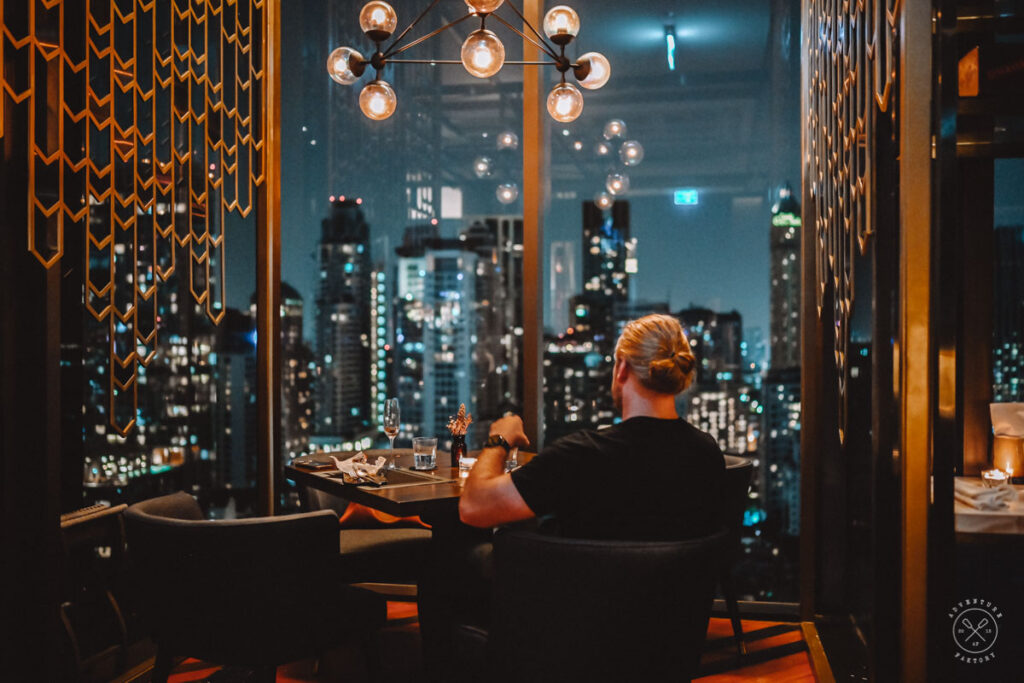 CHAR is also the name is the rooftop bar, located on the 26th floor. With a great view of the city, be sure to get here early as sunset people from the offices, and guests start to roll in for a drink. The cocktails that we tried from the menu are the: Secrets in the smoke (CHAR Signature Cocktail) THB 450++ – a smoky intense drink for bourbon connoisseurs. The Wireless Kiss (the CHAR Signature Cocktail) THB 400++ is a fun drink with unique fruit jelly, and the aroma of jasmine tea in every mouthful as well. it contains Berry vodka and white wine-infused jelly, Thai jasmine rice syrup, cranberry juice and rose sparkling wine.
The cocktails we enjoyed are the Krungthep Snow (Festive Cocktail) THB 350++ Ingredients: Dark Rum, Crème de Banane, Cream, Syrup and the Jingle & Bells (Festive Cocktail) THB 480++
Ingredients: Chandon Brut, Raspberry Liqueur, Edible Gold Shimmer.
22 Steps is a craft beer bar located just above the lobby. With the ability to cover live sports on its big screens and a range of snacks and meals, this bar is always busy and filled with good times.
Breakfast is served every morning at Metro On Wireless on the 2nd Floor from 6:30 am – 10:30 am. They have a good range of cold cuts, fruits, and basic egg dishes. If you can score a seat outside the weather is beautiful 🙂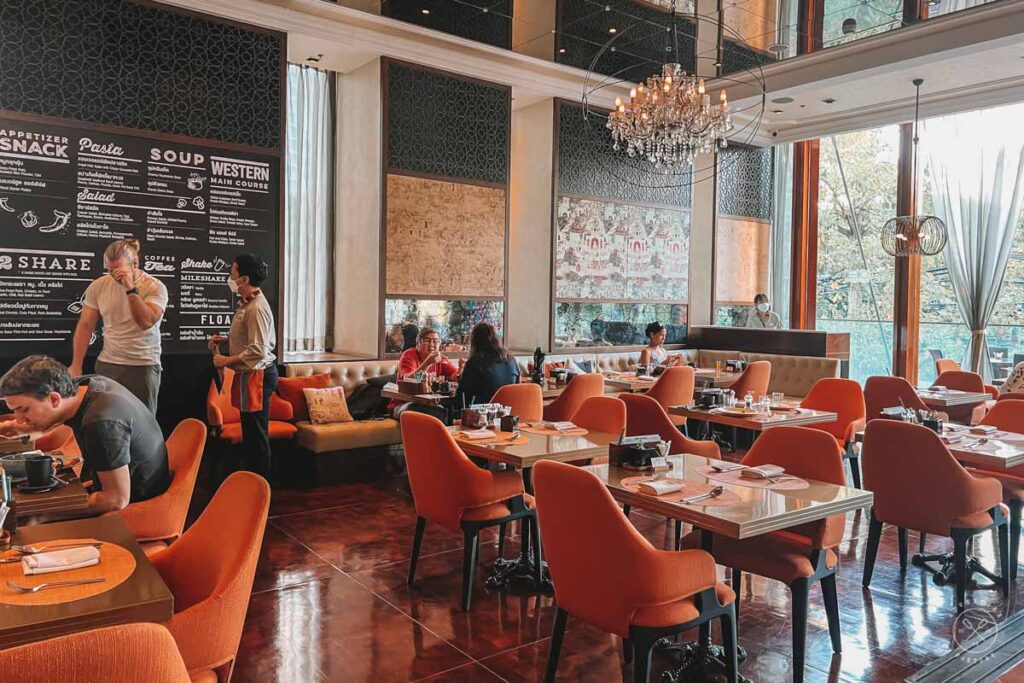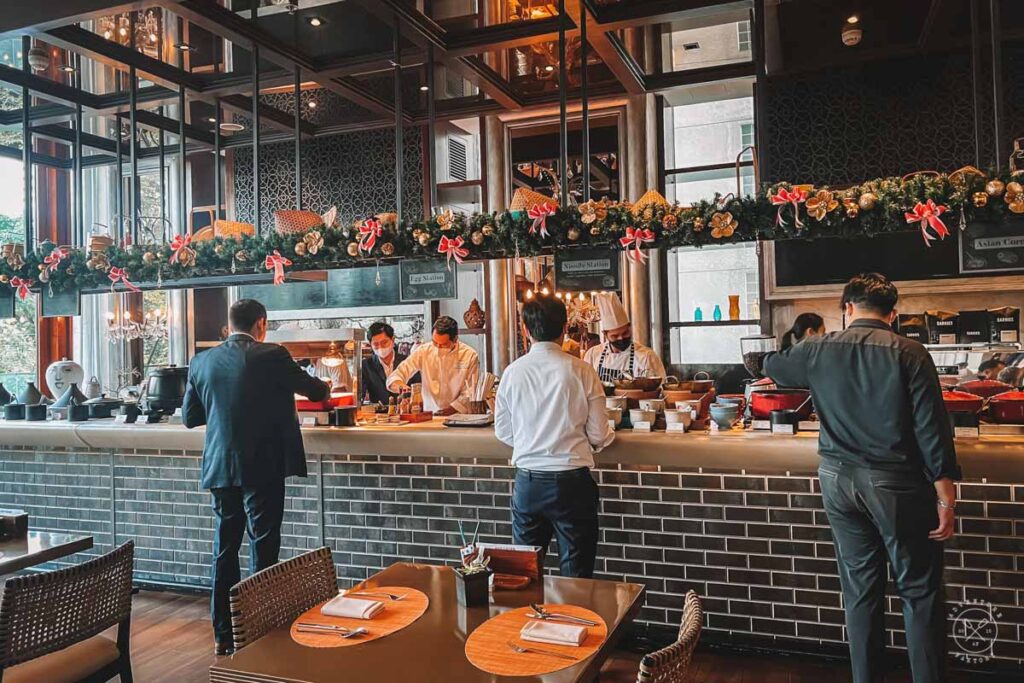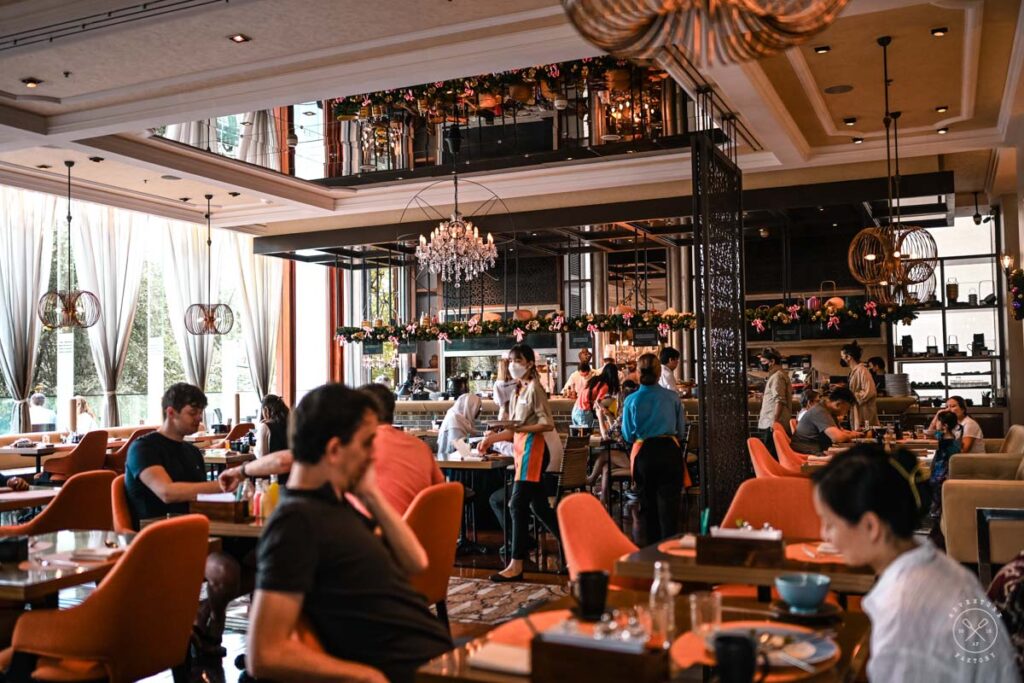 Facilities at Hotel Indigo Bangkok Wireless Road
The gym, located on the 24th floor and next to the pool, is open 24 hours. It is small but has all the basic machines that you need for a quick workout to burn off all those cocktails you certainly would have been drinking. Wooden floors mean you will not throw weights around, but there are treadmills and heavy enough machine-based weights to get that sweat on before jumping in the pool.
Next up is the infinity pool with a cracker view of the city. With deckchairs in the shade and also outside, the pool area is a great place to read a book or get a tan. With a city view, you will be entertained watching the world go by. If you are thirsty, after lunch there are bar staff to come and serve some delicious cocktails.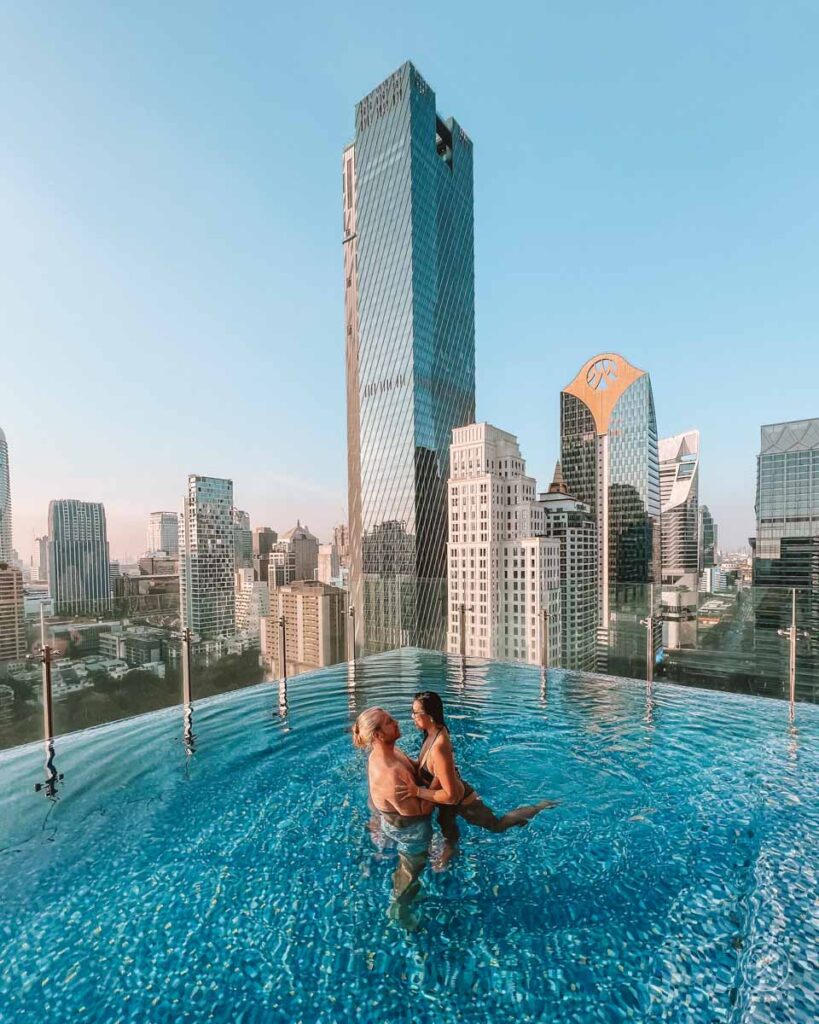 What is around Hotel Indigo Bangkok Wireless Road
With the main road right outside, you have car access to anywhere in Bangkok. For those who like to use public transport, there is a train station which is only a few hundred meters away and connects the city together. Sukhumvit is only 20 minutes walk away and has a great and vibrant nightlife. Lumpini Park, a hub of gardens, activities, and night fun is about 15 minutes walk. Street food options are at Rolex Building, only two buildings away.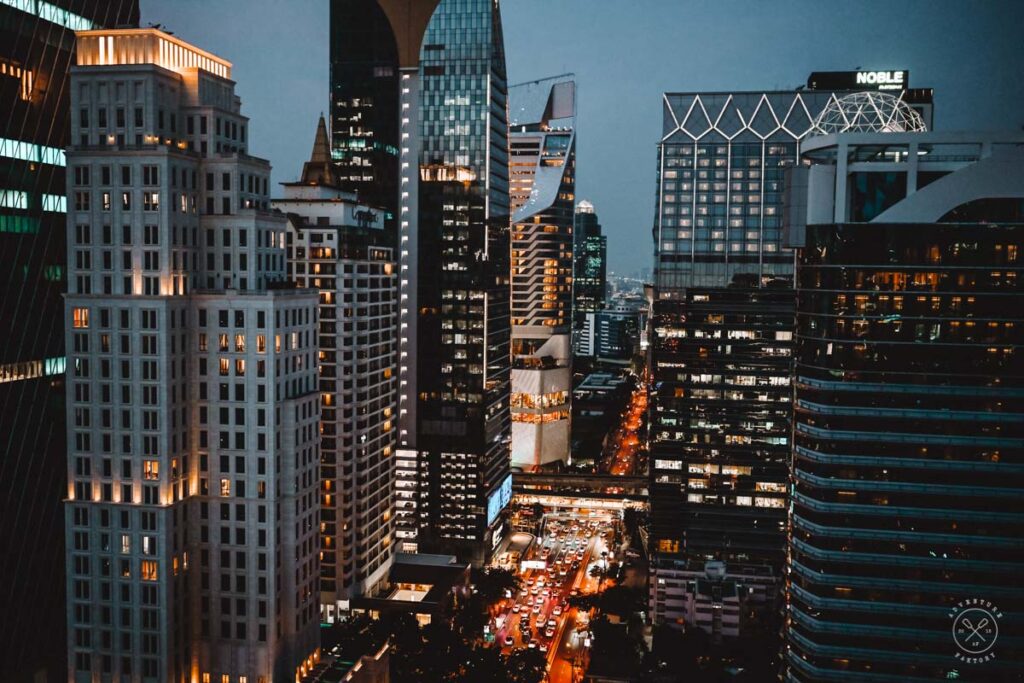 Our personal overall Experience of Hotel Indigo Bangkok Wireless Road
This hotel certainly has a charm to it. Nestled in a busy district of Bangkok, the hotel makes you feel like you are in Bangkok, but away from all the hustle and chaos that comes with it. With a lobby that is grand in nature, you certainly feel like royalty coming home after a long day full of massages, eating food, and shopping. Hotel Indigo is in a great location that allows you to stay in the heart of Bangkok as they bring the culture & stories of the neighborhood to life through authentic local experiences.
Promotions at Hotel Indigo Bangkok Wireless Road
Daily Happy Hour with 'Buy 1, Get 1' for selected drinks from 5:00 pm – 7:00 pm
DJ Nights are available every Friday – Saturday from 8:00 pm – 11:00 pm
The signature offer of the "surprise menu" — starts at THB 1,500++/person with THB 700++/person for a wine pairing for 3 courses. The concept is like a western omakase– and you tell the dining team what you absolutely cannot eat. The awesome Chef Jimmy and his team make a unique dining experience especially made for you.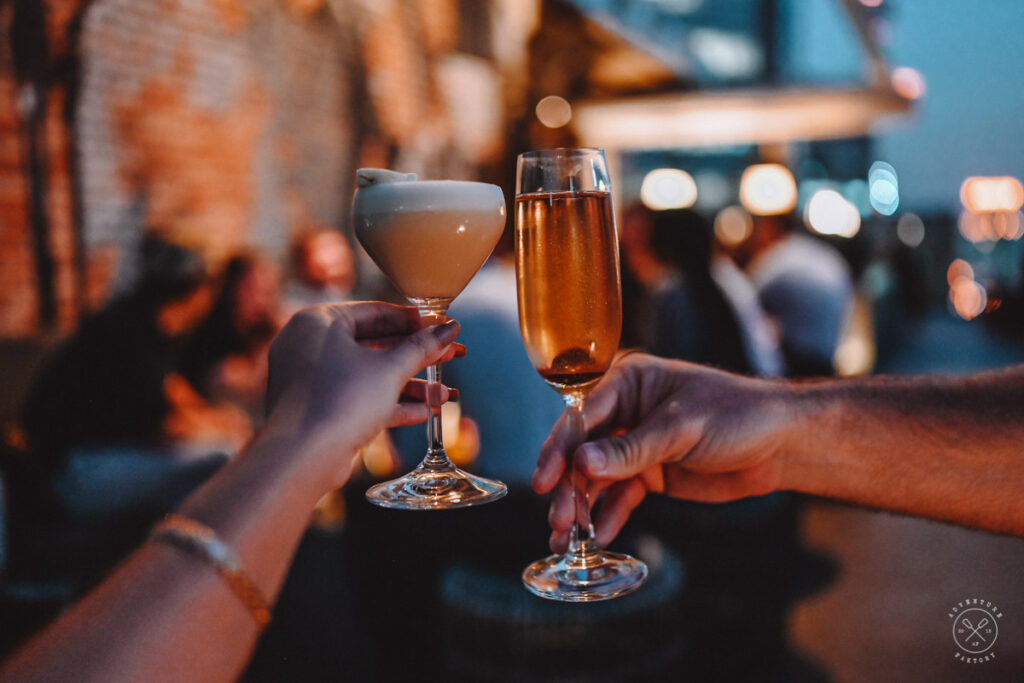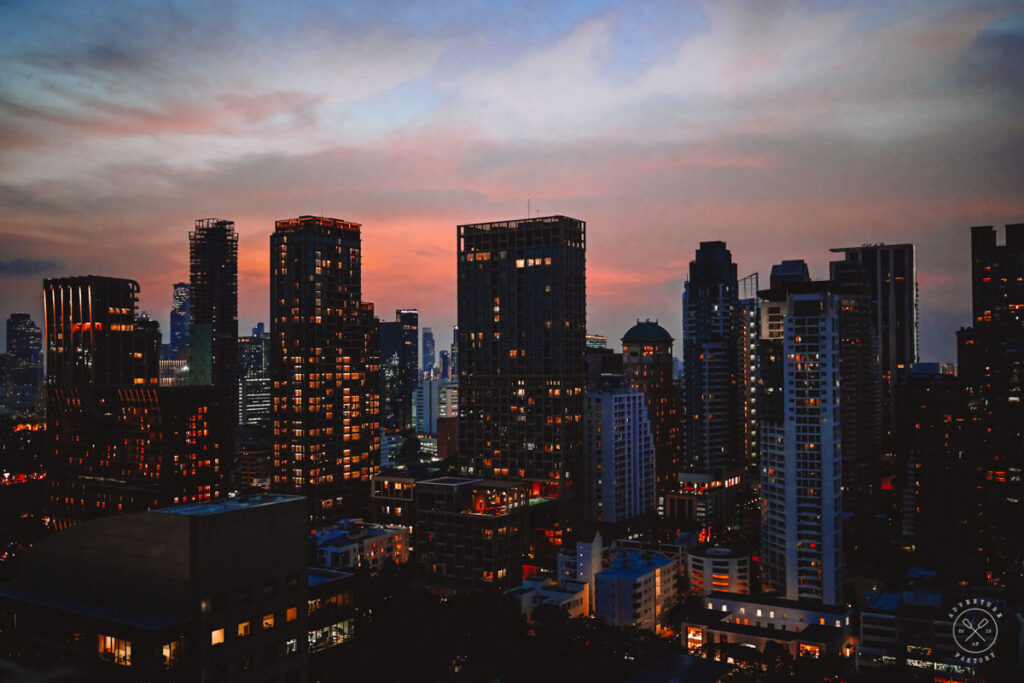 Published at Mon, 09 Jan 2023 05:51:00 +0000