The U.S. Navy Needs More Ships, Encourages Industry to "Pick up the Pace"
The demand for warships is strong, and the Navy continues to receive support from the Congress to build more ships. The Navy is working to achieve a fleet of about 355 ships, plus a fleet of about 150 unmanned vessels
But to achieve something close to that goal requires more than demand, and even more than money. For one thing, it requires an industrial base that can build, repair and sustain that fleet.
While Navy leadership acknowledges the challenges of a stressed supply chain, covid, and a workforce of experienced shipbuilders that is aging out, top Navy officials are impatient with the slow progress.
Congress has been supportive in funding new ships, but some experts question whether the industrial base can deliver them.
At the recent Surface Navy Association 35th Annual Symposium in Washington, Chief of Naval Operations Michael Gilday told industry to "pick up the pace."
"We're paying a lot of money, but we're not necessarily getting what we're paying for with respect to two or three ships per year," he said, referring to the three-per-year desired production rate for Arleigh Burke-class guided missile destroyers, as well as the two-per-year desired production rate for Virginia-class submarines. " I know that there are constraints with respect to the workforce. I know that we're trying to get after supply chain problems. We just need to do better."
More ships may look better on paper, but may not be realistic. "If we buy ships at a rate faster than we can sustain, we're going to pay for it and I've just been unwilling to go down that path," Gilday said. "We're not going to have a Navy bigger than one we can sustain bigger, than one we can afford."
The Navy has more submarines under construction and order than it has in decades. The Navy wants two Virginia-class subs per year, but industry is only delivering at a rate of 1.2 a year.
"In five years, instead of delivering 10 fast attack submarines, I got six. Where's the other four? My force is already four submarines short," said Commander U.S. Fleet Forces Command Adm. Darryl Caudle at the SNA Symposium.
He also said maintenance availabilities were not being conducted on schedule, and he cited a shortage of ordnance for his ships. He said he was familiar with the excuses, but told the industry representatives "I am not forgiving the fact you're not delivering the ordnance we need. This stuff about COVID [and supply chain] — I just don't really care. We all have a tough job. I need SM-6s (missiles) delivered on time. I need more Mark 48s (torpedoes) delivered on time. We're talking about war-fighting, national security, and going against a competitor and a potential adversary that is like nothing we've ever seen. We can't be dilly-dallying around with these deliveries."
Caudle said the service is working internally to boost its readiness of its existing ships, including announcing this week the surface fleet would aim to have at least 75 mission-capable ships at all times to send on missions with little notice.
At the SNA symposium, Commander Naval Surface Forces Vice Adm. Ray Kitchener announced his new "North Star" to always have 75 mission-ready surface warships available for tasking. Those ships include Aegis guided missile cruisers and destroyers, littoral combat ships, mine countermeasures ships and amphibious ships.
Kitchener announced the establishment of Surface Readiness Groups in the fleet concentration areas to provide the staffing and support to the squadrons in order to keep ships battle ready. The Surface Readiness Groups will be properly resourced staffed with experts to ensure ships complete maintenance on time and are returned to fully-ready status as quickly as possible. That includes tracking maintenance availabilities, monitoring repair progress in shipyards and tracking and expediting critical parts.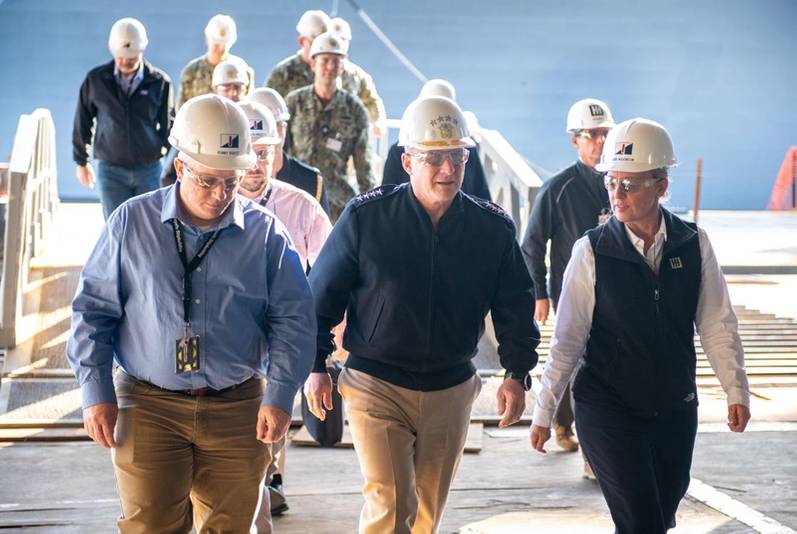 Chief of Naval Operations Admiral Michael Gilday to Huntington Ingalls Industries Ingalls Shipbuilding in Pascagoula, Miss., shipyard in January 2023 and toured several ships, including the first Flight III guided missile destroyer, Jack H. Lucas (DDG 125). (HII Ingalls Shipbuilding photo)

Exquisite submarines
Speaking at the Naval Submarine League 2022 symposium, Commander, Submarine Forces Atlantic, Vice Adm. Bill Houston commended the industry representatives in the room. "The submarines you deliver are exquisite."
Houston acknowledged that the Navy is now building the Virginia class and Virginia Payload Modules, as well as the 20,000-ton Columbia-class, with an industrial base that has actually shrunk.
But he urged industry to help the Navy build ships faster.
"To improve the operational availability of our SSNs, we're enhancing our new construction build rate to get to two per year, and deliver improved efficiency in our maintenance availabilities. We have to expedite those depot level availabilities at our public and our private shipyards, so we can get them back into operations," Houston said. "They are in high demand around the world."
Houston also said the Navy needs to look beyond the Virginia class. "It's time to begin the research and development to deliver the next SSN, with some key attributes. We need to increase speed, provide additional payload capacity, acoustic superiority—which include both sensors and quieting, and we need to improve operational availability."
Updating government shipyards
While there is discussion of adding a fifth or even sixth public shipyard to do Navy work, the more pressing need to is to update the four existing yards to modern standards and capabilities. The Navy refers to its Shipyard Infrastructure Optimization Program's (SIOP)as a "once-in-a-century investment to reconfigure, modernize and optimize our four aging Naval Shipyards into new modern facilities."
The public shipyards, including the four naval ships yards in Maine, Virginia, Washington and Hawaii—which primarily perform work on nuclear-powered submarines and aircraft carriers, along with the Coast Guard Yard in Maryland, have been making improvements to modernize their facilities to be better able to support newer and ever-more complex platforms. Likewise, the commercial yards engaged in building and supporting naval ships have also made significant improvements to their infrastructure.
"SIOP will construct and recapitalize dry docks, recapitalize and reconfigure infrastructure, and modernize industrial plant equipment, in order to improve the timely return of ships and submarines back to the fleet following maintenance and modernization"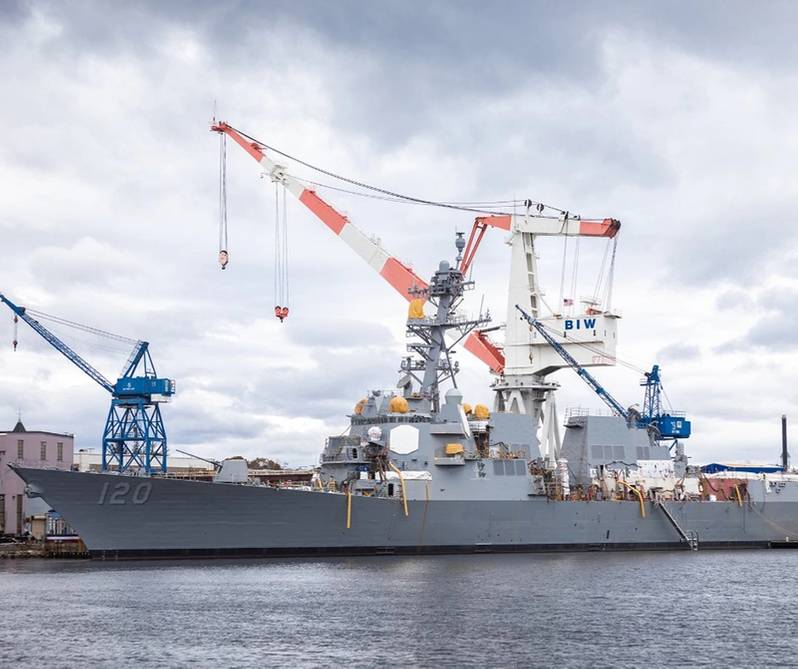 The Arleigh Burke-class guided missile destroyer Carl Levin (DDG-120) was delivered to the Navy at General Dynamics Bath Iron Works on Jan. 26th, 2023. (GDBIW photo)
---
---
Other Government Shipbuilding Programs
There are a number non-Navy government shipbuilding efforts underway.The Coast Guard also continues to build National Security Cutters at Inglalls Shipbuilding in Mississippi and Fast Response Cutters at Bollinger in Louisiana.
The first four hulls of the new Offshore Patrol Cutter are being built at Eastern Shipbuilding in Florida, with the second group of hulls has been awarded to Austal USA in Alabama.
Birdon America Inc. received a $1.187B contract in 2022 to design and build 27 Waterways Commerce Cutters (WCC) for the U.S. Coast Guard (USCG). The WCC contract includes two classes of ships: the River Buoy Tender (WLR) and the Inland Construction Tender (WLIC). Birdon is partnering with Bollinger and Incat Crowther. Bollinger will deliver the hulls to Birdon, with the production activity taking place at Bollinger's Lockport, Louisiana, shipyard.
The Coast Guard and Navy's integrated program office has awarded VT Halter Marine Inc., of Pascagoula, Mississippi, a fixed price incentive (firm) contract for the detail design and construction of the lead PSC. Construction is underway, with delivery scheduled for 2025. Bollinger acquired VT Halter in November of 2022, with the shipyard now known as Bollinger Mississippi Shipbuilding.
Another significant government ship program in the National Security Multi-mission Vessel (NSMV) being built at the Philly Shipyard for the Maritime Administration to support training at the state merchant marine academies. Steel was cut in January for the fourth NSMV, which is being built for Texas A&M Maritime University at Galveston.
NOAA (National Oceanic and Atmospheric Administration) is building two new oceanographic research ships, which will be named Oceanographer and Discoverer. The $178 million detailed design and construction contract was awarded by the Navy to Thoma-Sea Marine Constructors, in Houma, Louisiana. Oceanographer is expected to deliver in 2025 and operate from Honolulu, Hawaii. Discoverer is expected to enter service in 2026 and will be homeported in Newport, Rhode Island.
While Discoverer was initially intended replace NOAA's Okeanos Explorer research ship, NOAA has since decided to keep Okeanos Explorer in service.
Published at Wed, 08 Feb 2023 19:46:29 +0000