Meyer Werft Floats Out New Ship for Silversea Cruises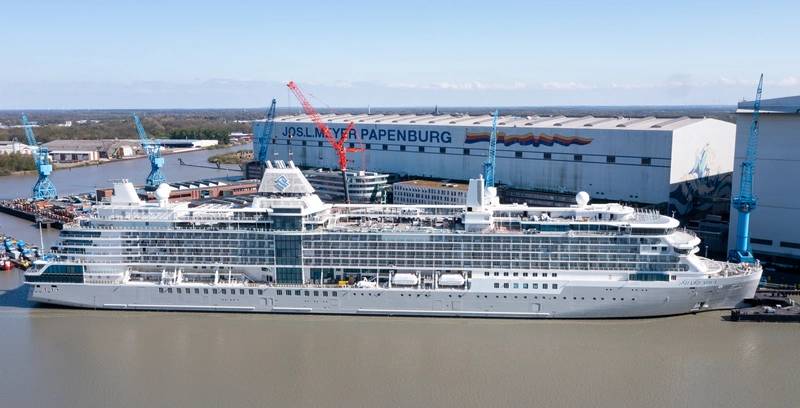 German shipbuilder Meyer Werft has floated out its latest newbuild for Royal Caribbean's luxury cruise line Silversea Cruises.
After water had filled the drydock at Meyer Werft's shipyard in in Papenburg, tugboats maneuvered the vessel Silver Nova from one of the world's largest enclosed construction halls into the adjacent harbor, where the fitting out phase will continue. Meyer Werft's craftspeople cleaned the ship's hull, attached its funnel, and installed its liquefied natural gas (LNG) and radar masts.
Silver Nova's next journey—scheduled for the end of May—will entail a conveyance of 32km (approximately 20 miles) down the narrow Ems River to the sea. The first of two Nova class ships currently under construction in Papenburg, the 728-guest Silver Nova is set to become the 12th ship in Silversea's fleet when she launches in summer 2023.
"With her float out at the Meyer Werft shipyard, anticipation is building among our guests, travel partner community, and the extended Silversea family for the launch of our 12th ship, Silver Nova," said Barbara Muckermann, President and CEO, Silversea Cruises. "Silver Nova embodies the vision of our cruise line and the evolution of our fleet. She has been purpose-built for ocean cruising, ushering an evolution of Silversea's industry-leading, ultra-luxury cruise experience. We at Silversea and the entire Royal Caribbean Group are looking forward to welcoming her to the fleet."
"Silver Nova is unlike anything we have seen in the luxury cruise industry so far," said Roberto Bruzzone, SVP Marine Operations, Silversea Cruises. "The float out marks the completion of the first construction phase and we will now focus on installing the ship's beautiful interiors. As well as being the most sustainable ultra-luxury ship at sea, Silver Nova will introduce our guests to a new level of comfort, with some of the industry's most spacious accommodations; the largest array of bars, lounges and restaurants of any ultra-luxury ship; and a host of unprecedented innovations for our cruise line."
Jan Meyer, Managing Director, Meyer Werft, said, "We have reached another important milestone in the construction process with the float out of Silver Nova. This ship is an important step towards green cruising due to its many technological features, as well as high environmental compatibility and energy efficiency. Beyond that, Silver Nova features a particularly innovative interior design."
Published at Tue, 02 May 2023 20:32:21 +0000