Greenpeace Activists Board Heavy-lift Vessel Carrying Shell's Penguins FPSO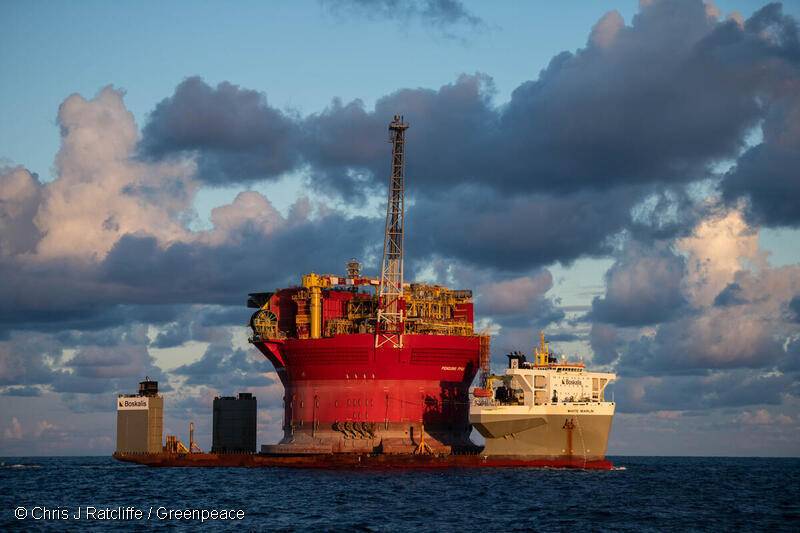 Four Greenpeace activists on Tuesday boarded the heavy transportation vessel carrying Shell's Penguins FPSO aboard, calling on the oil major to "Stop Drilling. Start Paying."
Six Greenpeace International activists attempted, and four managed to board Boskalis' White Marlin vessel in the Atlantic Ocean north of the Canary Islands.
The heavy transportation vessel is carrying the recently delivered 34,000t Penguins FPSO, which is planned to ultimately be deployed northeast of the Shetland Islands in the North Sea for the Penguins field project. Offshore Engineer recently reported that the vessel had been built in China and that its next destination would be Norway, where it would undertake commissioning works, before deployment in the UK.
"Climate Devastation"
"At 8am [GMT] on Tuesday, the protesters approached the 51,000-tonne heavy-lift vessel in three boats launched from Greenpeace's Arctic Sunrise ship, and used ropes to climb onto the deck," Greenpeace said.
"The peaceful protest aims to highlight the worldwide climate devastation caused by Shell and the wider fossil fuel industry, who haven't paid a penny towards the loss and damage they've caused," Greenpeace said.
Yeb Saño, executive director of Greenpeace Southeast Asia, who was on board the Arctic Sunrise Tuesday, said: "Shell must stop drilling and start paying. We're taking action today because when Shell extracts fossil fuels it causes a ripple of death, destruction, and displacement around the world, having the worst impact on people who are least to blame for the climate crisis.
"Shell and the wider fossil fuel industry are bringing the climate crisis into our homes, our families, our landscapes, and oceans.
"So we will take them on at sea, at shareholder meetings, in the courtroom, online and at their headquarters. We won't stop until we get climate justice. We will make polluters pay.
"They must take accountability for decades of profiting from climate injustice, and pay for the loss and damage they've caused. We need a just transition towards cheap, clean, renewable energy in a way that benefits communities, workers, and the climate."
Offshore Engineer reached out to Shell for comment on Greenpeace's action and on the Penguins project status. We will update the article with any response we may receive.
Published at Wed, 01 Feb 2023 14:21:29 +0000