25 Top Things To Do In Florence, Italy
There are so many fun things to do in Florence, Italy. There is history, there is eating, there is site seeing. It is a magical place filled with so many stories, art and wonder!
If you are planning to visit with kids don't worry there are plenty of things to do in Florence with kids as well. Plus so much history to learn and beauty to take in.
Florence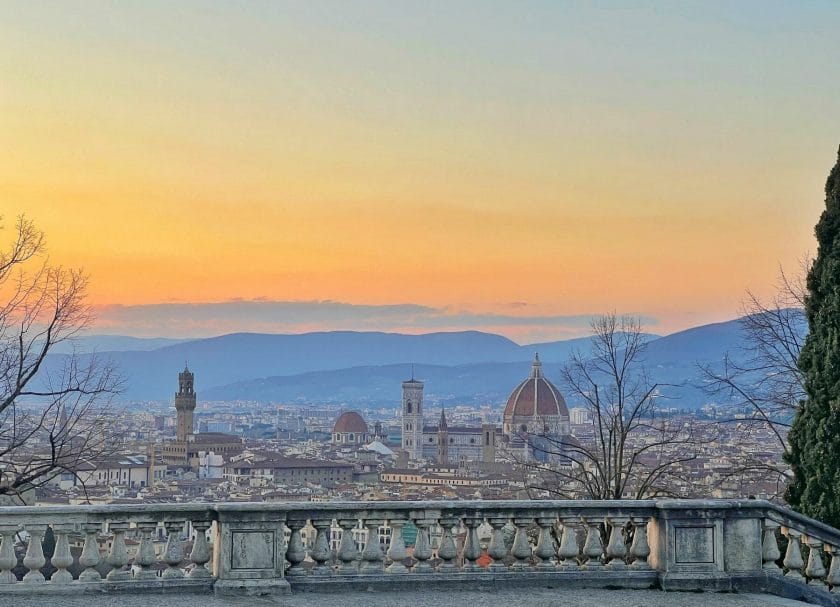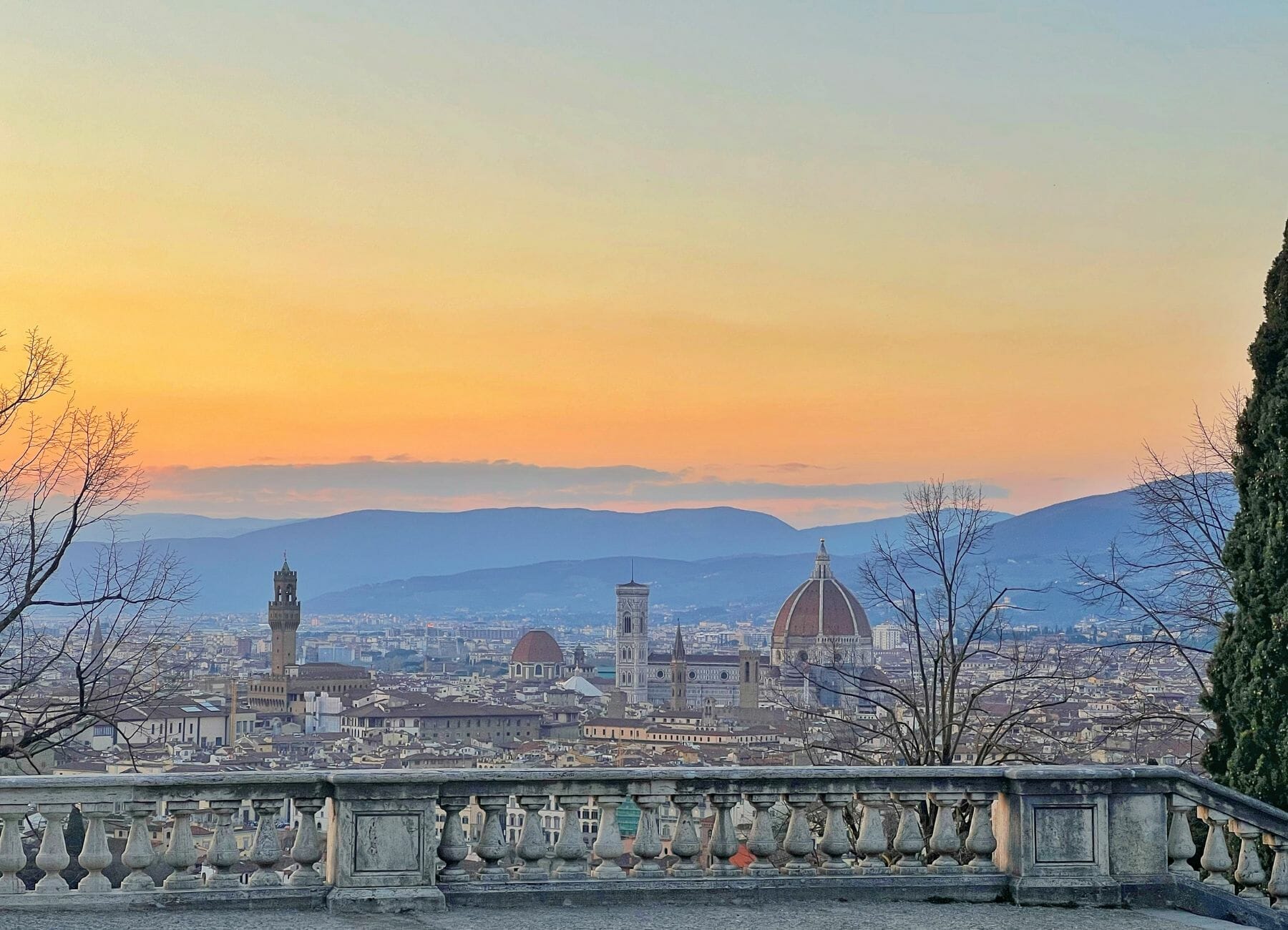 Florence is the capitol city of the Tuscany region. During medieval time it was a center for finance and trade. And also one of the wealthiest cities. To this day it is a city known for its Renaissance art and architecture, its' culture and monuments. It was ranked as the most beautiful city in the world in 2010.
We visited in early spring and it was a great time to be there! It wasn't over crowded and the weather was not hot. It was perfect for walking around to explore the city.
Foods Not To Miss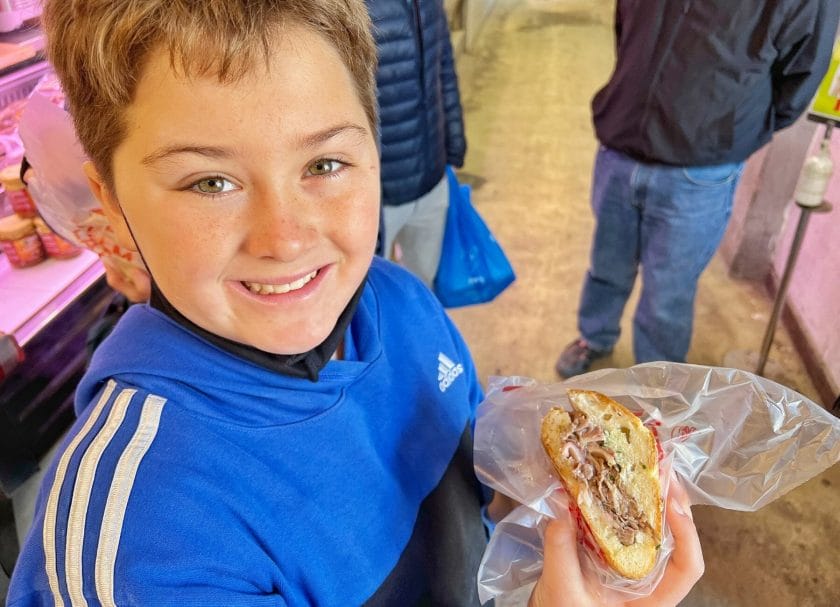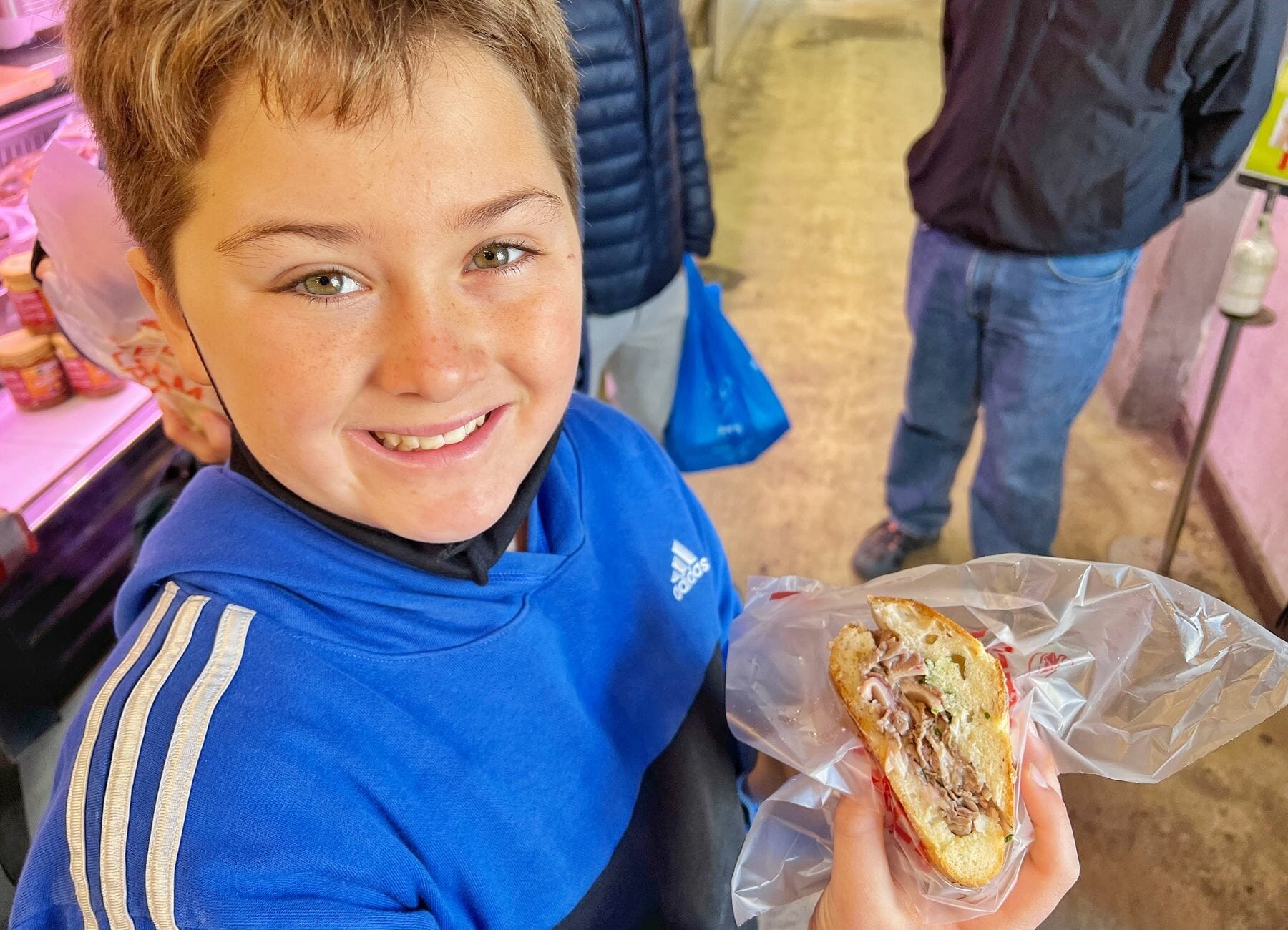 Florence is filled with amazing cuisine which makes it a great place to take a food tour! Be sure not to miss trying these foods.
Florentine Steak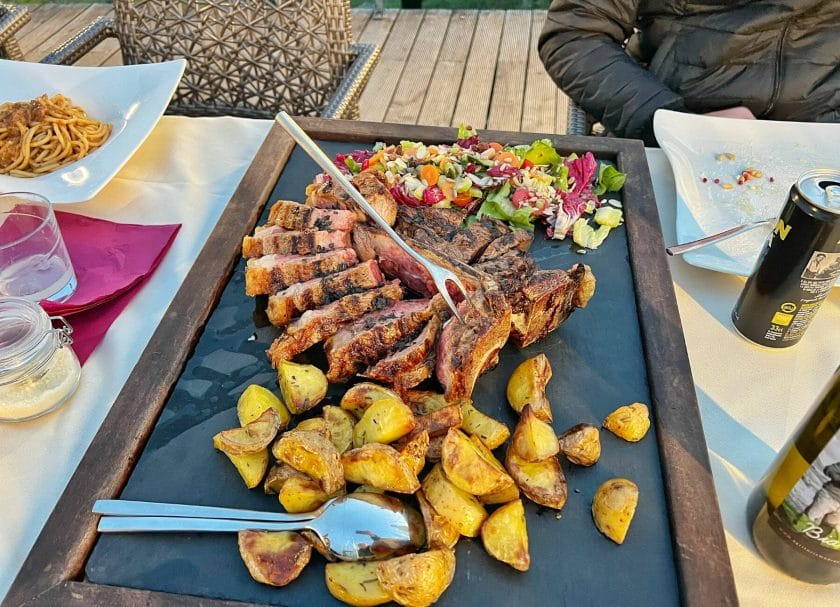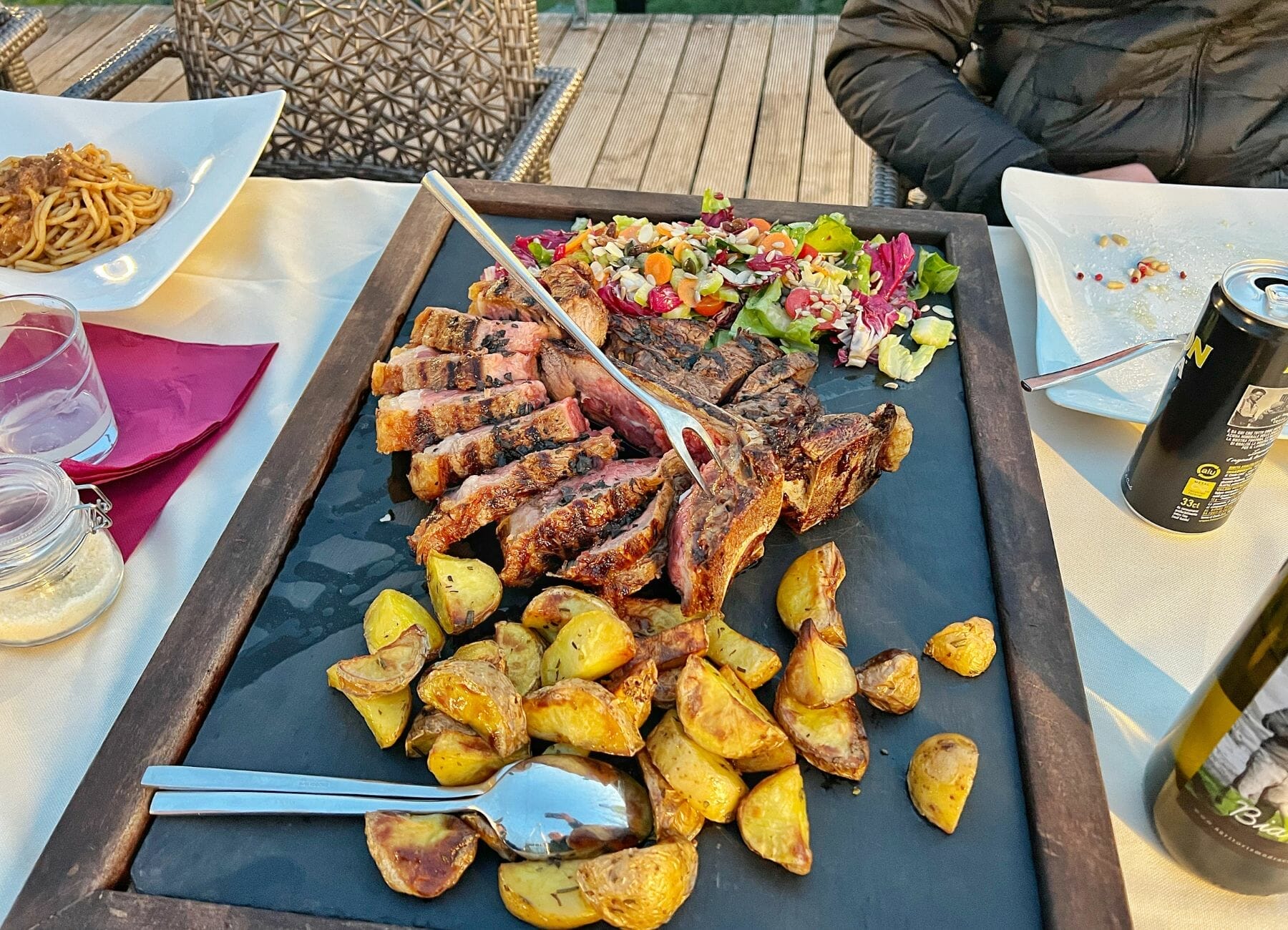 My kids still talk about the Florentine steak we had when we were in Italy. The steak is a 3 to 4 fingers high cut and includes the bone. It is cooked on a grill and is served rare. It is very juicy!
Lampredotto
This is an interesting one. We had it on our food tour. If we weren't on the food tour I don't think we would have tried this! The meat of the sandwich is made from the fourth and final stomach of the the cow.
This is a very popular dish in Florence and ended up being our oldest sons favorite thing he tried during the food tour! When in Florence you should try it.
Activities Not To Miss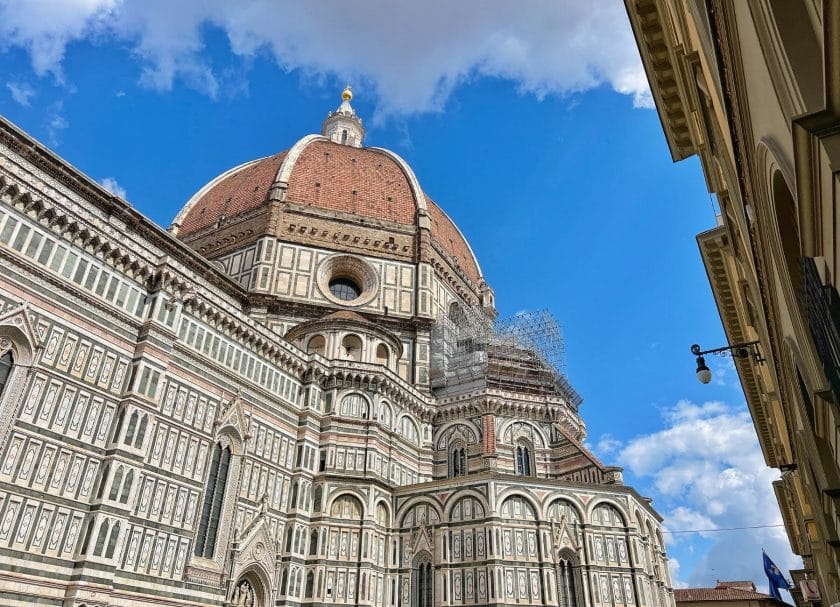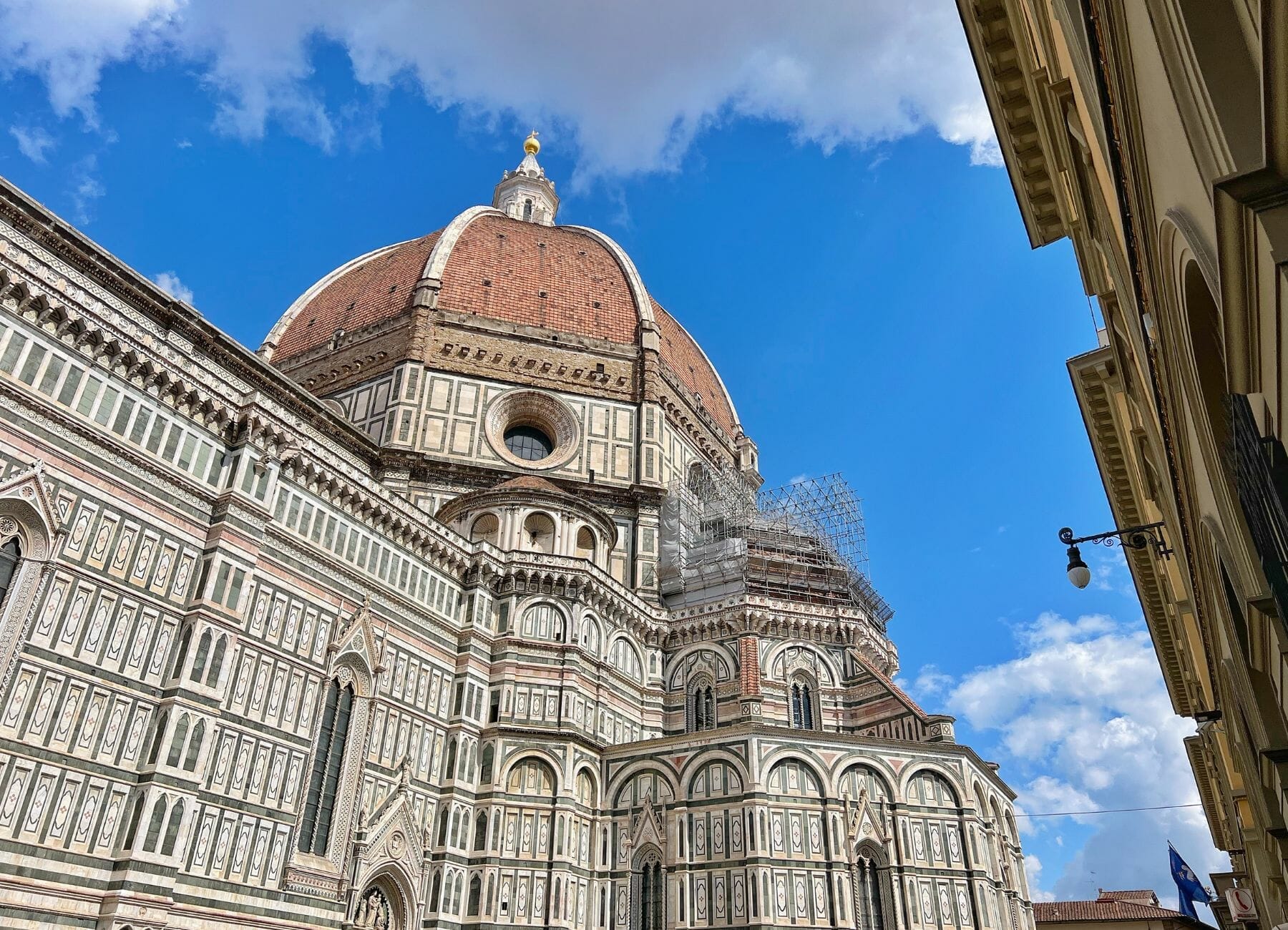 Food Tour – Ok I have mentioned it a bunch already. But honestly do it! This is the one we did and we would definitely recommend it.
David Statue – Notice I didn't say the Accademia Gallery – which you do have to go to since this is where the David statue is. The highlight of the Gallery is the David Statue.
Duomo – It's Florence the Duomo is iconic. We went inside since the line wasn't long. If the line is long and you have done other cathedrals you don't have to go in. Unless it has always been on your bucket list. BUT be sure to walk around it and take in it's grandeur and be sure to see it at night!
Getting Around
Florence is an extremely walkable city. You can get pretty much everywhere on foot within the city. Our understanding is tourist can not drive a car in Florence so if you plan to drive in plan accordingly. We took the train in and walked to our place.
How Long To Stay
We recommend staying at least 3 nights. We stayed at a place that was right outside of the Duomo square and it was a perfect location for exploring Florence. With 2 full days we had a lot of time to explore around the city.
If you plan to visit Tuscany or Cinque Terre and use Florence as a base you would want to stay for longer to have time for those trips. Just be sure to set aside at least 2 full days to explore Florence.
Our Recommendations On Things To Do In Florence, Italy
Visiting the Historic Center of Florence offers so much history, beauty and unbelievable art work and architecture. There are so many great museums in Florence.
Accademia Gallery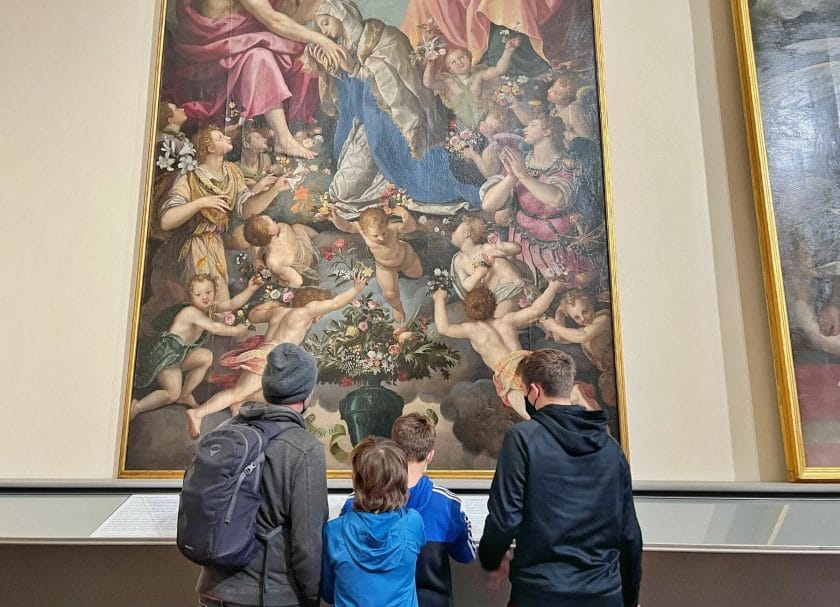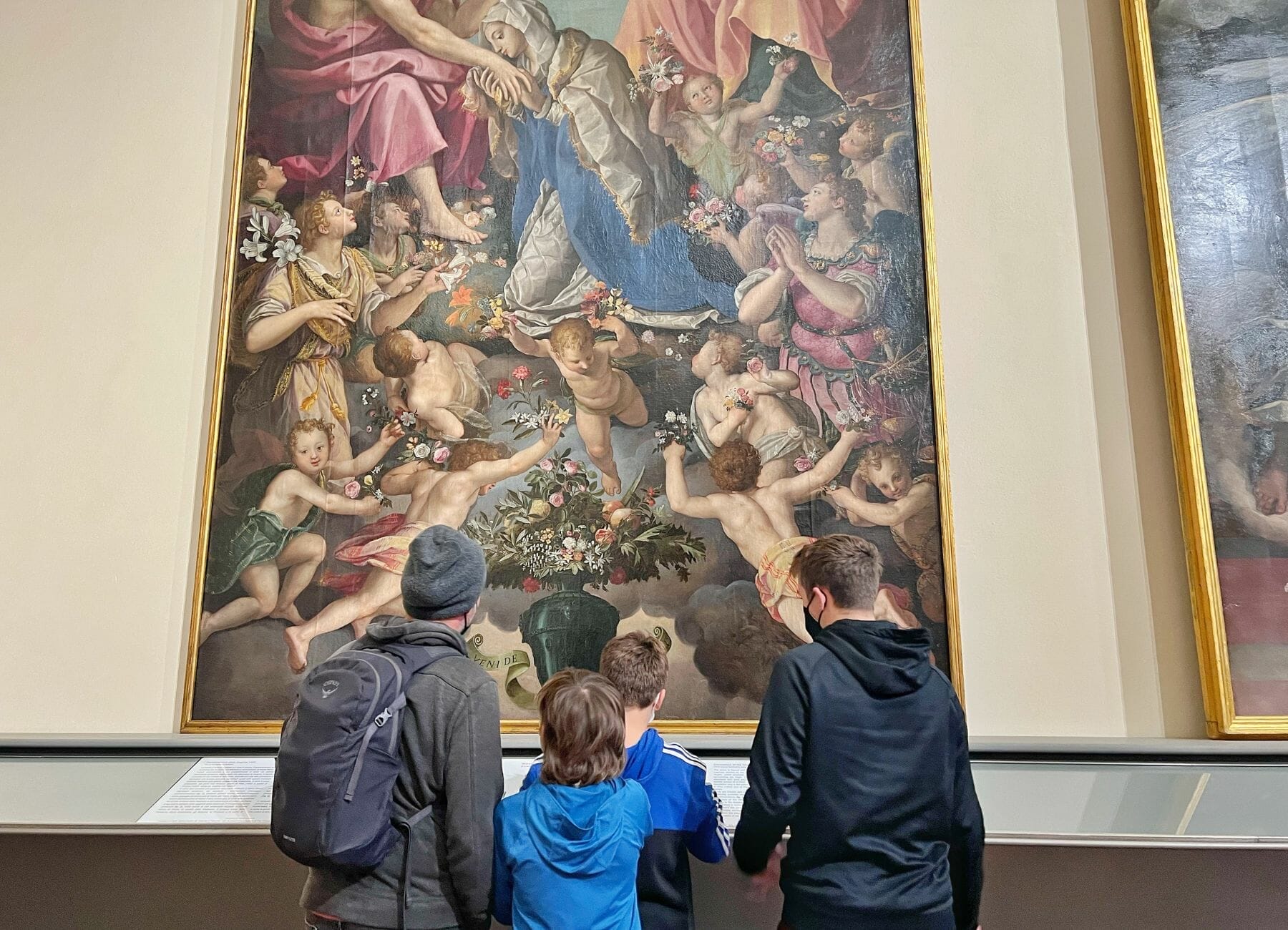 When in Florence you have to see Michelangelo's David! Plus buy a David magnet and a postcard of David's butt. Ha! You don't really need the magnet and postcard but they are fun souvenirs.
When visiting the Academia look into free days. However be aware if you don't have a ticket there can be long lines to get in. We bought skip the line tickets and it was well worth it.
Once in we followed the Rick Steves Academia Gallery tour. It is free on his app and you can either listen to it – if you bring headphones. Or you can read it. We choose to read it out loud to our kids.
The map and tour was very helpful and having the information for us to read to learn more about what we were looking at was so helpful.
Eating Europe Food Tour Of Florence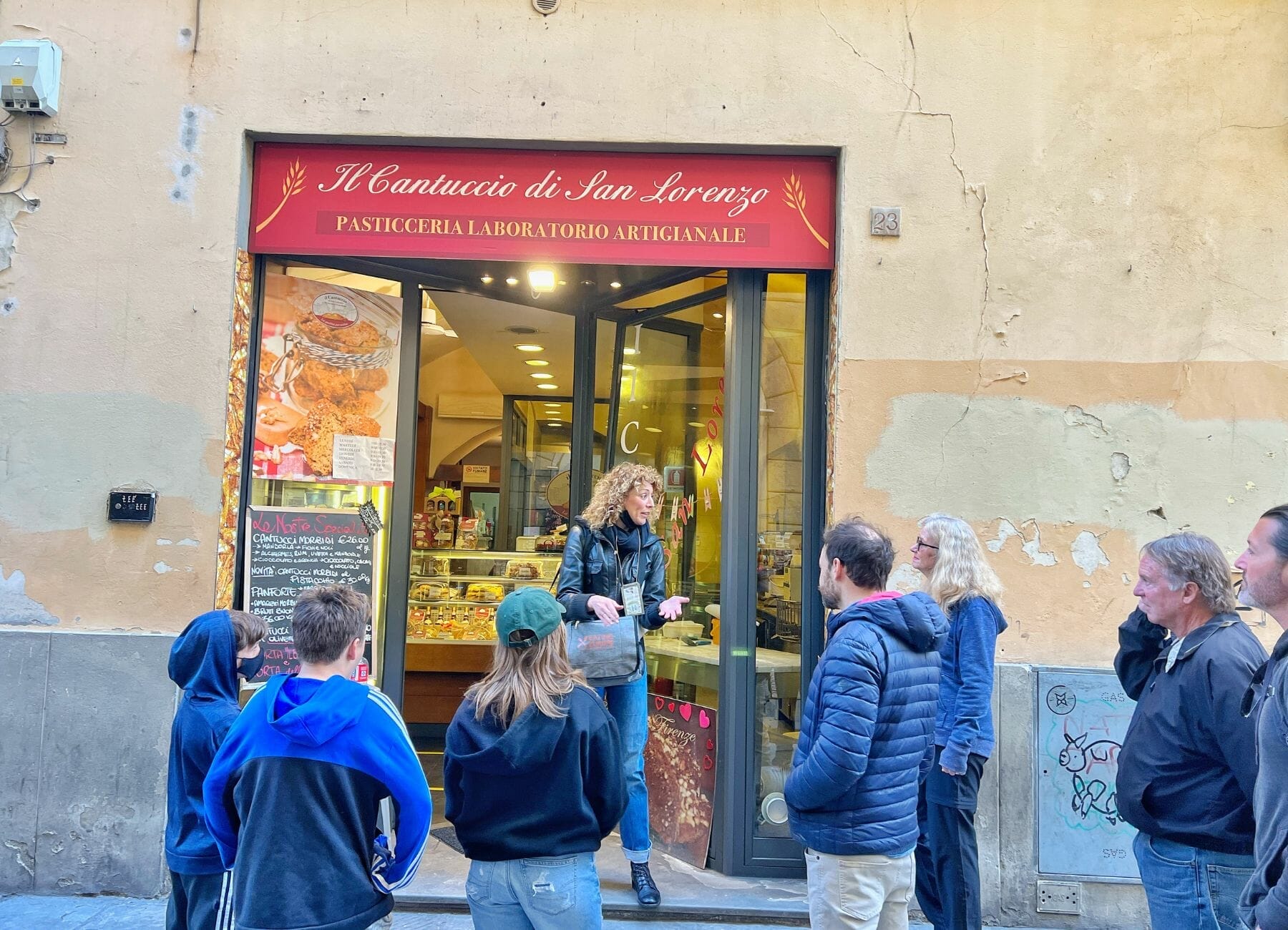 We love doing food tours when we visit new cities for a couple of reasons. One it is food! This also means our kids are staying engaged. Two we get to learn more about the city from our local food tour guide.
We loved our Eating Europe tour: Florence Food Market and Wine Tasting Experience. Our guide knew all of the people who owned the restaurants and markets and it was so cool to hear her talk to them and for her to share her knowledge with us on the restaurants and Florence.
It really made us appreciate day to day life in Florence.
We made so many stops on our food tour. By the end we couldn't even eat anymore!
We started with Biscotti and after that headed to the 1st floor of the Mercato Centrale market. Note the top floor is more restaurant style. The bottom is the actual market.
This is the same market our guide shopped in almost daily. It is a big and busy market so without the guide it would have been confusing! With our guide she brought us to all the best places.
After sampling meat and cheese and buying more meat, cheese and a few other snacks to eat later in the tour we made a stop at a Lampredotto shop. I can guarantee without our guide we would not have tried the Lampredotto.
The Lampredotto is the 4th stomach of the pig! Carson our oldest said it was his favorite thing on the tour.
After that experience we stopped at the local Olive Oil stand where the olive oil was produced at their agrotourism farm in Tuscany. We sampled so many delicious oils. I wanted to buy all of them!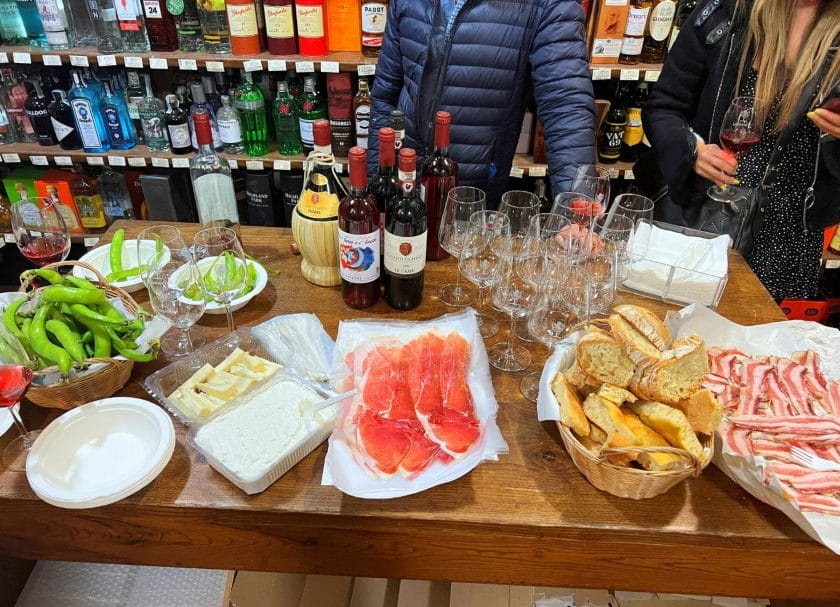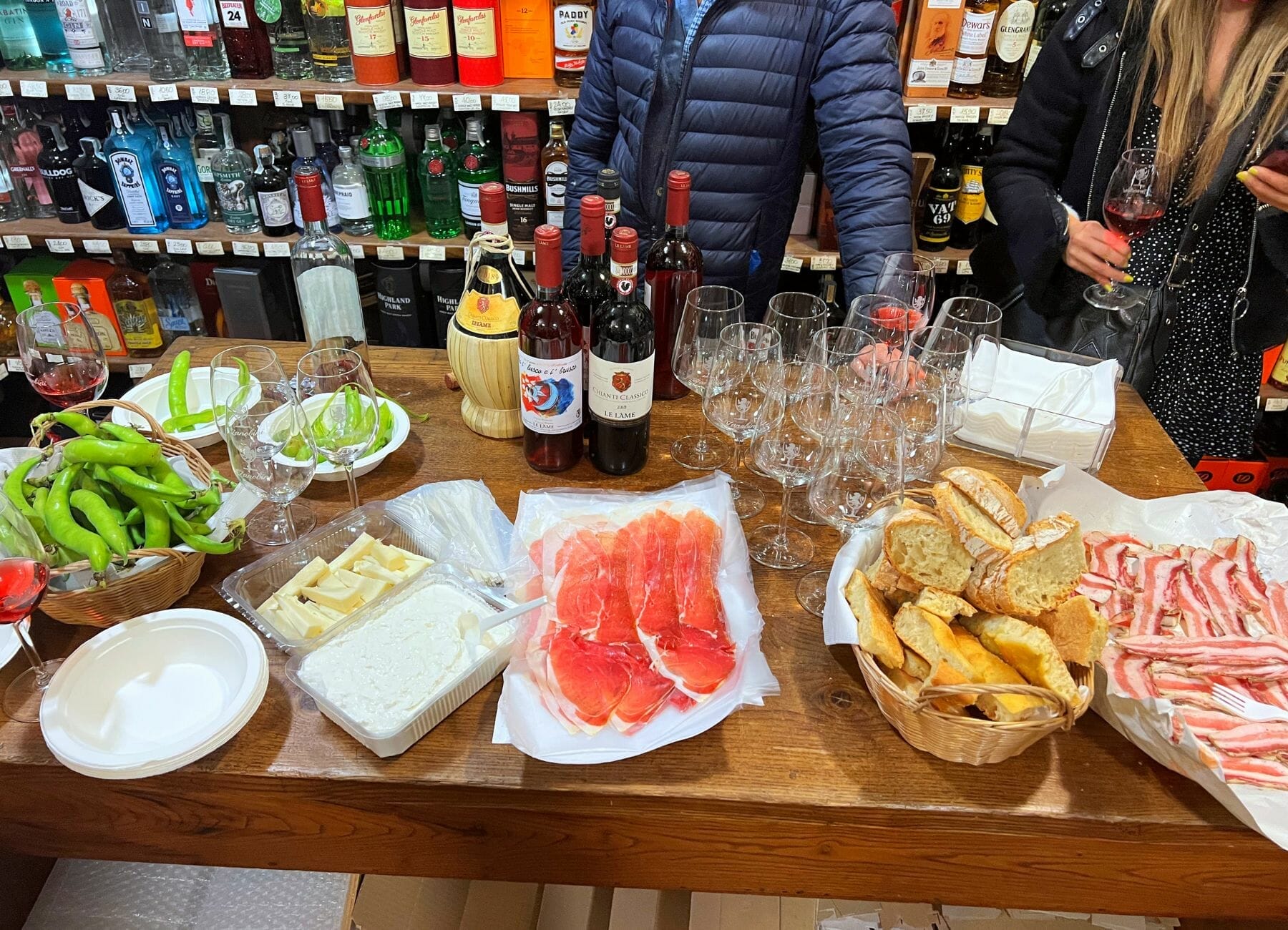 After that we headed to a wine shop where they had a room ready for us in the back to sample wine and to lay our spread out from the market to enjoy while we sampled the wine. Our kids were with us so they had a delicious non-alcoholic drink to try.
After all of this food our guide took us to a traditional Florence stop where you get a shot of alcohol (Firenze) that helps with digestion. Yes it is a thing! You could also get a cup of coffee if you preferred.
Finally to the kids delight we stopped at our guides favorite gelato place in Florence – La Gelatiera.
The Food Tour was one of our favorite things that we did and we would say one of the best things to do in Florence Italy!
Sunset Over Florence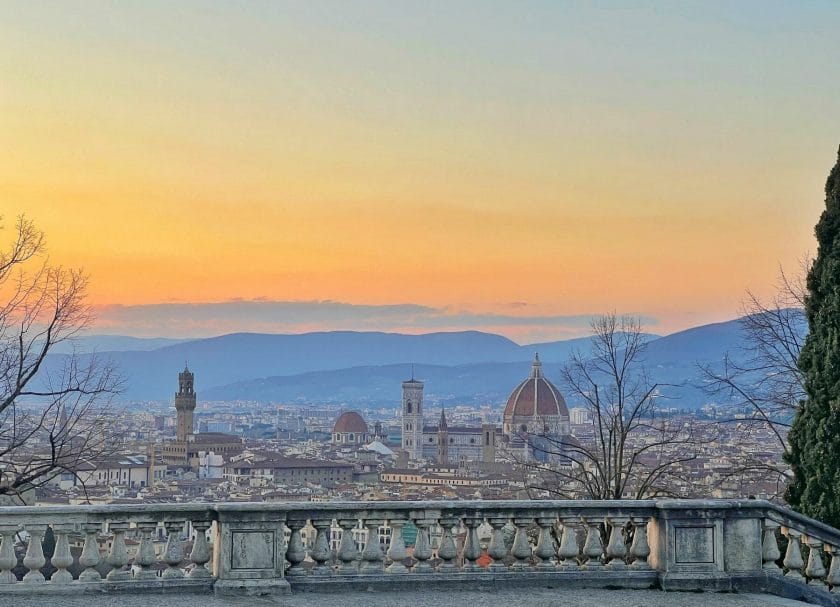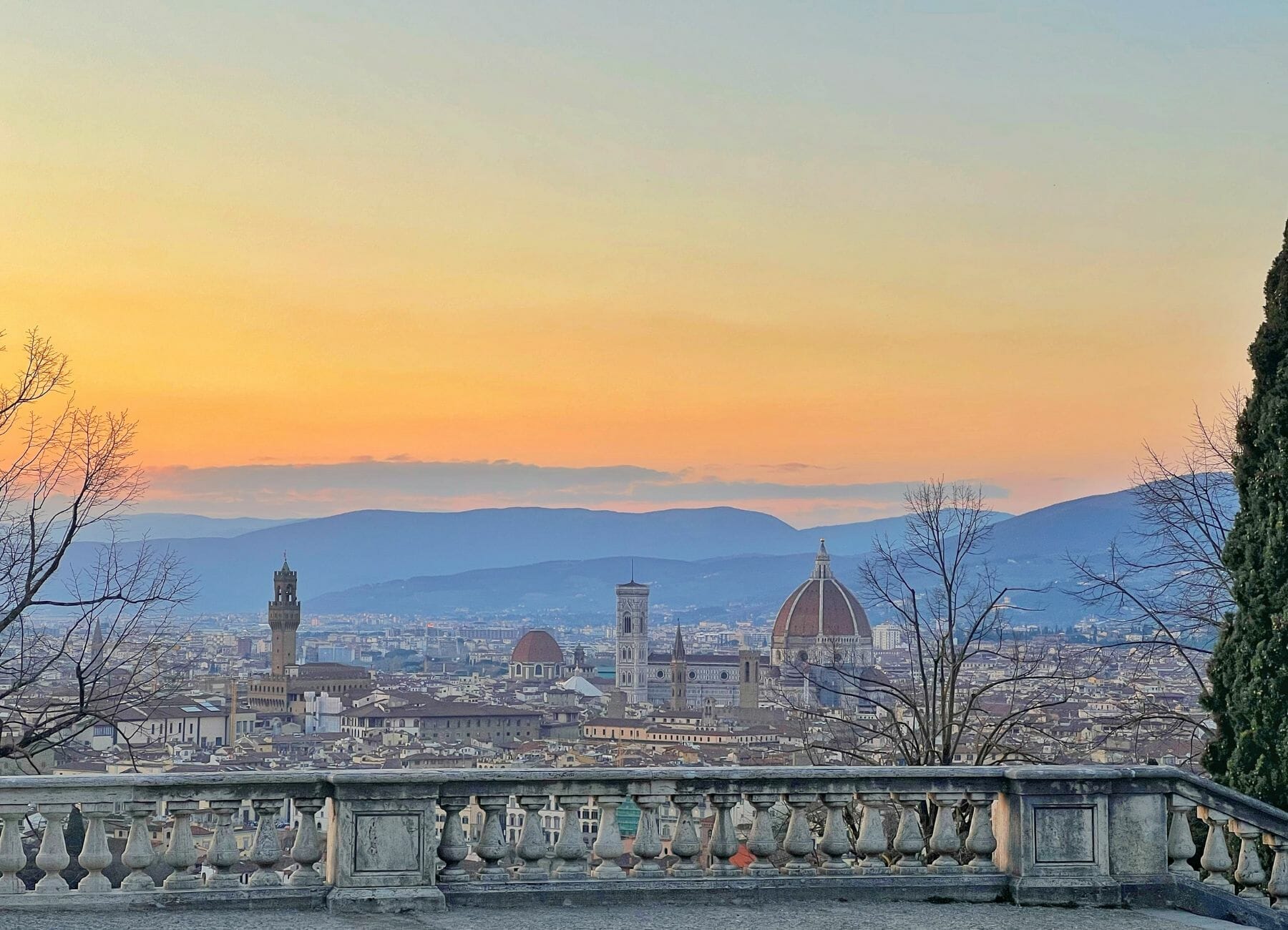 You won't want to miss the sunset over Florence and the most popular place to do that is the Piazzale Michelangelo. However, our recommendation is a little bit different. Instead of going to the busy Piazzale make your way over to the church of San Miniato and take a seat on the steps to watch the sunset.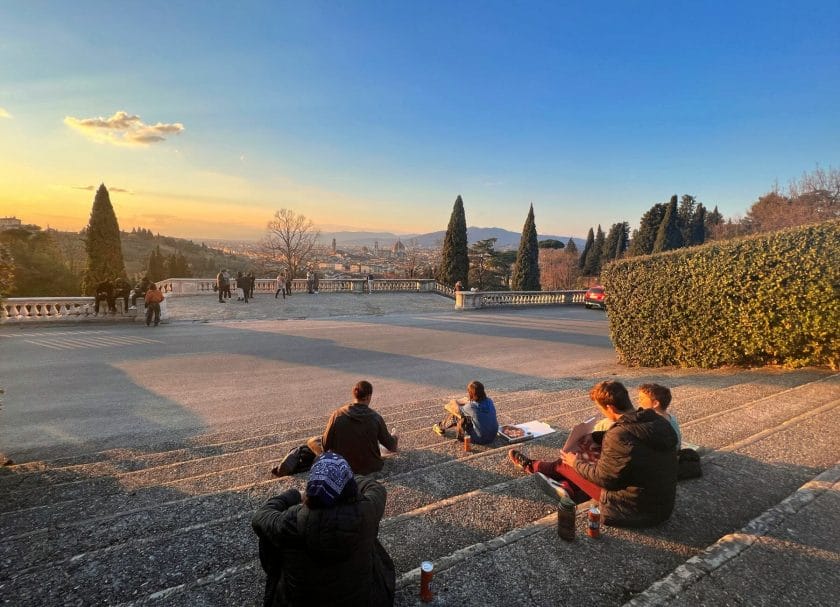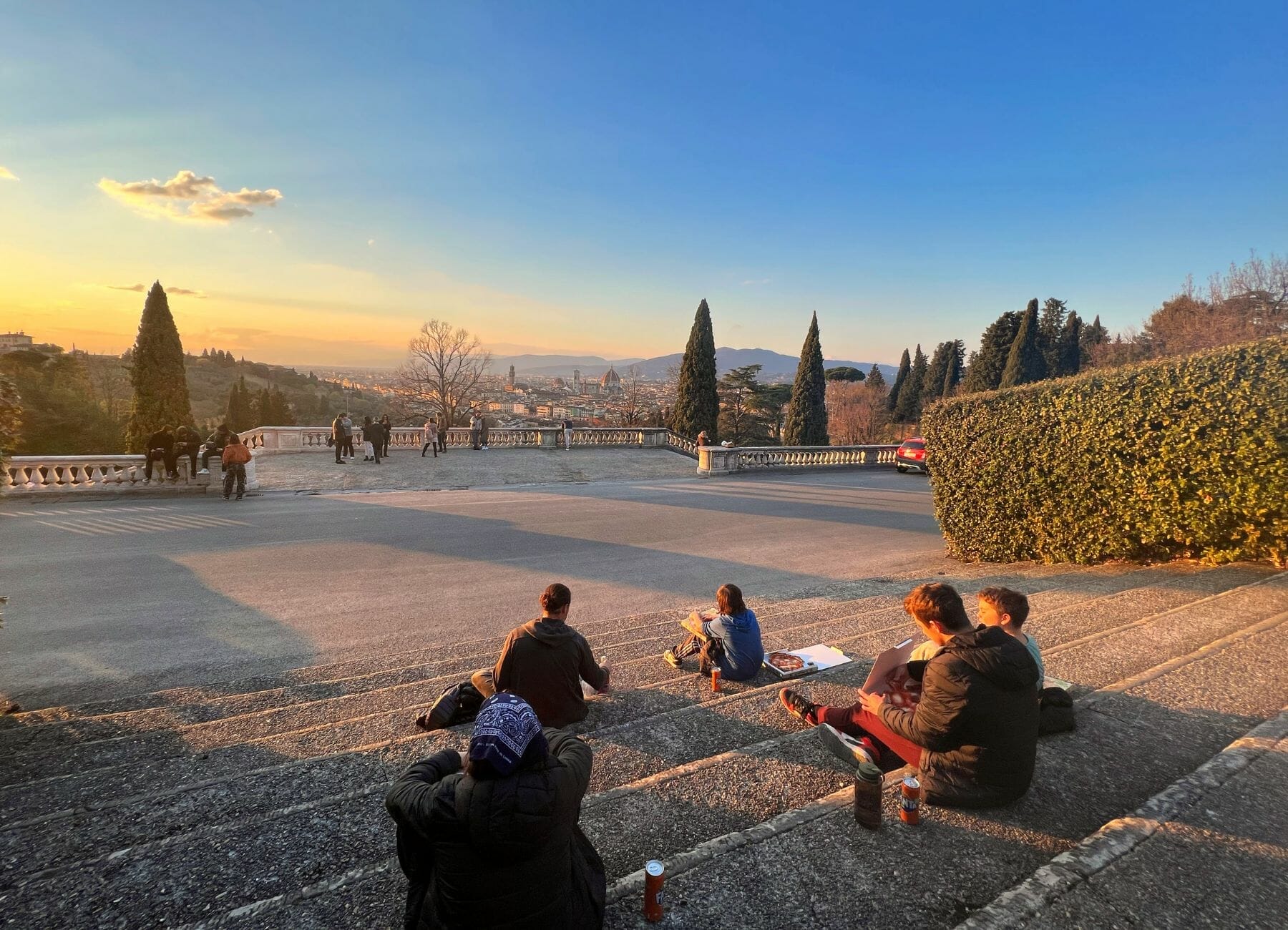 We ordered a few pizzas from I'Pizzacchiere, got a bottle of wine and headed up to the stairs to watch the sunset and it worked out great! It is definitely quieter compared to the Piazzale. Once sunset was over we made our way to the Piazzale to check it out and to start making our walk back into the city.
This truly is one of the best view of Florence.
Duomo At Night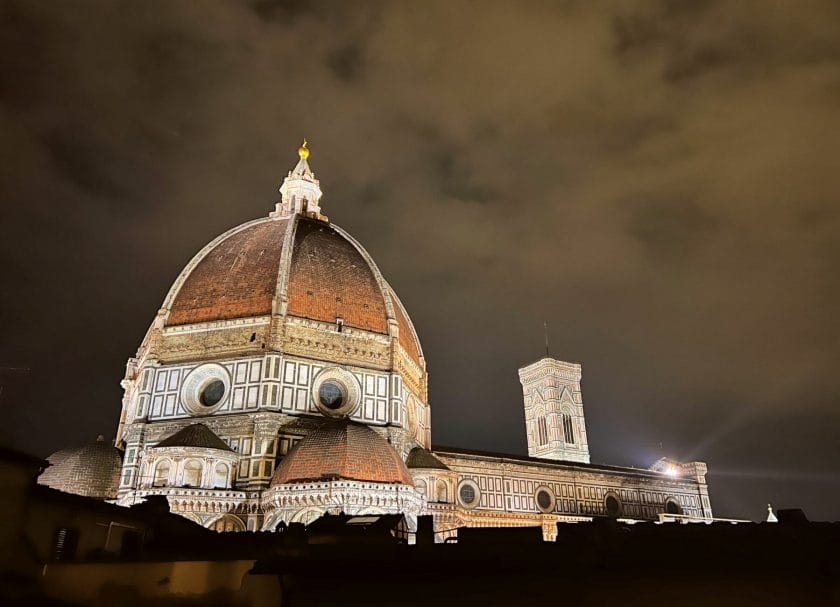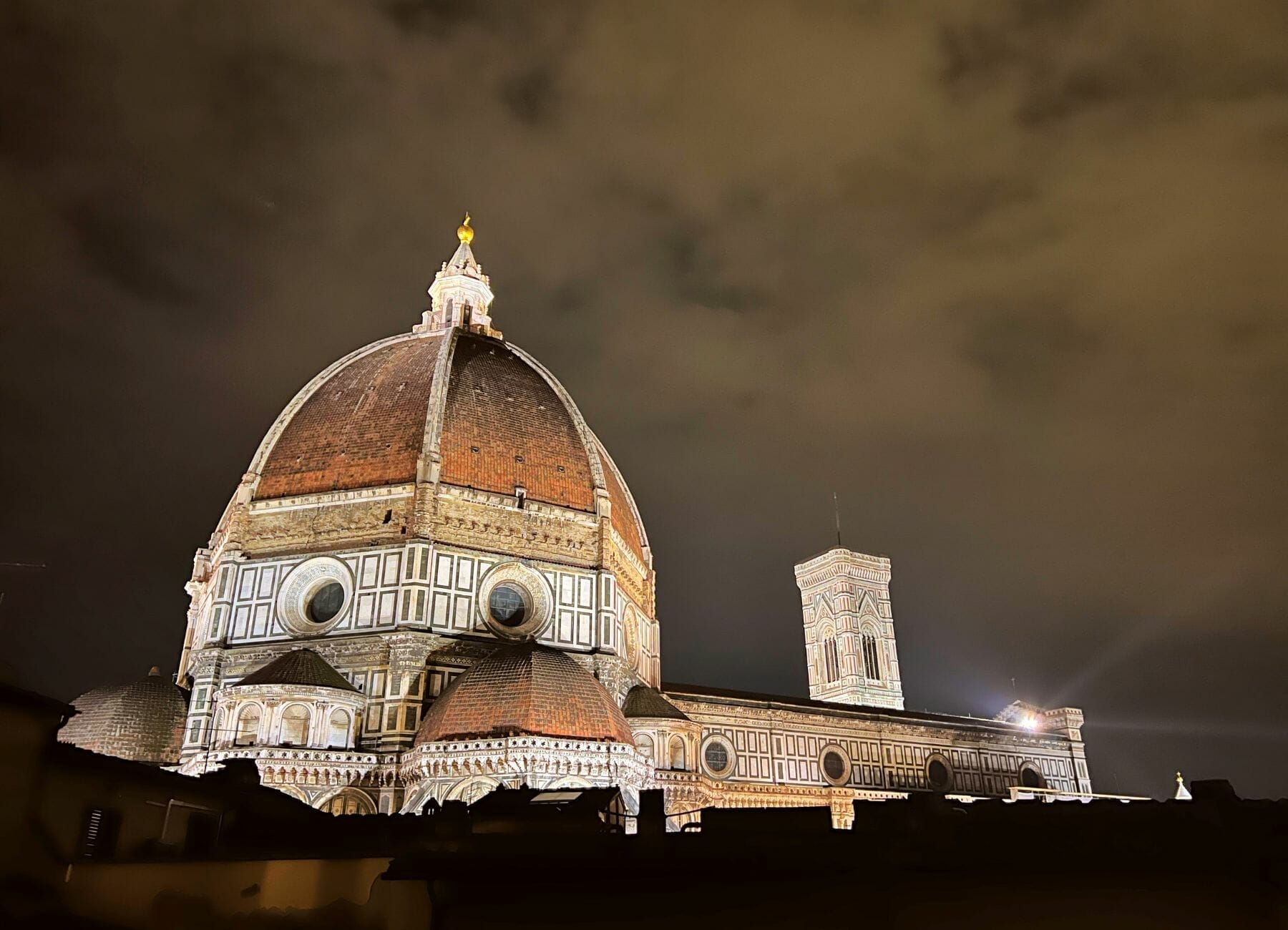 When it gets dark be sure to get to a place where you can view the outside of the Duomo at night. It is a magnificent structure during the day but at night with the lights on it is truly magical. This view is from the terrace area at the apartment we stayed in: Era Rental Apartments.
Uffizi Gallery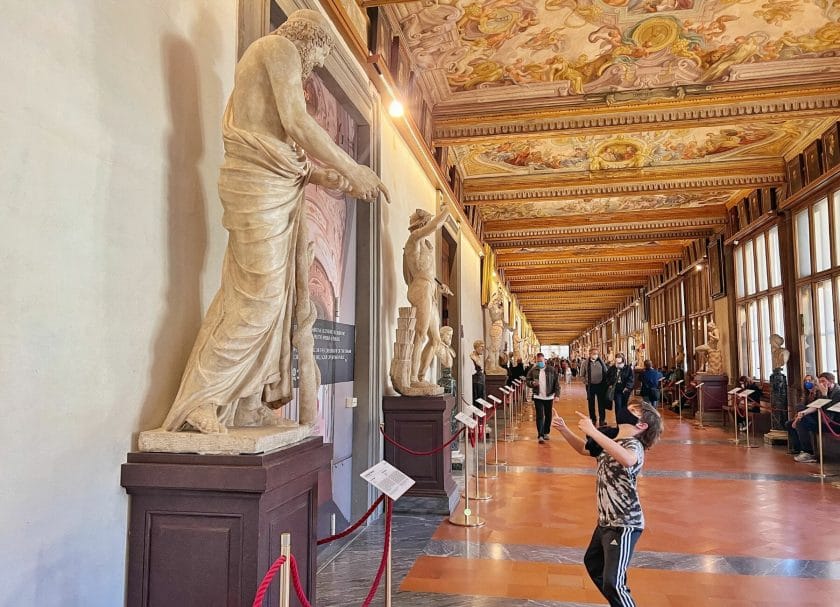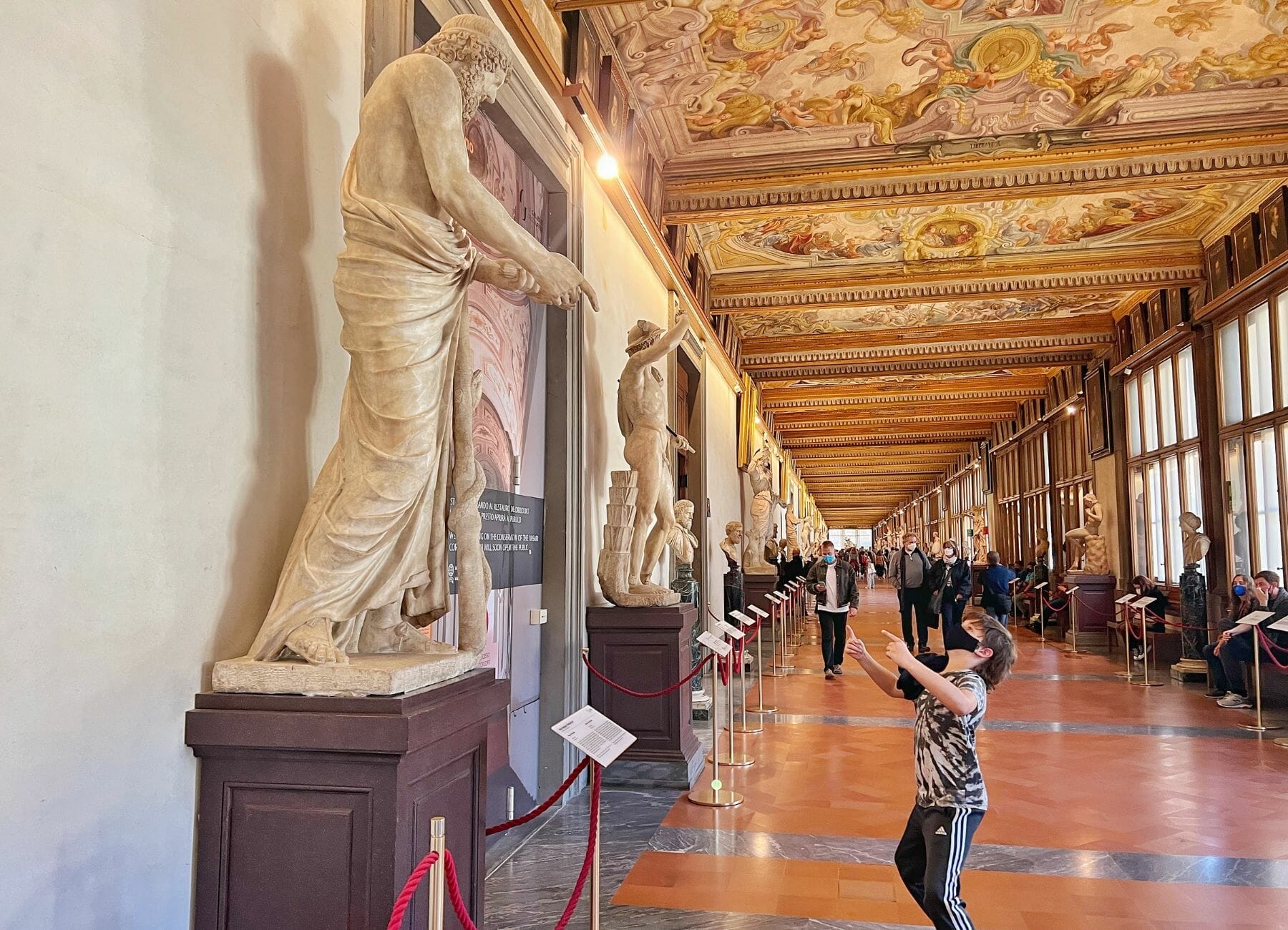 Another must do in Florence is the Uffizi Gallery. There are so many iconic pieces of art work you will want to see. It has an outstanding collection of ancient paintings and sculptures from the Middle Ages to the Modern Period.
If you are into art museums you can easily spend 3-4 hours here taking in all of the art work. If you want to see it because you are in Florence and it is the Uffizi Gallery you can make it through much quicker.
An extra stop if you like art museums should be the Palazzo Strozzi.
Carousel
After walking through the Gallery make a stop at the Carousel of Piazza della Repubblica. It is an antique carousel and a fun stop to make if you have kids.
Florence With A Flair Walking Tour
Next up take a walking tour with Elena. This helped us learn even more about the history of Florence and to understand this magnificent city from another locals perspective.
She spent 3 hours walking us all around Florence and sharing the history of the city, her experiences and all the ins and outs of this amazing city. She was also a great guide to have with kids!
If you find the right tour guide taking a tour in a city is an awesome way to learn more about the city, plus it means less planning for you since the tour guide leads you to all the top places!
Duomo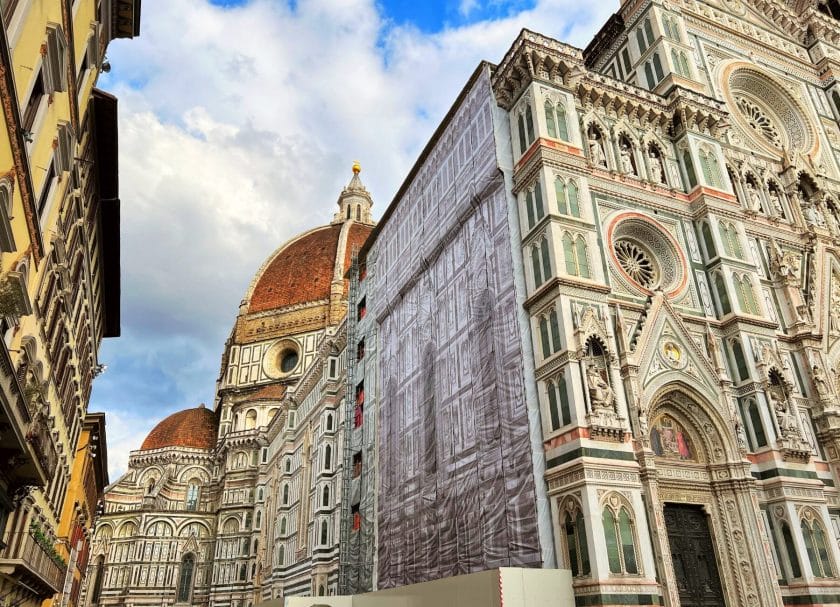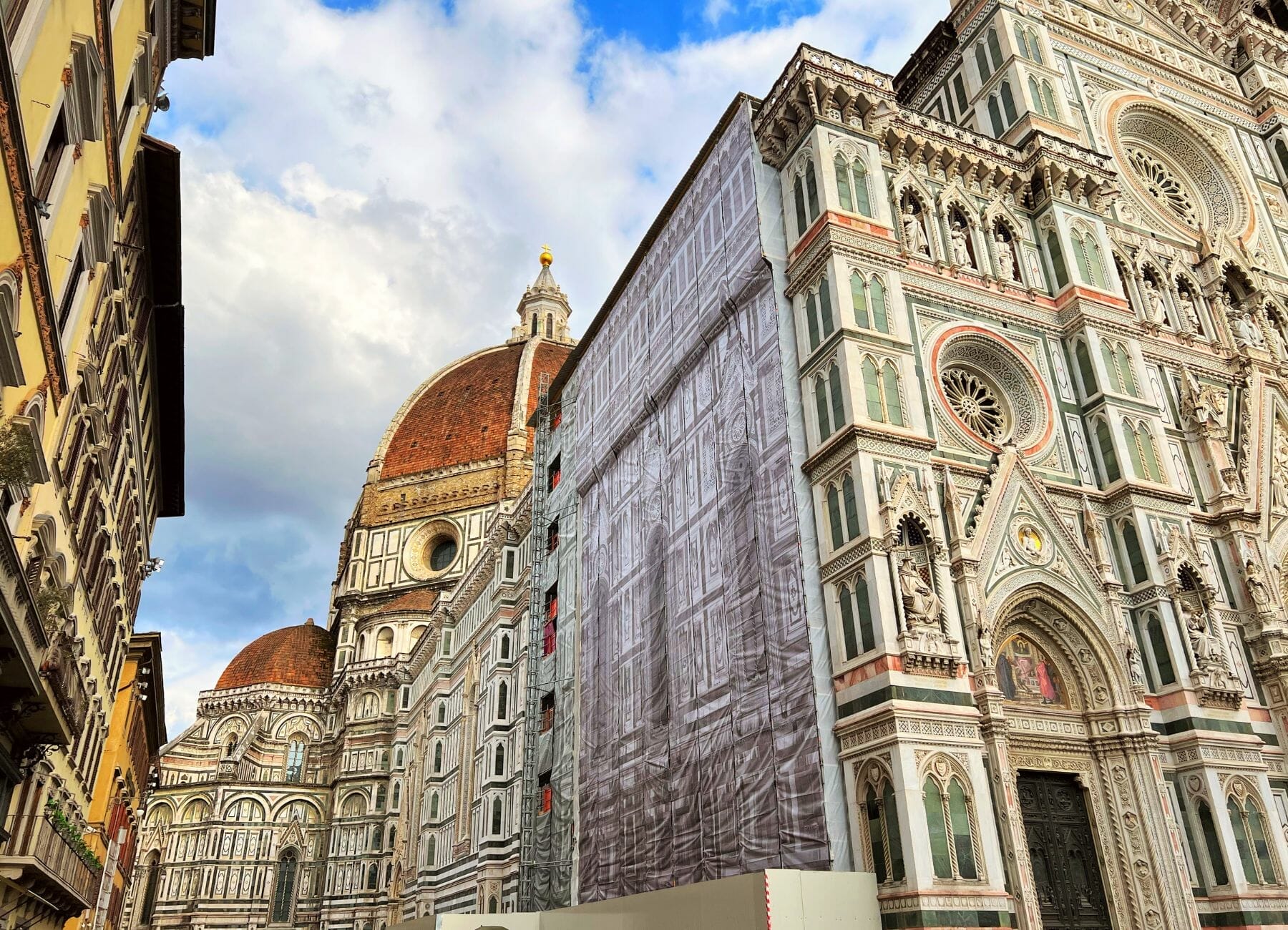 Stop outside of the Duomo and take in the grandeur of this amazing architectural feat. Luckily the line was short so we also made our way into the Duomo. Our guide gave us a great overview of the Duomo and pointed out a variety of interesting facts about this iconic building and the Cathedral di Santa Maria del Fiore.
You will also want to take in the Piazza del Duomo which is normally bustling with people. Plus be sure to look across from the Duomo entrance to see Ghiberti's golden gates! They are truly a work of art.
Piazza della Signoria
This Piazza is considered the most beautiful piazza in Florence and has been the political and social heart of the city for years. It is home to a replica of the David statue, the Fountain of Neptune (more on that below), the sculpture gallery Loggia dei Lanzi (which has statues that represent important events in the city and also myths), and the famous equestrian statue.
The Palazzo Vecchio is also located here and is the town hall of Florence. You can walk through here for free.
Fountain Of Neptune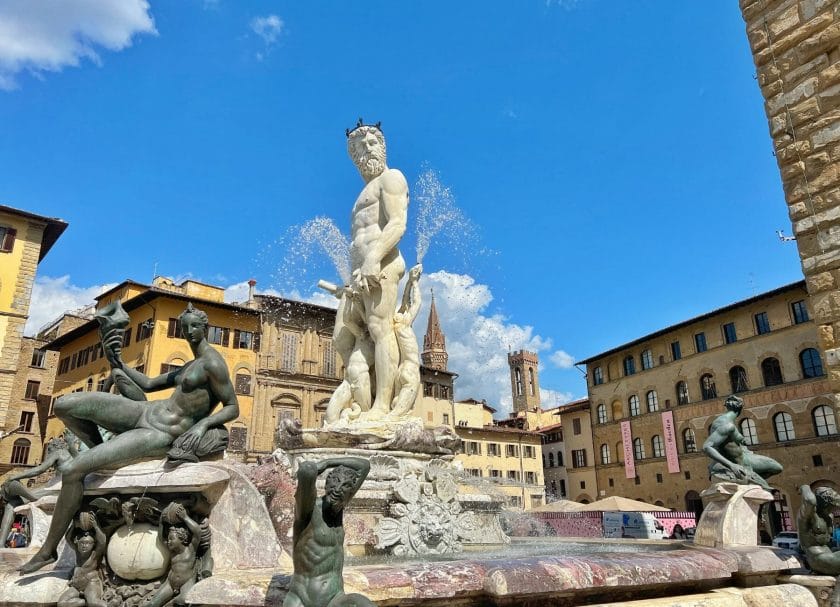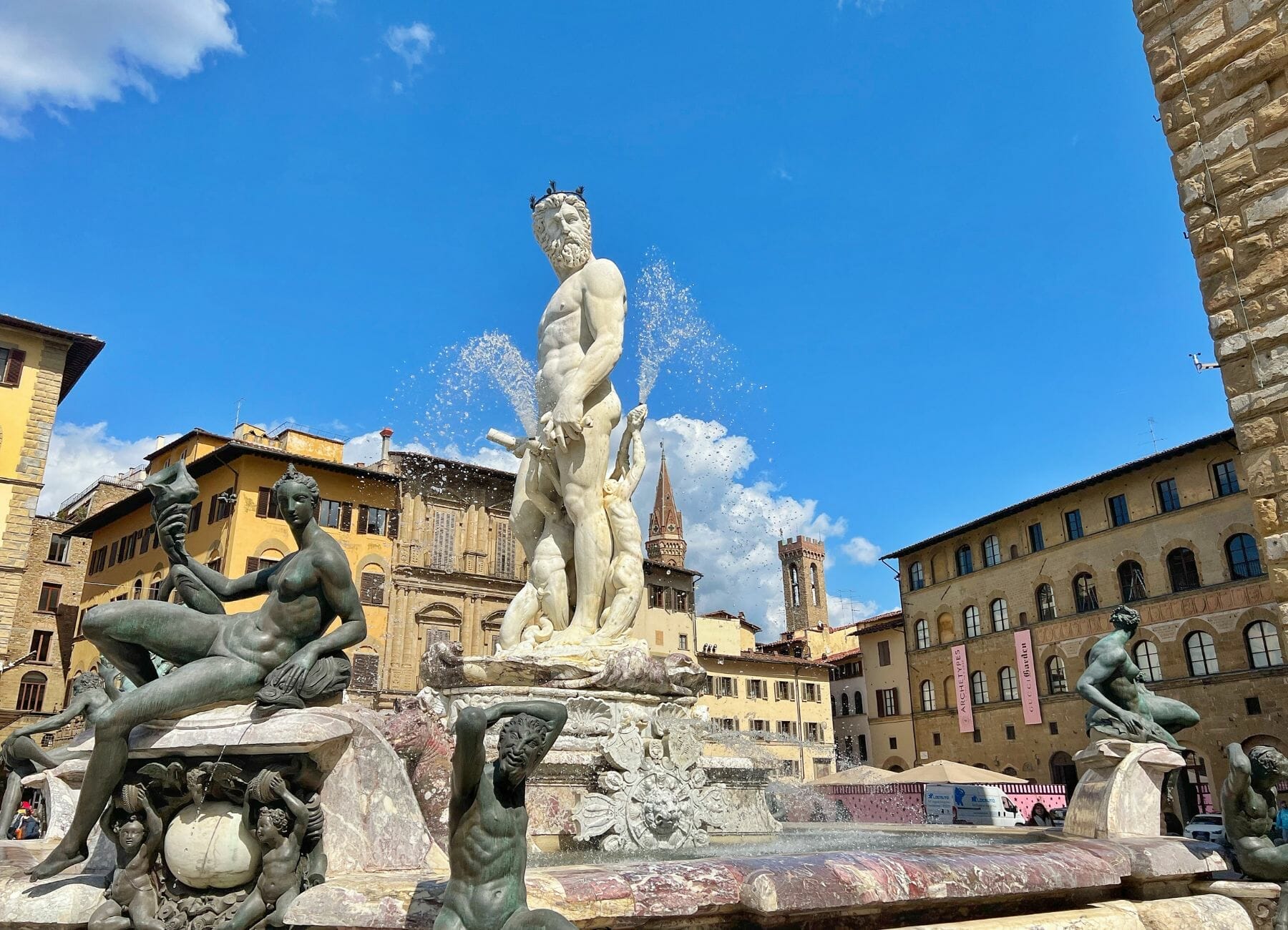 We stopped to see the Fountain of Neptune which was commissioned by Cosimo I de' Medici in 1559. Seeing these historic fountains around Europe and learning the history behind them is so interesting.
This fountain was created to celebrate the marriage of Francesco de' Medici I to Grand Duchess Joanna of Austria. Quite a structure to celebrate a marriage!
Our guide also used this time to tell us more about the Medici's and continued to share knowledge about them throughout our tour of Florence.
Ponte Vecchio Bridge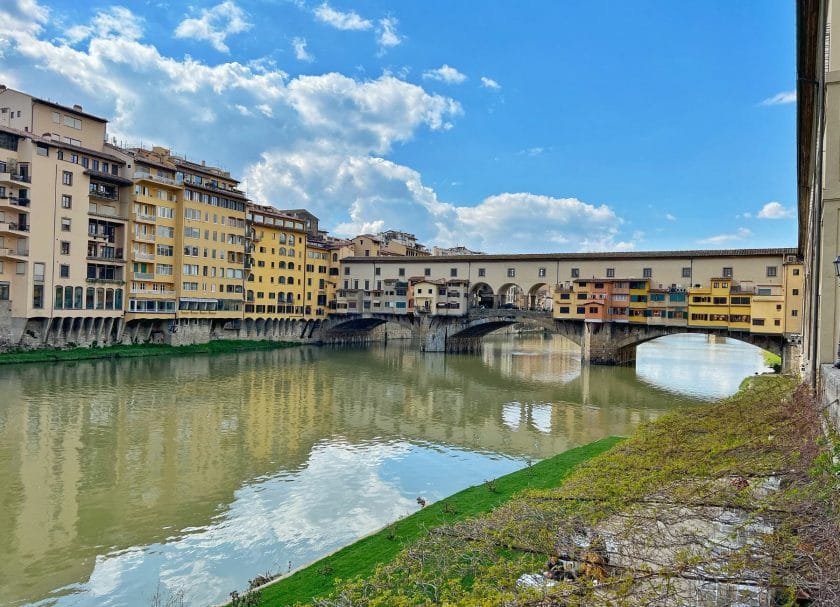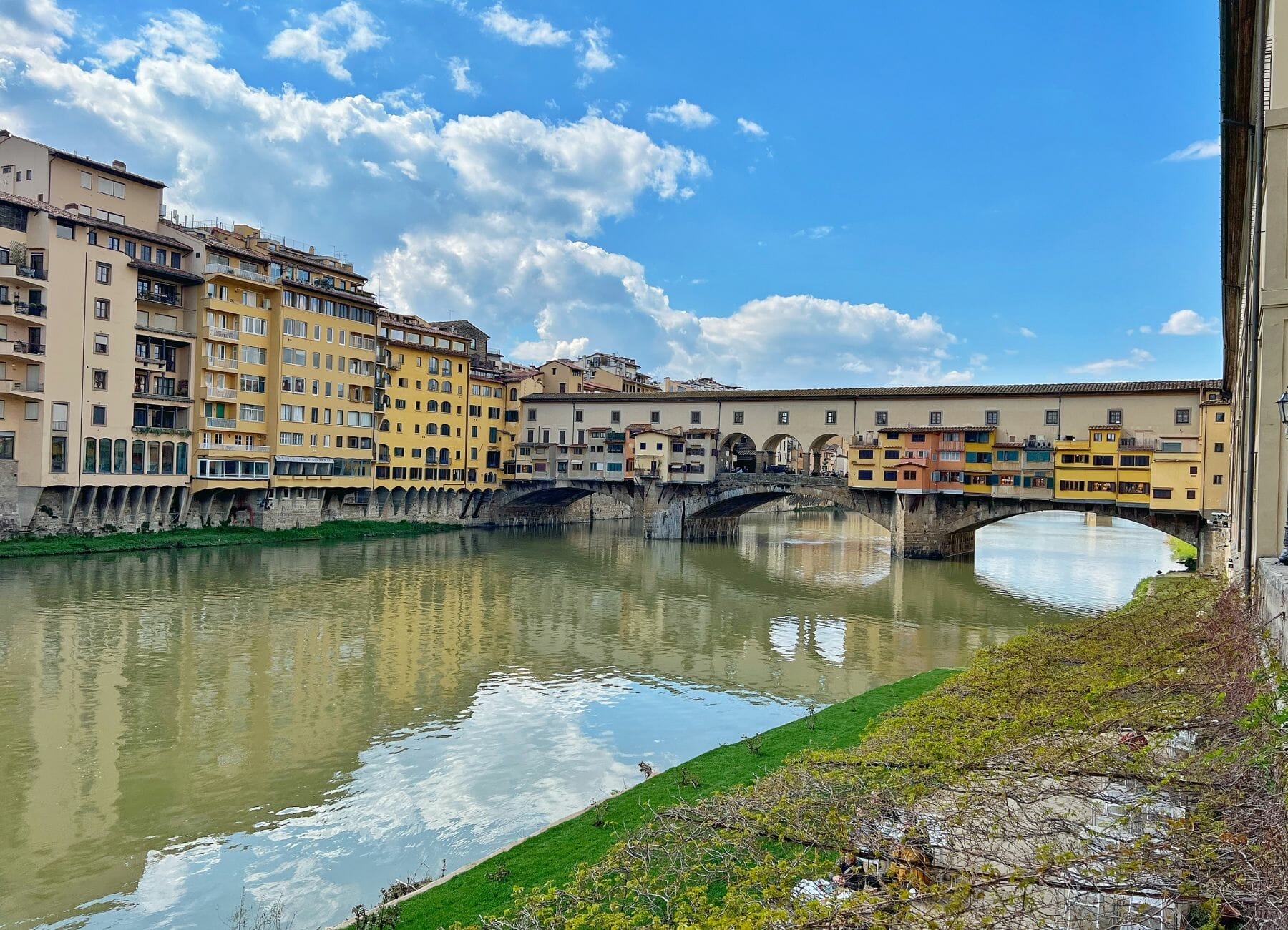 This famous bridge was completed in 1345 and was an outstanding engineering achievement of the Middle Ages. It is now a must see attraction in Florence and is lined with Jewelry shops.
You will want to walk across this famous structure and also find a spot to view the bridge from afar. We stopped right outside the Uffizi Gallery to take in the views of the bridge before walking across it.
Gelateria Santa Trinita
Time for Gelato!! We have found that each local we talk to in a city has a different favorite Gelato place. It is easy to see why as there are so many delicious places to get gelato in Europe!
We did learn that the best gelato are the ones you can't see. Meaning the gelato isn't out on display but is instead inside metal containers. We also heard you want to sample the pistachio first to determine if it is a good shop.
Pistachio is expensive so if you can taste the real pistachio pieces in the gelato you know it is an authentic gelato place that wants to provide you with quality gelato!
My advice is to stop and get gelato as much as possible and you determine which one is the best. To do this you will have to try a lot of places and that is 100% OK to eat gelato once or twice every day in Europe!
Walk Along the Arno River
The Arno River is an important part of Florence and Tuscany and is a nice place to stroll along as you check out the other bridges and buildings in Florence.
Riccardo Luci – Marble Art Store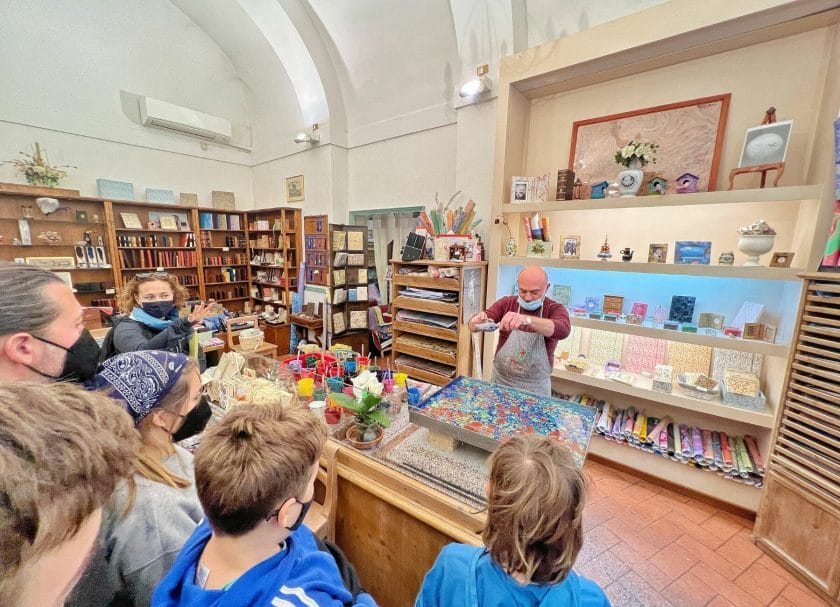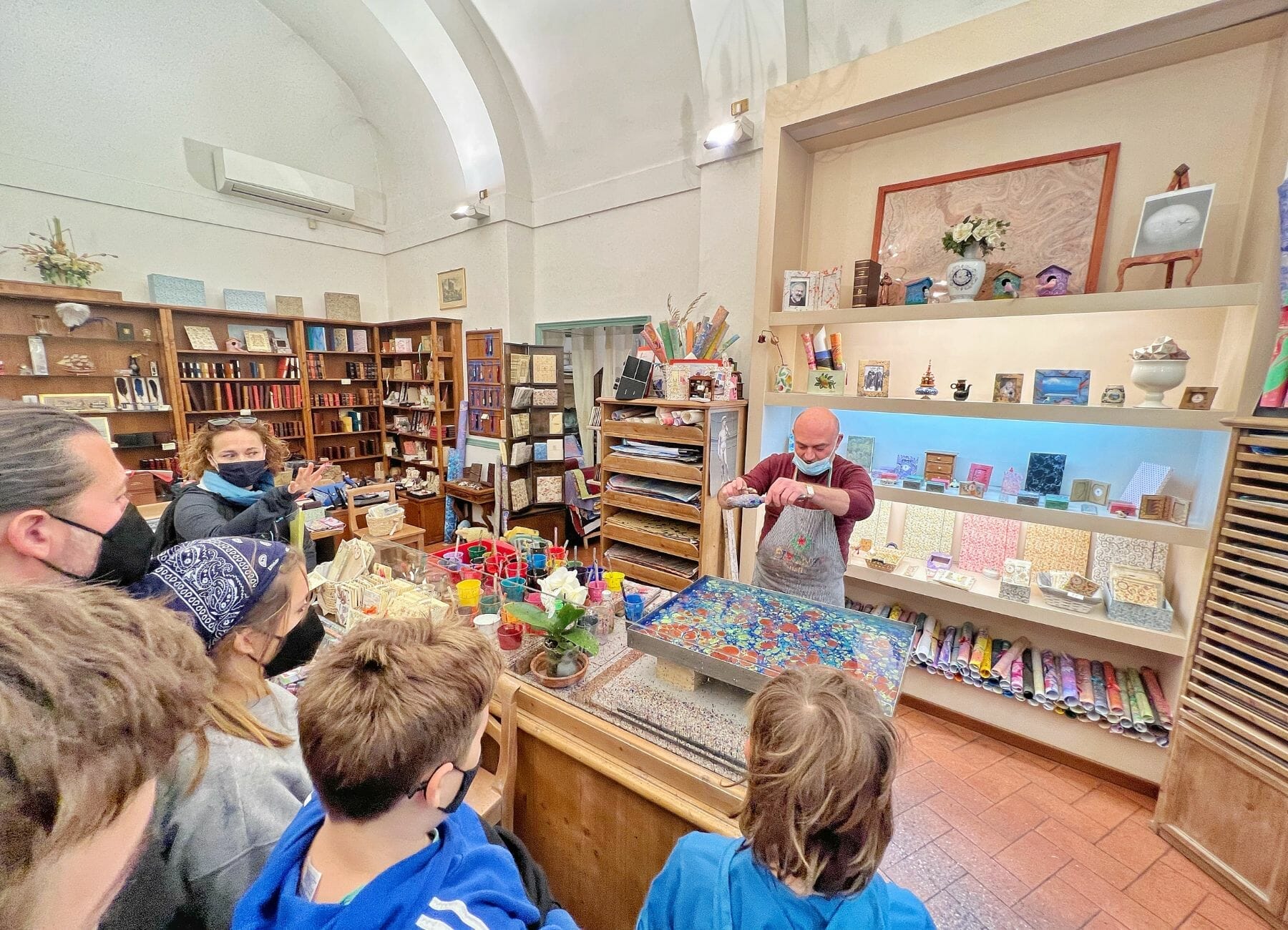 Our guide took us to a marble art store – down a street I highly doubt we would have found on our own. We got to meet the owner who passionately showed us his marble art and gave us a demo. After that we were able to create our own piece of marble art!
This was an awesome experience and is one of the reasons we like going with guides in cities. Sometimes you can stumble on these opportunities but if you have a good guide they have connections throughout the city and can make things like this happen.
Our art stayed there when we left and when we went back the next day to pick it up after it had dried. Now we have a souvenir to bring home too!
Piazza Santa Maria Novella
Another beautiful square in Florence (some would say the most beautiful – so let's just say they are all pretty amazing and beautiful!). This one is home to Church of Santa Maria Novella. And one of the best things to do in the square is to look around and take in the architecture that dates from the 1200 – 1400's.
Officina Profumo – Farmaceutica di Santa Maria Novella
We went to the gorgeous Santa Maria Novella Pharmacy. The pharmacy has been open since 1612! It was granted as the warrant of Suppliers to His Royal Highness by the Grand Duke Ferdinando II. The history was really cool to hear plus the entrance and the pharmacy were gorgeous.
When you walk in you walk under this awesome flower display and the whole place smells amazing. Be sure to check the room with the murals as well. Another unique stop!
Leonardo da Vinci Museum
We added this stop to our list since we were visiting Florence with kids and we knew they would appreciate the hands on aspect of it. The adults actually did too! It only took us about an hour to get through everything but it was worth the stop.
Palazzo Pitti and Boboli Gardens
The Pitti Palace was the primary residency of the Medici family in the 1500's. Like everything in Florence it is a piece of art! The Gardens offer the same wonder and are the largest monumental green area in Florence.
Where To Eat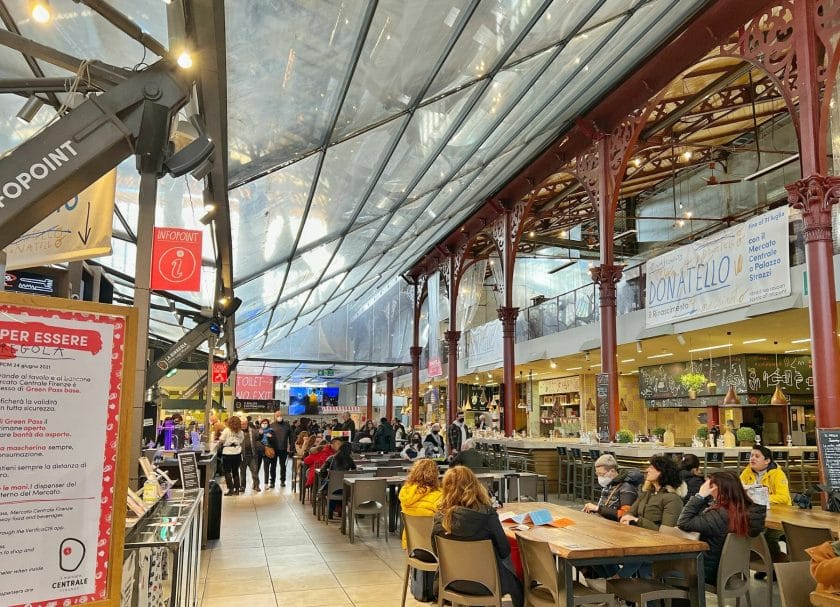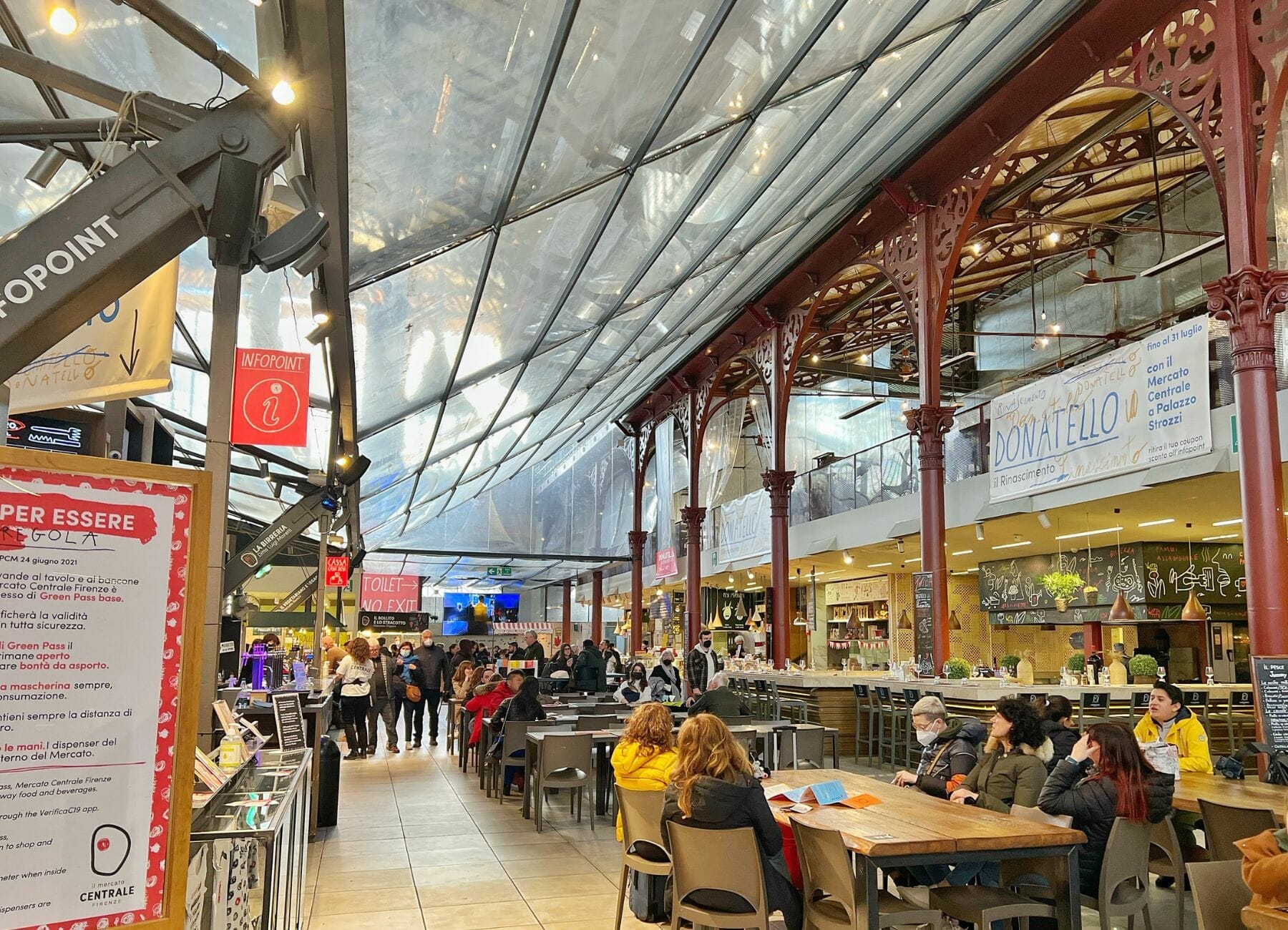 Mercato Centrale – 2nd Floor
This is a great option if you have a lot of people in your group or you aren't sure exactly what you want. They have a variety of different restaurants you can get dinner from plus there is a bar.
Mercato Centrale – 1st Floor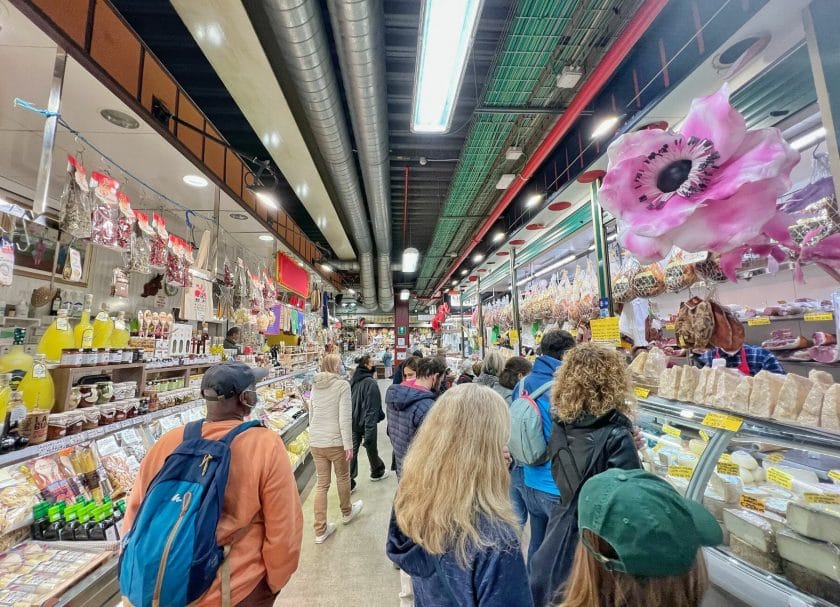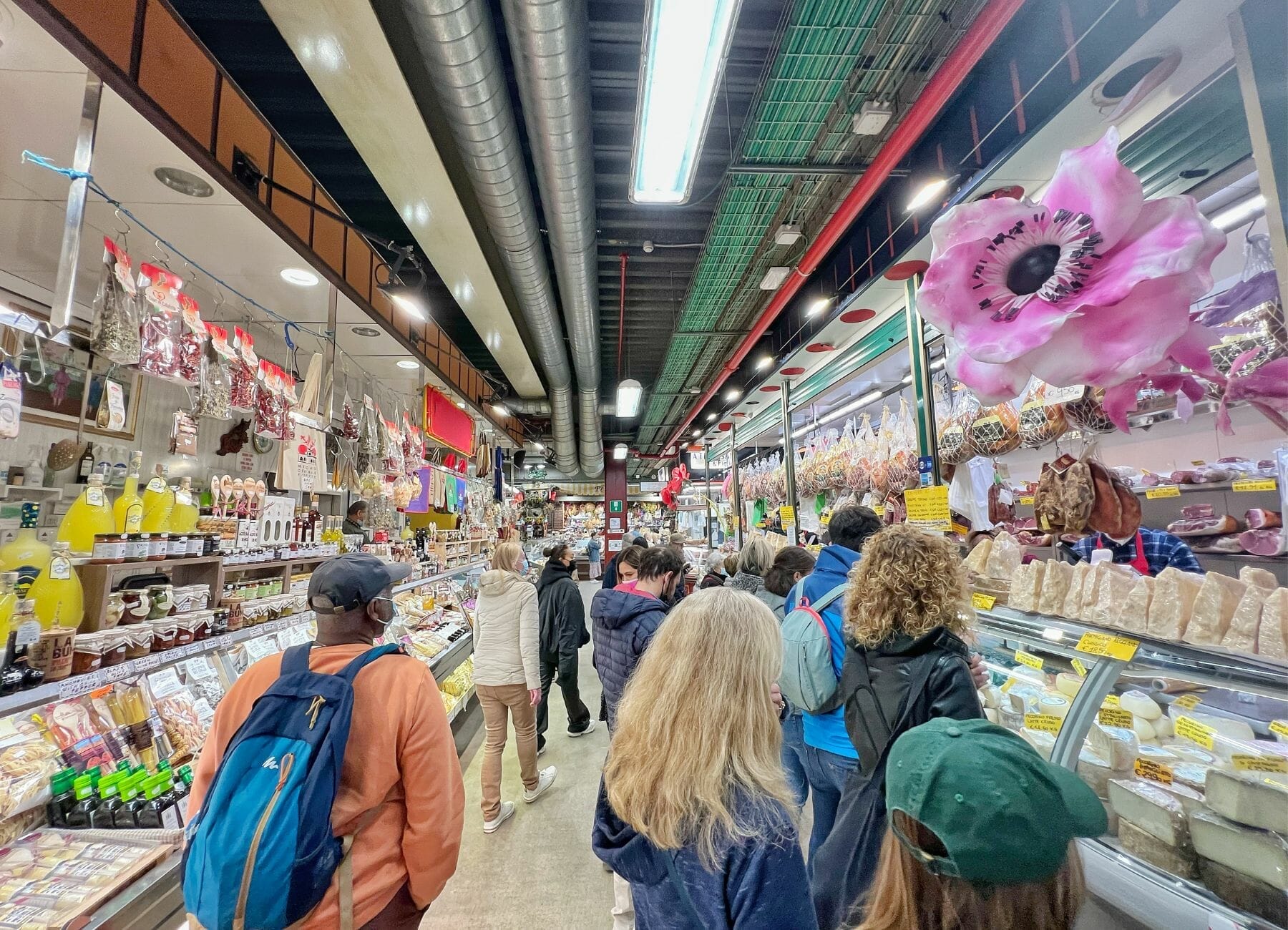 If you would rather pick up some meats and cheeses or shop like the locals you can head here to eat. This is also where you can find the Lampredotto to try!
This is where we picked up our pizza from before we went to the stairs of the church to watch the sunset. The pizza was yummy!!!
Rivarno Café
A cute cafe to stop to grab a panini, wrap or sandwich. They also have coffee and sweets.
Bistrot 74
If you stay at the place we recommend below this restaurant is located right across the street. Even if you don't stay there the restaurant is worth a stop! The pizza was good and so was the wine.
il Cantuccio di San Lorenzo
If you want to try some authentic biscotti from Florence go here!! They also have other traditional Florentine pastries and their house-speciality almond cookies.
Gelato Options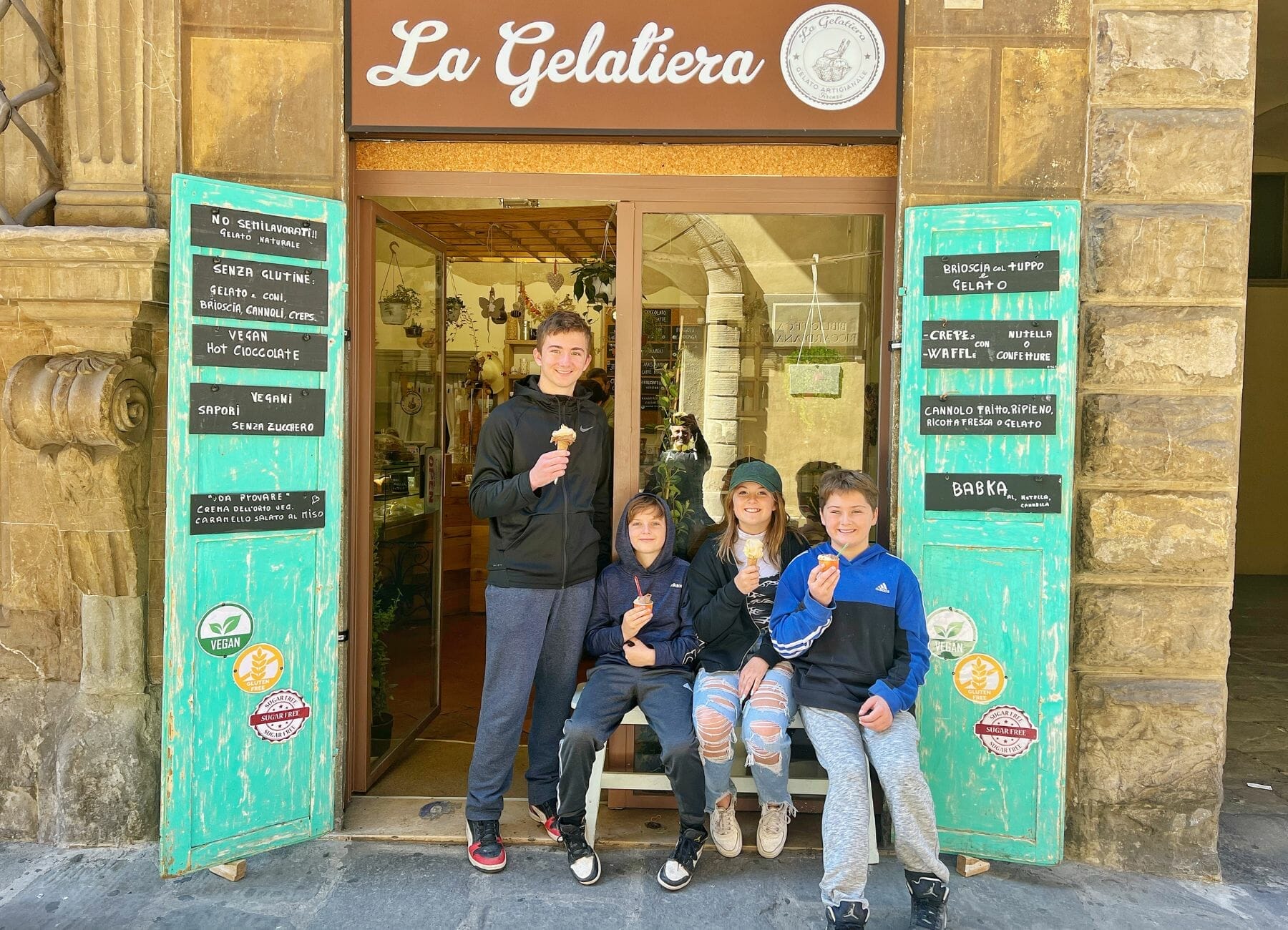 My Sugar
La Gelatiera
Gelateria Santa Trinita
We enjoyed all 3 of these places!! Really just stop anywhere you see gelato and get some.
Where To Stay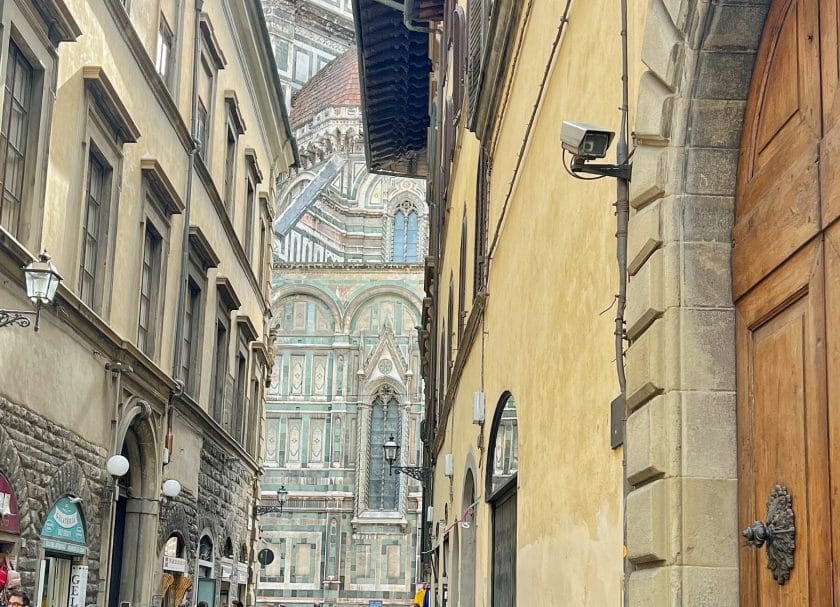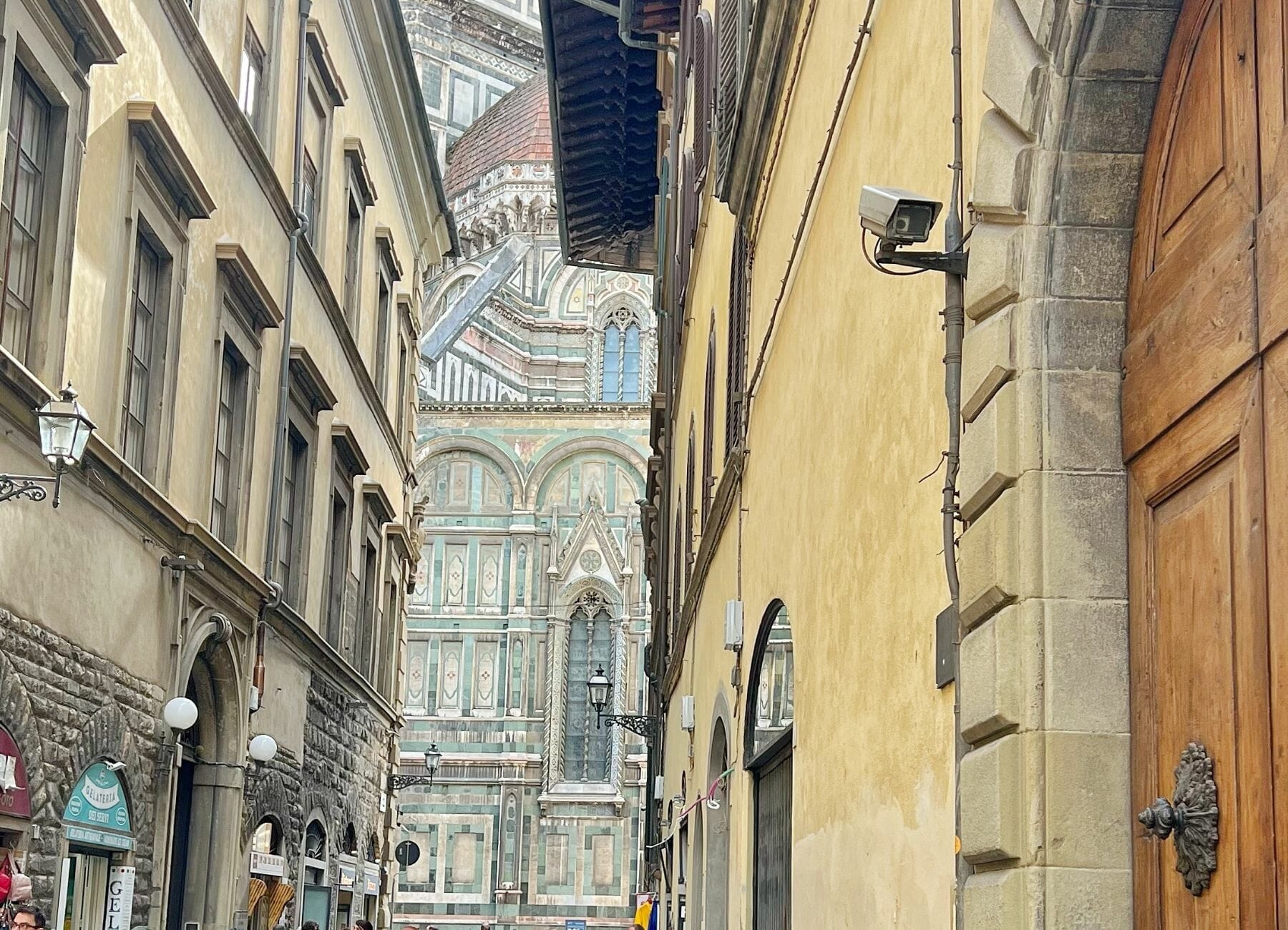 I would highly recommend you stay here. I'm not even going to list anywhere else. This place was perfect for exploring Florence! We were right outside the Duomo, restaurants were close by, and it was easy to get to everything else we wanted to do in Florence.
Check out more of our Europe content:
Backpacking Europe Packing List [With Kids!]
15+ Things To Do In Tuscany Italy
Tips On Visiting All 5 Cinque Terre Towns [Itinerary Included]
A Tourist Guide To Las Fallas Festival in Valencia Spain
One Day In Madrid Itinerary – 14 Stops Not To Miss!
One Day In Barcelona Itinerary
30+ Best Things To Do In Lisbon, Portugal
Pin This Post For Later: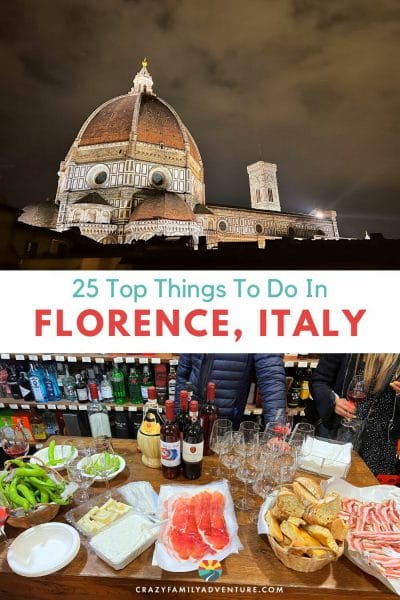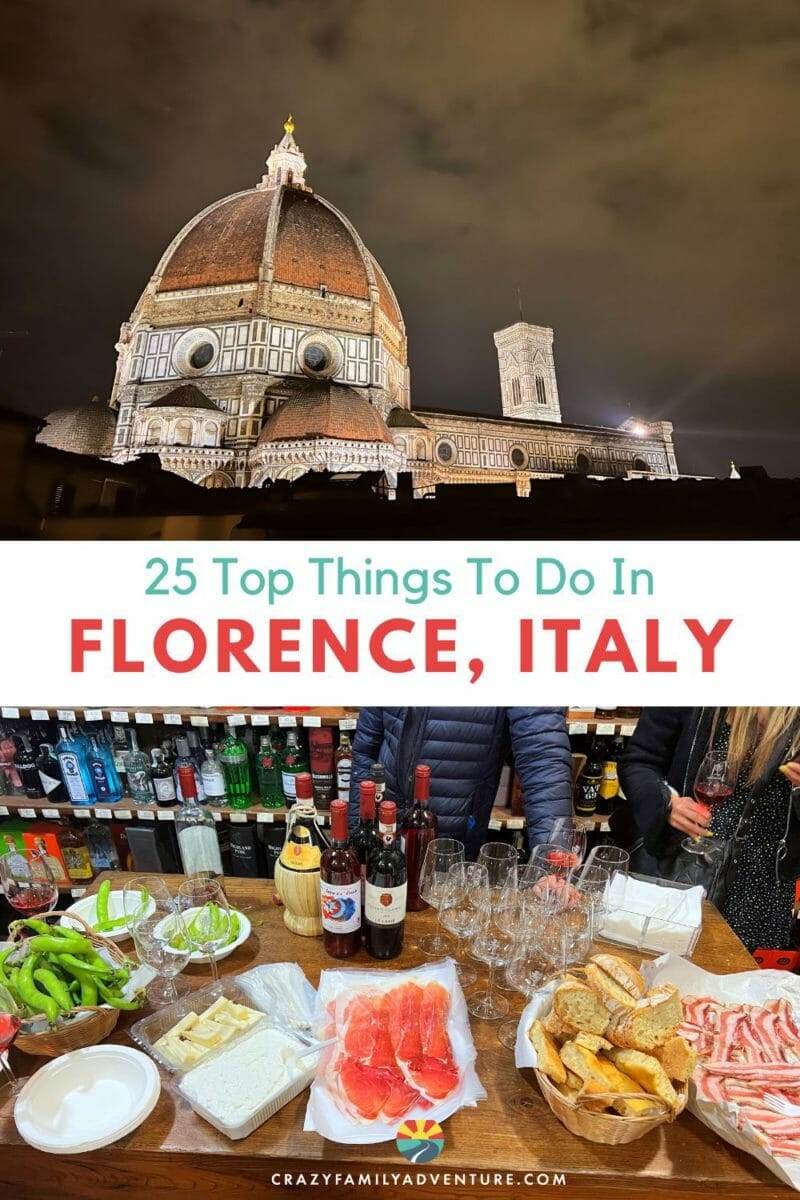 DISCLOSURE: This post may contain affiliate links, meaning I get a commission if you decide to make a purchase through my links, at no cost to you. Please read my disclosure for more info.
Published at Fri, 06 Jan 2023 17:52:58 +0000