9 offbeat trips to escape the crowds in 2023
There's a big wide world out there. And while the classic spots are popular for a reason, it's often the quirkier, eyebrow-raising destinations that get our hearts beating the fastest. Better still, it can benefit people and the planet when you choose to visit them too.
This year, as part of our Travel Goals for 2023, we're urging adventurous travellers to find fresh experiences in lesser-known destinations. Ready to take the plunge? Dive into the unknown with these new, improved and far-from-the-norm trips.
1. Experience rural life in Northern Cyprus
Cyprus is a sun-drenched Mediterranean island, so naturally, it's not short of tourists. But only a fraction of its visitors venture beyond the UN-controlled buffer zone that splits the country in two to explore the Turkish Cypriot North. Join our Highlights of Northern Cyprus trip that's relaunching in 2023 and you'll be one of the adventurous few, admiring Ottoman architecture and soaring minarets in Nicosia, Europe's last divided capital; relaxing on quiet, resort-free beaches on the Karpaz peninsula; and staying in a traditional rural village where locals are working together to preserve their culture and heritage.
2. Find an unknown island paradise in Comoros
If you've never heard of this tiny island nation, you're not alone. This little archipelago off the east coast of Africa sits between Mozambique and Madagascar, but receives very few visitors compared to its more popular neighbours. In 2020, UNESCO designated the island of Moheli and its surrounding waters a biosphere reserve, acknowledging the diversity of flora and fauna that makes the area such a draw for wildlife lovers. Join our brand-new Comoros Wildlife Expedition in 2023 (launching soon) to spot sea turtles, humpback whales, endangered flying bats and more. All while helping to conserve their pristine natural habitats.
3. Blaze a (sort of) new trail in Bhutan
After a four-year restoration project, centuries of history are coming back to life on the newly launched Trans Bhutan Trail. Follow in the footsteps of traders, pilgrims and monks as you venture through untouched landscapes, with plenty of history, culture and encounters with local people along the way. Trust us – hiking these revamped ancient byways is the ultimate way to see Bhutan.
4. Go beyond the obvious in Bosnia and Herzegovina
In the 1990s, Bosnia and Herzegovina was making headlines for all the wrong reasons. Today, years after the conflict ended, war is still the first thing that springs to mind for many people considering a trip here. But the country has come a long way since those days. And Intrepid, in partnership with USAID, are working to support sustainable tourism development – showing travellers a surprising side of Bosnia and Herzegovina on a brand new expedition, departing for the first time in May 2023.
5. Tackle a lesser-known trek in Peru
The Inca Trail gets all the love – and therefore all the crowds. While the journey to Peru's crowning glory, Machu Picchu, tends to live up to the hype for travellers, there are other, equally astonishing hiking routes and Inca ruins that have yet to be discovered by the masses. In 2023, we're launching our brand new Great Inca Road expedition – a 12-day trek along sections of a 25,000-mile ancient highway featuring epic Andean landscapes and under-the-radar ruins.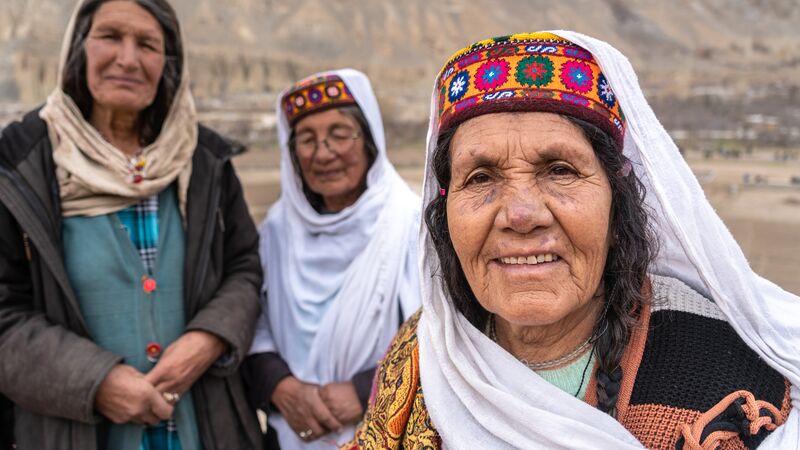 6. Heed the call of the mountains in Pakistan
Long-touted as the 'next big thing' in adventure travel, Pakistan remains one of the last places most people think to go. But with our new 15-day expedition, we're hoping to change that. Travelling north from Islamabad to the Hunza Valley, you'll get a feel for what life is like in the region's most remote mountain villages, visit cafes and projects that support local women and tackle high-altitude hikes to reach glittering glaciers, otherworldly lakes and astounding valley views. What are you waiting for?
7. See North Africa without the crowds in Tunisia
Put on pause during the pandemic, our Tunisia expedition (launching soon) is back with a bang for 2023, promising 12 days of wow-worthy moments. You'll explore the largest medina in North Africa, stargaze in the Sahara at an overnight desert camp, visit the subterranean cave homes of Matmata – a village you may recognise from various Star Wars movies – and wander the remarkably preserved Roman city of Dougga, which comes complete with dramatic outdoor theatre backdropped by rolling olive groves.
8. Go on a one-of-a-kind adventure in Papua New Guinea
There are cultural festivals, and then there's Papua New Guinea's fire dancing festival. This spectacle, practised by the Indigenous Baining people on the Isle of New Britain, is unlike anything you've ever witnessed. A way of marking special occasions and the coming of age of young men, the festivities are driven by rhythmical drumbeats, while participants don elaborate masks and dance around and over a bonfire throughout the night until the embers die out. Now Intrepid travellers have the privilege of attending one of these events, and learning more about PNG's unique history, culture and landscapes on our Firedance Festival trip.
9. Explore an underrated region in Italy
Italy is hardly 'off the beaten track' – just look at Rome's Colosseum or Venice's waterfront in the peak of summer. But that's all the more reason to seek out its quieter corners. Umbria may not have the flair of Florence or the glamour of Milan, but its medieval towns, farmstays and distinct regional cuisine will show you a different, quieter side of Italy.
Published at Mon, 02 Jan 2023 11:36:00 +0000