US, Australia to Unveil Submarine Pact to Counter China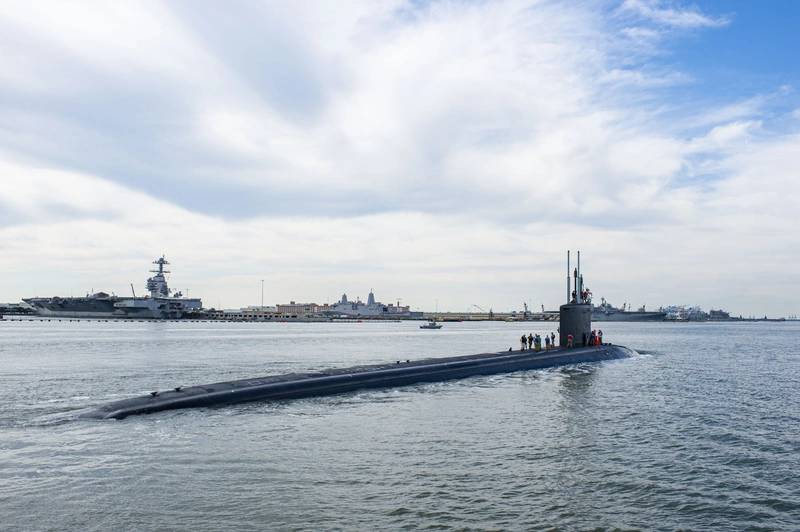 U.S. President Joe Biden will meet leaders of Australia and Britain in San Diego on Monday to announce a way forward for Australia to receive nuclear-powered submarines in Canberra's biggest-ever defense project.
The three countries announced the so-called AUKUS plan in 2021 as part of efforts to counter China in the Indo-Pacific region.
However, questions remain over strict U.S. curbs on the extensive technology sharing needed for the project and about the length of time it will take to deliver the submarines.
Australia is expected to buy up to five U.S. Virginia class nuclear-powered submarines in the 2030s as part of the landmark agreement to be revealed in detail by Biden, Australian Prime Minister Anthony Albanese and British Prime Minister Rishi Sunak, four U.S. officials told Reuters this week.
The agreement would have multiple stages with at least one U.S. submarine visiting Australian ports in the coming years and end in the late 2030s with a new class of submarines built with British designs and American technology, one of the officials said.
Two of the officials said that after the annual port visits, the United States would forward deploy some submarines in Western Australia by around 2027.
China has condemned the effort by the Western allies, who are seeking to counter its military buildup, pressure on Taiwan and increasingly muscular deployments in the contested South China Sea.
Sharing sensitive technology
The officials did not elaborate on the planned new class of submarines, including where they would be built, but Australia's ambassador to Washington said last week there would be a "genuine trilateral solution" and the plan offers the prospect of jobs in all three countries.
In lanching AUKUS, Australia abruptly abruptly cancelled a deal to buy conventional submarines from France, leading Paris to accuse its allies of betrayal.
Sunak will travel to the United States after meeting French President Emmanuel Macron on Friday, an attempt to repair ties between the two countries.
Britain, which left the European Union in 2020, says AUKUS will create new jobs in Britain and help boost its economy's low growth rate.
Under the initial AUKUS deal announced in 2021, the United States and Britain agreed to provide Australia with the technology and capability to deploy nuclear-powered submarines.
It will be the first time the United States has shared nuclear-propulsion technology since it did so with Britain in the 1950s. Currently no party to the nuclear Non-Proliferation Treaty other than the five countries the NPT recognizes as weapons states – the United States, Russia, China, Britain and France – has nuclear submarines.
In a second stage of the AUKUS project, the three countries will share advanced technology such as artificial intelligence and hypersonic weapons. British and Australian officials said last week there was still work needed to break down bureaucratic barriers to such technology sharing.
Bill Greenwalt, a former senior Pentagon official for industrial policy, said that since it will be years before the Australia has new submarines, the partners urgently need to move forward with this second stage, which covers capabilities that could be deployed within the next few years and are needed quickly given the growing threat posed by China.
"Undersea drones, swarming drones, ubiquitous surveillance, advanced AI and data analytics are all in this potential wheelhouse but ITAR (International Traffic in Arms Regulations) prevents the types of cooperation that is needed," said Greenwalt, referring to U.S. export rules.
A State Department spokesperson said the United States was working to streamline the defense trade process.
Australian workers to the U.S.
The U.S. Congress has been briefed in recent weeks on the AUKUS deal to garner support for the legal changes needed to smooth out technology transfer issues for the highly secret nuclear propulsion and sonar systems that will be aboard Australia's new submarines, a congressional source said on condition of anonymity.
Over the next five years, Australian workers will come to U.S. submarine shipyards to observe and train, the source said, adding that this could help ease a shortfall of U.S. shipyard workers.
It is unclear how AUKUS might affect the U.S. Navy's own submarine acquisitions. General Dynamics Corp (GD.N), which makes Virginia class submarines, has 17 of them in its current backlog delivering through 2032.
Justin Burke, a visiting fellow at Australia's Lowy Institute think tank, said the aim was for a straightforward and cost-effective plan to supply submarines and starting with an existing design like the Virginia Class was "a very plausible way forward."
Australia's Defence Minister Richard Marles said on Thursday the submarines would ensure peace and stability across the Indo-Pacific, Southeast Asia and the Indian Ocean.
"It is difficult to overstate the step that as a nation we are about to take," said Marles. "We have never operated a military capability at this level before."
(Reuters – Reporting by David Brunnstrom, Phil Stewart, Idrees Ali, Mike Stone, Jonathan Landay, Joel Schectman, Steve Holland and Kirsty Needham; Editing by Don Durfee, Lincoln Feast and Deepa Babington)
Published at Fri, 10 Mar 2023 22:09:32 +0000