Seaboard Marine Adds First LNG Vessel to its Fleet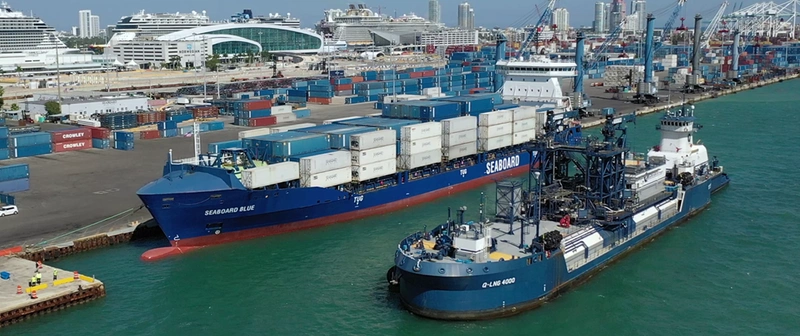 U.S.-based Seaboard Marine announced it has acquired its first vessel fueled by cleaner burning liquefied natural gas (LNG).
The 1,000 TEU Seaboard Blue, previously known as the Elbblue, was retrofitted in 2017 with the capability of running on both LNG and diesel fuel. The vessel was the world's first containership converted from conventional diesel propulsion to LNG.
The vessel, now part of Seaboard Marine's North Central America service, called and bunkered at PortMiami on Monday, marking the first time a cargo vessel was fueled with LNG at the port.
Shell, using its Q4000 bunker barge, filled the Seaboard Blue with LNG prior to its inaugural southbound sailing to Honduras and Guatemala.
Eddie Gonzalez, president and CEO of Seaboard Marine, said, "The Seaboard Blue is a key new component to Seaboard's fleet transformation. The recent purchase of this LNG-powered ship not only demonstrates Seaboard Marine's ongoing commitment to sustainability but also to providing reliable service to our customers. As South Florida's premier ocean carrier, we are grateful for the level of support we have received from Miami-Dade Mayor Daniella Levine Cava, PortMiami, Shell, the United States Coast Guard, and the Biscayne Bay Pilots."
Miami-Dade County Mayor, Daniella Levine Cava, said, "Seaboard Marine's adoption of greener sources of fuel is exemplary and a significant step towards our goal of keeping Miami-Dade a county on the cutting edge of sustainability. As PortMiami's largest shipping line, I am proud of Seaboard Marine's commitment to improving the environment and their long-time partnership with PortMiami and Miami-Dade County."
Published at Mon, 13 Mar 2023 22:18:55 +0000