Samskip to Operate 'Zero-emission' Hydrogen-powered Containerships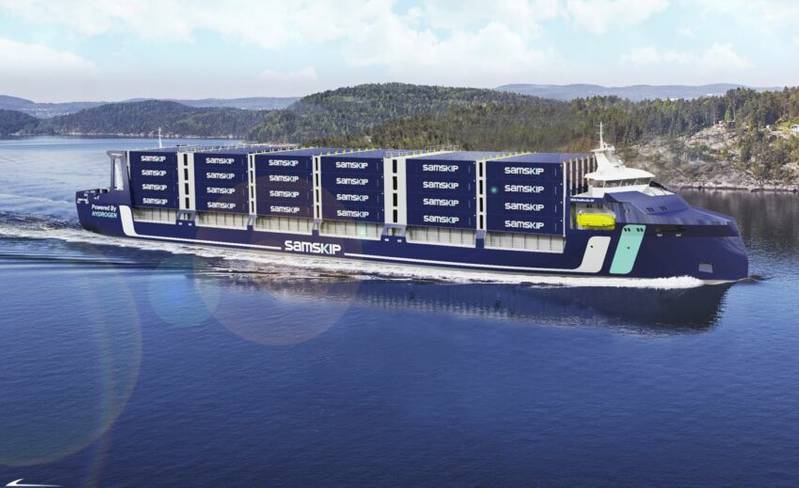 Shipping and logistics company Samskip said it is "venturing into zero-carbon, emissions-free shipping" through the operation of two hydrogen powered, autonomous-ready vessels from Indian shipbuilder Cochin Shipyard Ltd.
The containerships were ordered by marine robotics specialist Ocean Infinity for scheduled delivery in 2025 and will be operated under long-term charter by Samskip on its west European routes. Once commissioned for service between Oslo and Rotterdam, the 500 TEU vessels will be among the world's first zero-emissions short sea container vessels fueled by green hydrogen.
In zero emissions mode, each vessel is expected to achieve around 25,000 tons of CO2 reduction per year through the use of 3.2-megawatt (MW) hydrogen fuel cells, though the ships will also be equipped with diesel electric propulsion plants as backup. Each will also achieve zero emissions operations in ports through the use of green shore power, Samskip said.
Kari-Pekka Laaksonen, CEO of the Samskip Group, said, "This endeavor is another of Samskip's initiatives that is an important step towards reaching our sustainability targets outlined in our latest sustainability report. It reinforces our commitment to the sustainability science-based target initiative and will support our goal of reaching net-zero by 2040."
Maritime stakeholders is exploring the use of green hydrogen among several alternative fuel options expected to play a role in the industry's decarbonization journey. The fuel is energy dense and produces virtually no CO2 emissions, though several technical challenges remain in terms of its handling, storage and bunkering.
"We have continuously practiced what we preached because sustainability is in our DNA and we are invested in the future; the future for green logistics, our planet, our economy and in the next generation of seafarers and we are certain that this project will be a game changer," Laaksonen said.
Samskip said the project is supported by the Norwegian government's green funding program ENOVA, which aims to assist in the adoption of sustainable, innovative technologies for emissions-free transport.
Published at Tue, 21 Mar 2023 17:30:46 +0000