PPG Unveils New Power-saving Marine Coating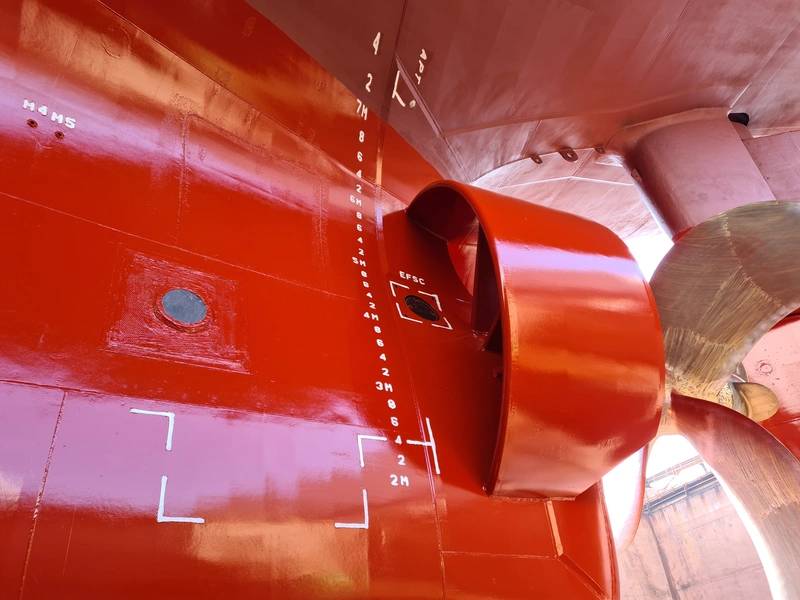 PPG announced the launch of PPG SIGMAGLIDE 2390, a new marine coating it says helps shipowners lower power consumption and carbon emissions and meet demands for higher performance with no adverse impact on the marine environment.
The biocide-free fouling release coating is based on PPG HYDRORESET technology, which modifies the coating when it is immersed in water to create a super-smooth, almost friction-free surface that marine organisms do not recognize and cannot adhere to.
Based on third-party evidence following ISO 19030 and International Towing Tank Conference (ITTC) standards, this coating enables vessels to maintain a clean hull and reduce drag, achieving power savings of up to 20%, a speed loss performance of less than 1%, and up to 35% reduction in CO2 emissions in comparison to traditional antifouling coatings, , PPG said, noting actual performance will depend on ship model and operating conditions.
PPG said its Sigmaglide 2390 coating can help owners and operators to meet targets for reduction of greenhouse gas emissions under the International Maritime Organization's energy efficiency (EEXI and EEDI) and carbon intensity (CII) requirements, which went into effect this year.
"PPG Sigmaglide 2390 coating is a unique formulation that paves the way for ship owners and operators to improve efficiency and reduce CO2 emissions," said Jan Willem Tegelaar, PPG global platform director, Marine Coatings. "The speed loss performance of less than 1% helps ships operate at an average one knot higher speed while remaining CII compliant."
The fouling control performance of PPG Sigmaglide 2390 coating is achieved with no release of biocides into the oceans, the manufacturer said.
PPG Sigmaglide 2390 coating is also suitable for electrostatic application, which provides high transfer efficiency, leading to lower paint consumption. In service, the coating can deliver up to 150 days of idle performance and an extended lifetime of more than 10 years with minimal maintenance requirements.
Published at Mon, 06 Mar 2023 16:55:57 +0000