Photos: US Retrieves Suspected Chinese Spy Balloon Shot Down in the Atlantic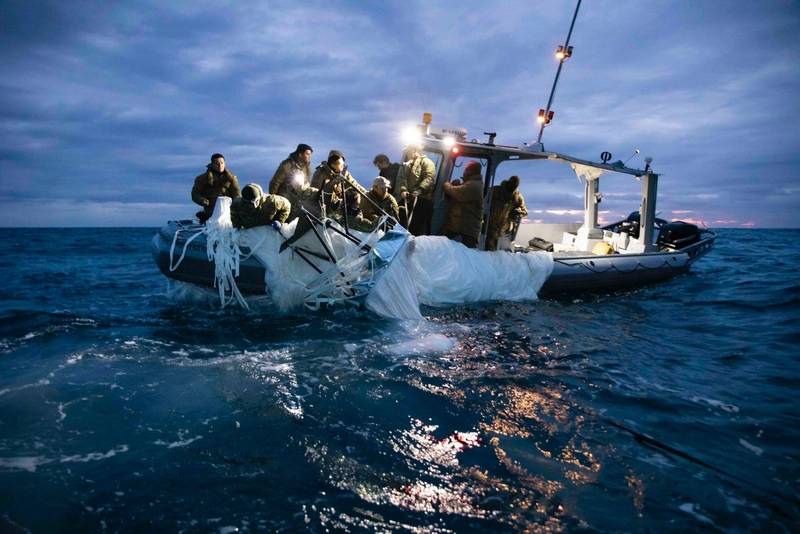 Photos released by the U.S. Navy on Tuesday show sailors collecting the remnants of a suspected Chinese spy balloon that was shot down by an Air Force fighter over the weekend off the coast of South Carolina.
The U.S. military began collecting the debris after the high-altitude surveillance balloon was shot down by an F-22 fighter over the weekend at the orders of President Joe Biden. The balloon fell about six miles off the coast of Myrtle Beach, S.C., into about 50 feet of water.
China has claimed that the balloon was a wayward "civilian unmanned airship" primarily conducting weather research. But U.S. Defense Secretary Lloyd Austin said the balloon was being used by China "in an attempt to surveil strategic sites in the continental United States."
The Navy said it is using the amphibious landing ship USS Carter Hall to collect debris in the vicinity of the splashdown, while the survey ship USNS Pathfinder maps the ocean floor using sonar for the debris search.
The new photos shared by the Navy show sailors recovering debris into a rigid hulled inflatable boat (RHIB).
Explosive ordnance members and at least one unmanned underwater vehicle are also participating in the search and recover efforts. Precautions are being taken during the salvage operation in case explosives or toxic substances are present, the Navy said.
U.S. Coast Guard cutters Venturous, Richard Snyder and Nathan B. Bruckenthal, along with Coast Guard aviation support, have also been deployed to enforce a security zone in the area. The 10 nautical mile security zone blocks vessels from entering without permission and will be enforced through February 18.
The FBI and Naval Criminal Investigative Service agents are embedded with salvage operations personnel to assist in counterintelligence work.
Published at Tue, 07 Feb 2023 19:56:45 +0000