ONE Orders Wind-Assist Technology from Econowind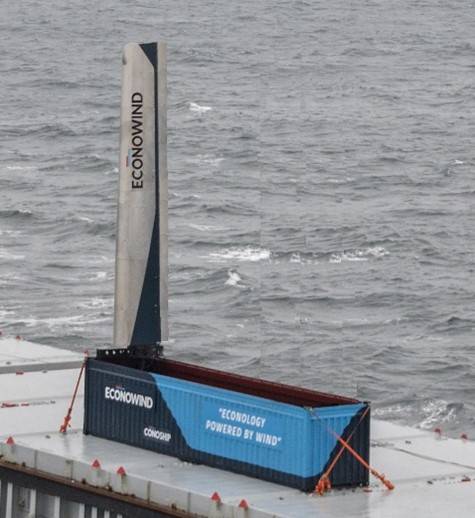 Singapore-based Ocean Network Express (ONE) has decided to install two containerized wind assist units on one of their operated container feeder ships before the end of 2023.
The 143-meter, 1036 TEU capacity Kalamazoo is owned by Singapore-based Norse and the wind assist systems will be supplied by the Netherlands-based company, Econowind.
The two containerized units will be equipped with the latest wing design from Econowind, the VentoFoil. These have smart suction systems in order to control the airflow around the wing-shaped element ensuring maximal trust per surface area. The 10.5 x 2.8 meter VentoFoil units will be able to generate thrust to save up to 400kW of engine power.
Frank Nieuwenhuis, CEO of Econowind adds: "The more installations we can retrofit, the more data we can attain and learn from. This provides us with solid proof of how wind assisted ship propulsion is reducing emissions per nautical mile and with vessels improving their EEXI / EEDI. This also serves as a justification for the investment; the costs of systems can be covered by the savings generated."
Earlier this month, ONE launched its Eco Calculator, which calculates carbon dioxide (CO2) emissions from ONE's operating vessels. With the ONE Eco Calculator, units are expressed as either Tank-to-Wake or Well-to-Wake (WTW). The ONE Eco Calculator provides total distance and total CO2 emissions from Place of Receipt to Place of Delivery, including door locations.
Published at Thu, 20 Apr 2023 02:59:12 +0000