Kim Kardashian Lookalike Dies from Medical Procedure; Christina Ashten Gourkani Was 34
Christina Ashten Gourkani, an OnlyFans model best known for promoting herself as a Kim Kardashian lookalike, passed away last week suffering a cardiac arrest.
She was 34 years old.
The tragic news was broken and then detailed in a GoFundMe page made by the social media user's loved ones… who say they got a call last week from another family member, frantically screaming that Gourkani was dying due to a medical procedure gone horribly wrong.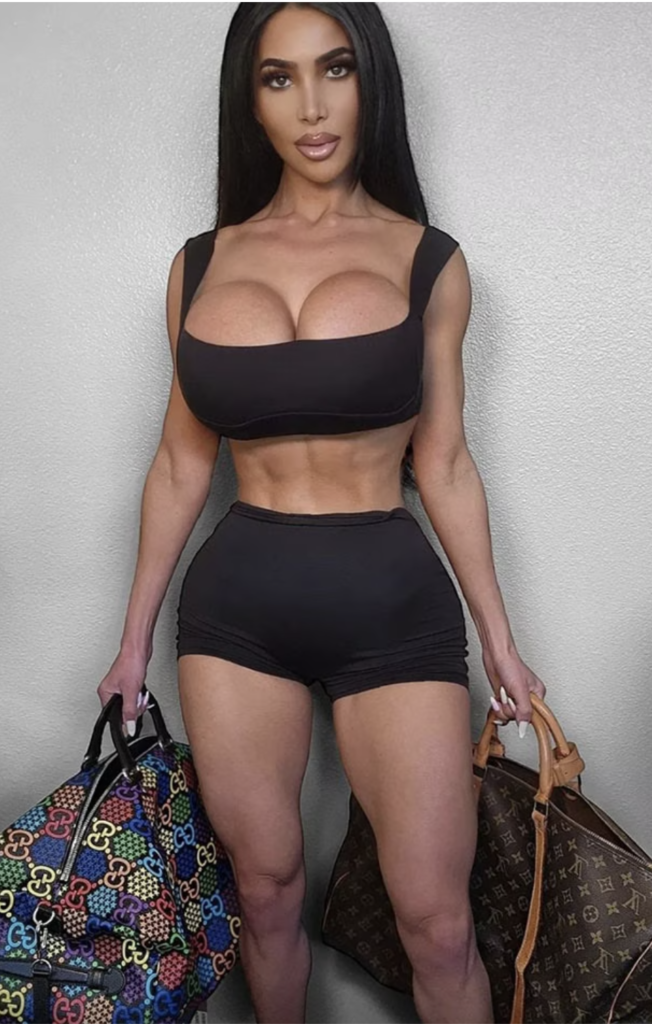 "In the early morning hours at approximately 4:31am on 4/20/2023 our family received a tragic phone call from a family member who was frantically screaming and crying…on the other end of the line….
"Ashten is dying…Ashten is dying…" her family wrote on a GoFundMe for her on April 25.
"After arriving at the hospital shortly after the phone call our family continued living a nightmare as we were informed that her health and wellbeing had continued to decline in a downward spiral for the worse after suffering from a cardiac arrest."
The relatives added that the model suffered from cardiac arrest following a "medical procedure that took a turn for the worse," which is now being investigated.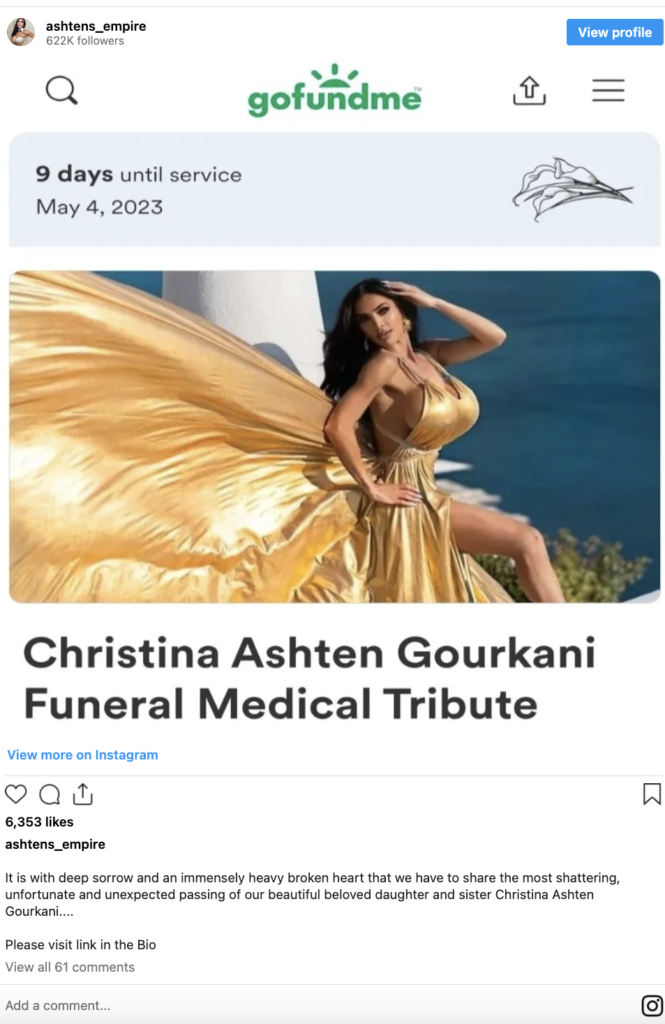 Most observers assume that Gourkani was undergoing some kind of plastic surgery, although this has not yet been substantiated.
"If you knew Ashten you knew that everyone mattered to her," the GoFund Me page continued.
"She was such a caring and loving free spirit that always took the time to bring a smile to anyone's face she crossed paths with.
"She was the kind of person that would kneel down and talk to children at eye level, she searched for the lonely person in the corner and made them feel special as she has such a gift of connecting with people."
Gourkani also went by Ashten G across her various online platforms.
She had over 600,000 Instagram followers at the time of her death, garnering a great deal of attention for bearing a striking resemblance to Kim Kardashian — as you can see above and below.
The model's loved ones are trying to raise donations to help pay for her funeral.
As of this writing, over $4,000 has been given to the cause.
"On many occasions I've seen her turn her adversaries into life long friends just after 10 seconds of pouring her charismatic joy, positive energy and her beautiful smile that she gave to those around her," her family continued.
"Ashten's spirit is a light that will forever carry on to her loved ones around her and those that she has left behind."
They concluded:
We ask in this time of mourning our loss & disbelief that people can come together to help our family make it through this, when there is not enough strength.
We are grateful for the support that you are able to provide to our family as we lay Christina Ashten Gourkani to eternal peace.
Published at Wed, 26 Apr 2023 21:27:34 +0000