BAE Systems Breaks Ground on Jacksonville Repair Yard Upgrades
BAE Systems held a groundbreaking ceremony officially kicking off a program to upgrade its ship repair facility in Jacksonville, Fla.
As part of the $200 million modernization, the company will add a Pearlson Shiplift and land-level repair complex that will boost flexibility and expand the shipyard's docking capacity by 300%.
Located two miles from the Atlantic Ocean, at the intersection of the St. Johns River and the Atlantic Intracoastal Waterway, BAE Systems Jacksonville Ship Repair provides repair, maintenance, overhaul, conversion and marine fabrication services for a wide range of commercial and government vessels, from tugs to warships, serving both domestic and international fleets.
Central to the new complex will be a new state-of-the-art shiplift system built by Pearlson Shiplift Corporation. The lift's 492-foot by 110-foot articulated platform can easily accommodate a Flight III U.S. Navy guided missile destroyer or a commercial vessel displacing about 25,000 tons.
Jeremy Tondreault, BAE Systems platforms and services president, said, "The shiplift project is a significant investment by BAE Systems in the Jacksonville port, and we look forward to building this new complex to expand our shipyard's capacity to meet commercial and government ship repair needs."
Kelly Pearlson Fraind, Pearlson's president and chief operating officer, said, "The new Pearlson Shiplift System and land level facility for BAE Systems Jacksonville Ship Repair, when commissioned, will be the largest in both North and South America and the most modern shiplift facility in the world."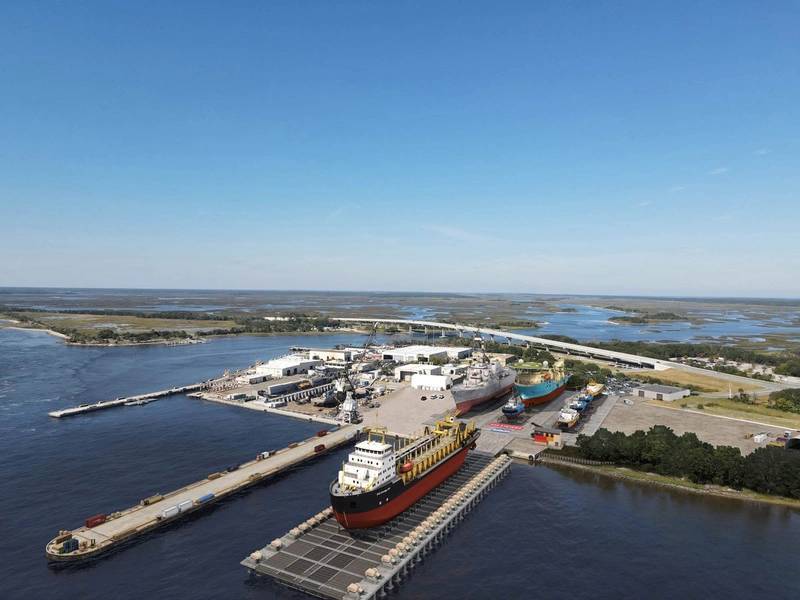 Once out of the water, dry-docked ships will be moved from the shiplift platform to one of several repair berths inside the shipyard by a series of self-propelled modular transporters and a Pearlson designed cradle system. The land-level repair area in the shipyard will provide electrical, sewage, and water services to docked ships, as well as storm water containment. These services will permit repair work to occur onboard several ships simultaneously without encumbering the shiplift platform or other work in the shipyard. (Image: BAE Systems)
Foth Engineering and Pearlson Shiplift are responsible for the overall facility design, construction management and engineering, and key equipment supply. Kiewit Infrastructure South Co. will serve as general contractor for the project.
The construction and operation of the repair facility is expected to generate approximately 1,000 new jobs, BAE Systems said.
The yard will continue to function at full capacity with two marine railways and a 13,500-ton drydock through much of the construction period until the shiplift and land-level facility are certified and commissioned in 2025.
---
Published at Wed, 12 Apr 2023 19:20:07 +0000