Australia Readies New Icebreaker After Repairs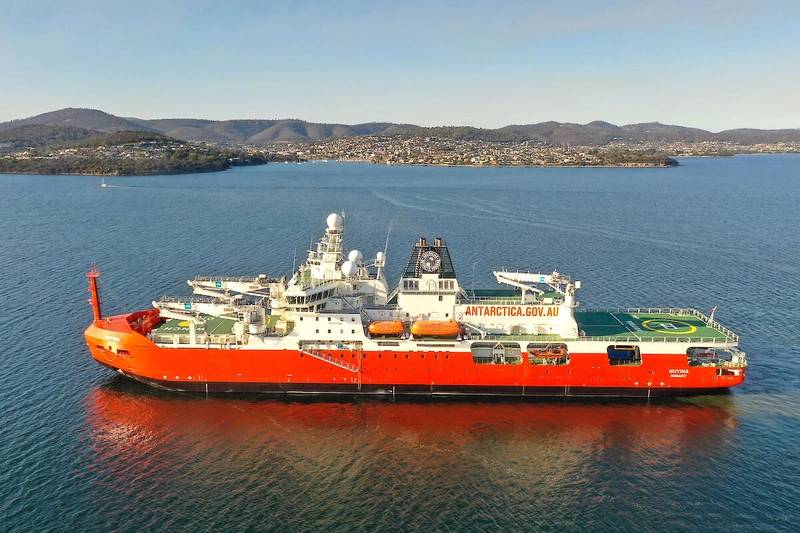 Australia's icebreaker RSV Nuyina has been conducting sea trials in Hobart's River Derwent as part of familiarization exercises with TasPorts pilots after returning from Singapore for repairs.
The 160-meter vessel was built by Damen Shipyards in Romania and delivered in October 2021. In Singapore, issues identified with couplings that connect the propulsion shafts with the clutches were rectified under warranty.
Nuyina will now depart Hobart for Macquarie Island research station in early May for cargo delivery and science support. Once at Macquarie Island, Nuyina will serve as a floating platform for scientists from a suite of different agencies including scientists representing the Australian Antarctic Division who will deploy sea-level monitoring equipment to aid Australia's understanding of sea-level change and responses to climate change.
Following its voyage to Macquarie Island, Nuyina will return to Australia before heading to the Southern Ocean for further tests, including testing of the vessel in sea ice. Upon return to Australia, commissioning will be carried out on the ship's 150 science systems including technology such as the moon pool, echosounders and winches.
Nuyina completed its first Antarctic voyage in 2022. During the 39 day voyage over 13,000 kilometers to Davis and Casey research stations, Australian Antarctic Division personnel conducted a range of tests on many of the ship's scientific systems.
Nuyina is one of the most complex scientific icebreakers in the world and will serve Australia's interests in Antarctica and the Southern Ocean for the next 30 years. The vessel can support voyages up to 90 days long, with up to 80 of those days in the Antarctic zone. It has a range of over 16,000 nautical miles, an economical operating speed of 12 knots and an ice-breaking capability of 1.65 meters at 3 knots. There is accommodation for 32 crew and 117 passengers.
Nuyina, pronounced noy-yee-nah, means 'southern lights' in palawa kani, the language of Tasmanian Aborigines.
Published at Tue, 02 May 2023 02:30:28 +0000