Austal USA Delivers the Future USS Augusta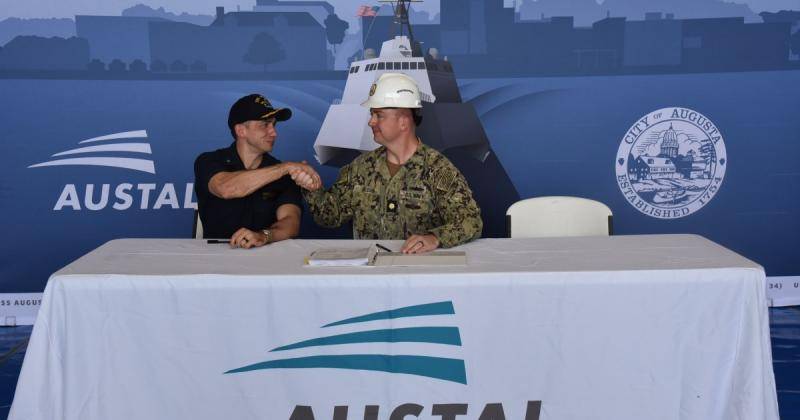 Mobile, Ala. shipbuilder Austal USA delivered the future USS Augusta (LCS 34) to the U.S. Navy today. LCS 34 is the 17th Independence-variant Littoral Combat Ship (LCS) delivered by the company and the second U.S. Navy vessel to be named Augusta in honor of Maine's state capital.
Delivery documents were signed on board the ship and followed the successful completion of acceptance trials during which the ship's major systems and equipment were tested to demonstrate mission readiness. The ship's pre-commissioning unit will now prepare the ship for fleet introduction.
"The delivery of the future USS Augusta is the result of a successful joint effort between Austal USA shipbuilders, our Navy teammates and suppliers from across the nation to produce a warship that will serve our country for years to come," remarked Rusty Murdaugh, president of Austal USA. "I am proud to maintain our commitment to the warfighter and our nation's defense."
LCS ships are designed to support forward presence, maritime security, sea control and deterrence missions. Several Austal USA built Independence-variant LCS have recently deployed to the western Pacific. The USS Mobile (LCS 26) got under way in March with an embarked USCG law enforcement team on the first deployment of the new Oceania Maritime Security Initiative with the objective of reducing illegal fishing, combating transnational crime, and enhancing regional security in the islands of the Western Pacific.
Austal USA is constructing the Navy's final two Independence-variant LCS including the recently christened future USS Kingsville (LCS 36) and the future USS Pierre (LCS 38).
Published at Fri, 12 May 2023 20:11:29 +0000