Anglo American's First LNG Dual-fuel Bulk Carrier Enters Service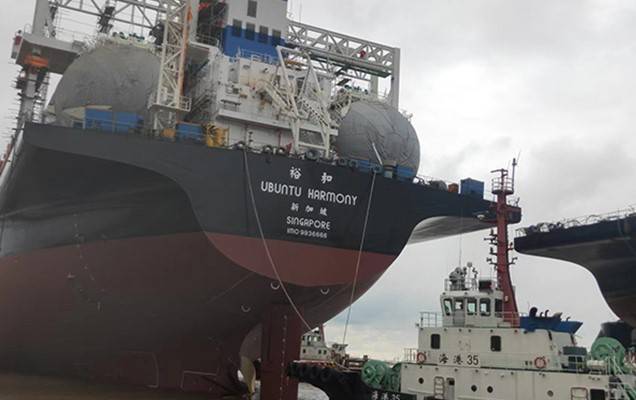 Mining company Anglo American announced that its newly launched liquefied natural gas (LNG) dual-fueled Capesize+ vessel, the Ubuntu Harmony, has loaded its first cargo of iron ore from its Kumba operations in South Africa.
The 190,000 tonne bulk carrier, flagged in Singapore, is the first of 10 LNG dual-fueled newbuilds that Anglo American will introduce to its chartered fleet during the course of 2023 and 2024, delivering an estimated 35% reduction in CO2 emissions compared to ships fueled by conventional marine oil fuel. The use of LNG will also lead to a significant reduction of nitrogen oxides and particulate matter from vessel exhausts, while new technology also eliminates the release of unburnt methane.
Anglo American aims to achieve carbon-neutrality for its controlled ocean freight by 2040 – with an interim target to reduce emissions from these activities by 30% by 2030 – as part of the company's wider ambition to halve Scope 3 emissions by 2040.
Peter Whitcutt, CEO of Anglo American's marketing business, said, "We are proud to see the Ubuntu Harmony begin its voyage transporting future-enabling products from our mines to our customers around the world. This milestone cements our vision to be a leader in low carbon shipping, a natural extension of our commitment to achieve carbon neutrality across our operations by 2040."
Built by Shanghai Waigaoqiao Shipbuilding and owned by U-Ming Marine Transport, the vessel completed bunkering in Singapore in early January with LNG provided by Shell Eastern LNG. It arrived in Saldanha Bay, South Africa on January 19 to load a full cargo of iron ore that will be transported to customers in China. The Ubuntu Harmony will be followed by its sister ship Ubuntu Equality, the fleet's second vessel, which is expected to load her first cargo in February in South Africa.
Nolitha Fakude, group director of Anglo American for South Africa, said, "The metals and minerals we provide play an important role in helping key industries decarbonize. Transporting them in a sustainable way is a key part of this effort and the introduction of the Ubuntu fleet – named after the Zulu word meaning 'humanity to others' – helps us accelerate our transition to sustainable ocean freight."
Anglo American has a number of initiatives underway for the decarbonization of its maritime activities, including energy saving devices fitted to existing vessels, the use of voyage optimization software and a focus on exploring, trialing and adopting alternative, sustainable fuel options – such as LNG, sustainable biofuel, green methanol and ammonia and hydrogen.
Published at Fri, 27 Jan 2023 16:10:24 +0000