10 of the World's Most Notorious Whitewater Rapids
The world is full of amazing whitewater, but there's only a handful of rapids that become truly legendary. We went on the hunt for drops that leave lasting impressions—whitewater that you'll never forget. Whitewater that hooks you on rafting for life. Maybe it's the terrifyingly vertical descent, the boulder-dodging line, the bus-sized wave at the bottom, or a combination of all three. The best whitewater rapids are the ones that you tell stories about—even decades after your first run.
How did we pick? Rapids that are genuinely notorious aren't too hard to find. We did some research, polled a few professional guides and regularly run a few of them ourselves. These are some of the biggest rapids in the world that made the cut.
The World's Best Whitewater Rapids According to the the Pros

1) Terminator – Futaleufú River, Chile
With five Class V rapids, the Futaleufú is known for its big water, but it's Terminator that's considered the biggest and baddest of them all. In fact, many pros say it's the most challenging commercially run rapid in the world. And when asked about this long and technical rapid, our guides say Terminator has every feature that will make your belly groan: Towering waves, pummeling holes, massive black boulders strewn everywhere—all embraced by brooding cliffs and echoing thunder. Even the "cheat run" on river left will have you sweating.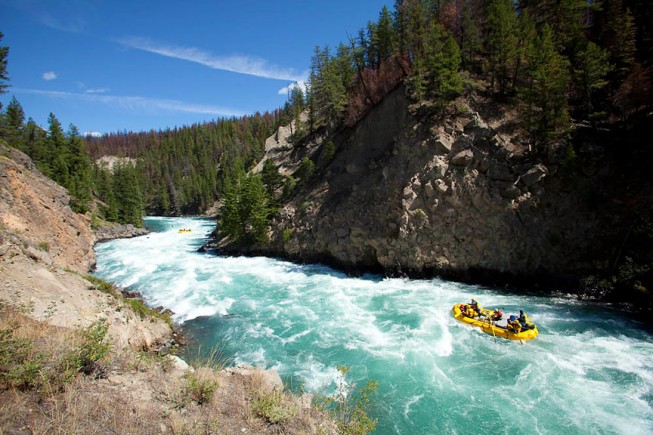 2) Bidwell – Chilko River, British Columbia
Lava Canyon on the Chilko River offers up 14 miles of non-stop excitement through what is often boasted as the longest stretch of commercially-run Class IV whitewater in North America and one of the "Seven Whitewater Wonders of the World." At the start of it all you'll find Bidwell, an exciting Class IV "S-bend" rapid with big breaking waves and a huge hole at the bottom. Seasoned pros say it's an intense way to start off the Chilko's infamous White Mile. If you don't make the correct move at the top, you have continuous whitewater below. Translation: You don't want any swimmers here.

3) Big Drops 2 and 3 – Colorado River through Cataract Canyon, Utah
Cataract Canyon's Big Drops 2 and 3 (ok, technically two rapids) might be a surprising pick considering most of the season they're a fun Class III ride, but those who've experienced these infamous back to back drops at high water know their unforgettable nature.  Longtime river guide Jeffe Aronson, who claims to be the first to run the Big Drops on an 18-foot raft at 75,000 cfs says, "They're bigger, scarier, harder and more consequential than anything else we run, period." At their peak, these rapids are two of the top ten biggest rapids in North America offering up waves bigger than the biggest rapids in  Grand Canyon.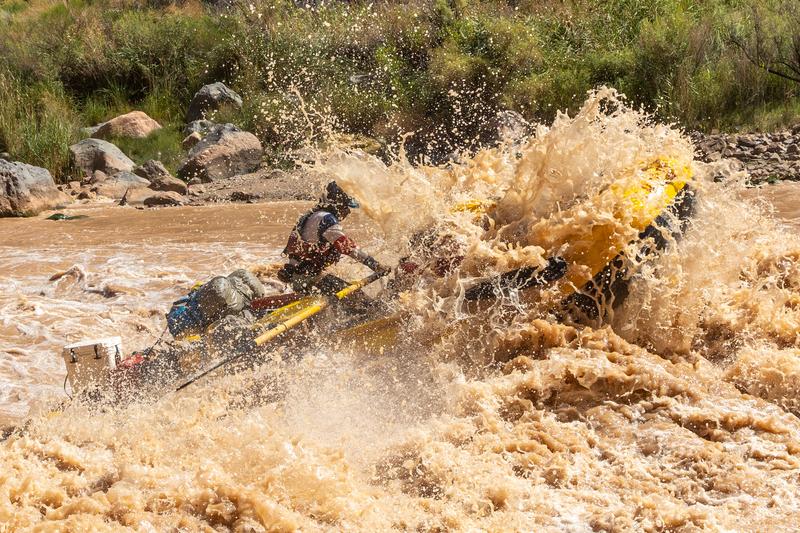 4) Lava Falls – Colorado River through the Grand Canyon, Arizona
Speaking of Grand Canyon, no "best whitewater rapids" list would be complete without mentioning Lava Falls, the biggest rapid in the canyon and definitely the most fabled. Navigating through a maelstrom of whitewater as the river falls 37 feet over the span of several hundred yards, paddlers pretend they're in control as they try to avoid Big Black Rock and boat-flipping Ledge Hole for any hope of making it to Tequila Beach for post-Lava celebrations. Rated Class 10 (the highest degree of difficulty in the Grand Canyon), Lava can be twenty of the scariest (and best) seconds of an entire Grand Canyon rafting trip for guides and passengers alike.
5) Ghostrider – Zambezi River, Zambia
The legendary Zambezi is home to several of the biggest rapids in the world like Stairway to Heaven, Gnashing Jaws of Death and Oblivion—all Class V thrillers with notorious repuations in their own right. But it's the grand finale to the trip, notorious Ghostrider, that ensures even the most avid river runner a little adrenaline, according to Hamish McMaster of Water By Nature. "Nowhere in the world have I seen expedition size rafts disappear for 2-3 seconds before they resurface from inside the three gigantic waves that make up the crux of this Class V rapid," reports Hamish. This is definitely one of the trips to avoid if you don't like to swim.
6) Godzilla – Rio Upano River, Ecuador
When it comes to the "River of the Sacred Waterfalls" deep in the Andes Mountains, Godzilla is the most memorable rapid on the Rio Upano, according to Peter Grubb of ROW Adventures. "It's in a deep and dramatic jungle canyon with high waterfalls plummeting in from both sides of the river, making for a wave train that boasts 15-foot waves when flows are in the 15-25,000 CFS range," he describes. "As you run this rapid you have to be working from right to left, without getting caught in strong eddy lines on left, so that when you come out of the train of waves you are on the left side of an almost river-wide hole!"

7) Pillow Rapid – Gauley River, West Virginia
There are five legendary rapids on West Virginia's notorious Gauley River, but when we talked to Haynes Manfield from ACE Adventure Resort, he said that Pillow Rapid is among the most unforgettable. As this Class V rapid drops 30 feet, boats pummel down a narrow chute directly into Pillow Rock where they have to "ride the pillow" just right to avoid the worst case scenario. According to Haynes, "The trick is to ride that pillow towards river right avoiding the recirculating Room Of Doom… but not too far right which could leave you teetering on Volkswagen Rock. The experience is an explosion of whitewater that can be hard to read, or even remember the first time through the rapid, but it will never be forgotten!"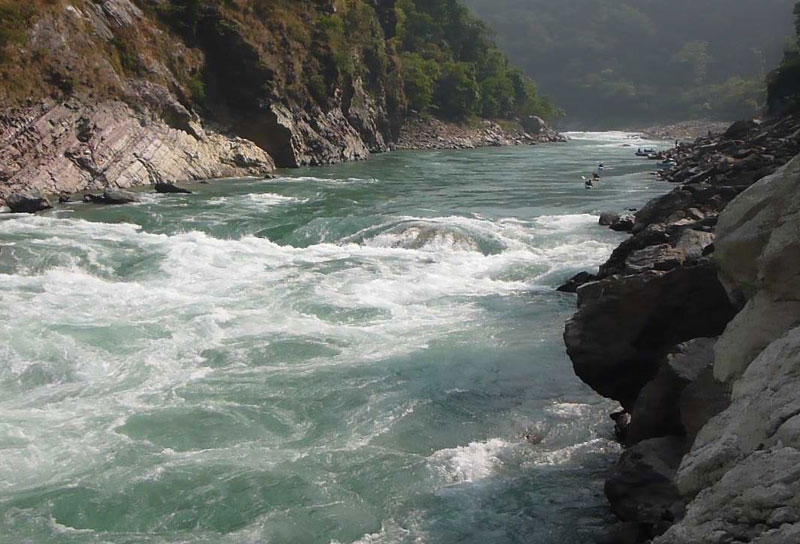 8) God's House – Karnali River, Nepal
Post-monsoon season in early October, the Karnali River in Western Nepal offers some of the best big-volume rapids in the world through pristine jungle and dramatic Himalayan gorges.  But all of that aside, the pinnacle of the trip for many is no doubt God's House. Running through the narrowest gorge on the river this Class V rapid serves up a large runnable wave on the left before you have to fight your way to the right to miss an enormous hole that has the capacity to flip a small vehicle let alone a raft.
9) Bull Sluice – Chattooga River, Georgia
While well-known rapids like Jaw Bone and Seven Foot Falls are obvious choices for best whitewater rapids on Georgia's scenic Chattooga River (made famous in the movie Deliverance), Ashley Manning, who spent five years guiding in the area, thinks Bull Sluice is one of the most challenging rapids on the river. This Class IV+ grand finale thriller dishes out a 14-foot elevation drop with a tricky line that includes a difficult to maneuver ledge, aptly named Decapitation Rock, and finally a big hole that you have to surf to escape.  "I think that The Bull is in its own category sometimes because it can be so fluffy and soft but it can also be extremely violent and dangerous." says Ashley. "You really never know what you're going to get. You could have a perfect line 6 days in a row, but on the 7th day it could be a nightmare."
10) Lochsa Falls, Lochsa River, Idaho
The Class IV Lochsa River has a lot of great rapids and some of Idaho's best whitewater. But there's more carnage at Lochsa Falls over a few days of high water than some entire rivers see in a full season. The huge v-wave grabs and flings boats like some kind of angry and deranged Godzilla. Part of the rapid's notoriety undoubtedly comes from easy spectator access to the falls. Idaho's Highway 12 runs along much of the river with an especially large pullout just above the falls. On high-water days, the area takes on a tailgate party vibe with revelers occasionally taking on the huge hydraulic in an inflatable couch. Need proof of the debauchery? Check out a compilation of the madness from the 2022 season above.
Honorable Mentions: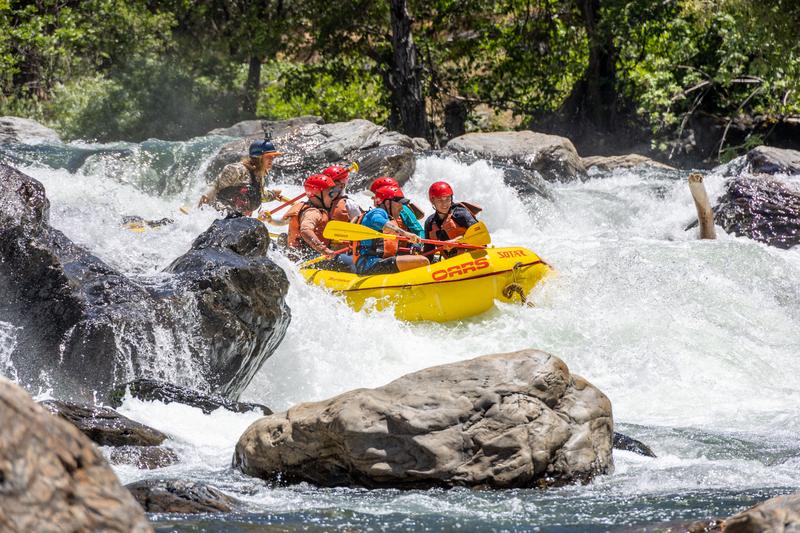 11) Clavey Falls – Tuolumne River, California
Anytime the word "falls" shows up in the name of a rapid, you can guarantee it's going to be a thriller. And Clavey Falls at the confluence of the Clavey River and Tuolumne, with its series of dramatic staircase drops, is no exception. "The quarter mile of Class I water leading up to Clavey Falls is the 'calm before the storm,'" according to Chris Moore, who managed OARS' California rafting operation on the Tuolumne for nearly two decades. "As you approach the horizon line—the initial drop of Clavey Falls—your senses are dulled due to the thunderous sound emanating just downstream." On this Class IV+ rapid you'll drop 8 vertical feet before dropping again and trying to avoid a massive hole. then On the other side of this wild ride, you've still got more than half of California's best rafting trip downstream.

12) Tunnel Chute, Middle Fork American River, California
Perhaps not the most menacing rapid on this list (but easily one of the best on the American River), Tunnel Chute is iconic for its unique structure and being one of the few places in the world that commercial trips float through an actual tunnel. Blasted into solid rock by miners chasing riches during the Gold Rush, the chute is a narrow sluice that falls over 30 feet into a calm blue pool. The bottom hole can easily send a boatful into the upside down, but it's the threat of swimming the top stretch after Last Chance that makes this one of the West's most notorious rapids.
---
---
Published at Thu, 22 Dec 2022 17:30:59 +0000